The perfect blend of Motown, Funk, R&B, Pop & Current Dance Hits that will have you on the dance floor ALL NIGHT!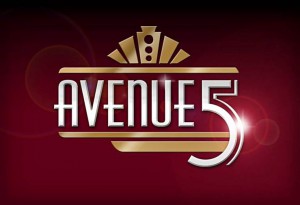 Avenue 5 their name is reflective of the diversity & mix of the region here in the Great Lakes Bay that they populate; with musical sensibilities deeply rooted in the sounds of Motown, Rhythm & Blues, and popular dance music that infuse this increasingly popular musical group not only with the divergent range of material they perform, but with a sensibility that the roads intersecting into Avenue 5 carry a conglomeration of influences & mentors from the past as much as they create new traffic for younger generations drawn by their energetic musicianship & professionalism, which in turn has created big demand and packed audiences for the soulful & shimmering sounds they create.­­
Consisting of vocalist, keyboardist, and group-founder Noel Howland, vocalist & guitarist Chris Mohn, and the rhythm section of Joe Balbaugh on bass with Vince Gaskew on drums, apart from the fact that Avenue 5 consists of 4 members all possessing solid vocal ability, the level of their musicianship & professionalism is harvested from numerous years of commitment to their artistry, with each member of the band logging time with some of the most successful and long-standing groups in the region. Noel has performed with Jedi Mind Trip and the legendary Lila Rasa, Chris is also a Lila Rasa alumnus, Mel worked with The Meltones and The Lovelys, Vince was a founding member of Wet Cement, while Joe has contributed his musicianship to both Big Brother Smokes and The Banana Convention.
So how did the individual roads of each of these considerably talented musicians converge into Avenue 5? "It all started two years ago after I left Jedi," explains Noel. "I came up with the name and started the band with the idea of pulling together the best Funk, Motown, R&B, and current Dance-based material out there for audiences to enjoy.  I wanted to get back to playing funk, Motown and Dance music, which is what I played before with Chris & Mel. We've always gravitated to this type of music and the sound that comes from it.  Basically the band started by adding people that I love and know from the area that I've played with before; and then it turned into this powerhouse that we have today."
When asked what they feel distinguishes their sound, Mel points to the simple fact that "not many bands are doing the same types of material that we do. We don't perform any Rock or Country and because each member in the band can sing well, it gives us a strong and varied range to bring more color and impact to the songs that we perform."
"We celebrate the fun of dance music and the danceable aspects of the music we perform and bring our own taste into the song, instead of playing it straight from the chart down," reflects Joe. "We all have our own thing that we do and it works really well together. We speak to wide variety of taste from Earth Wind & Fire to Jackson Five or Stevie Wonder and strive to make each song work on our own terms."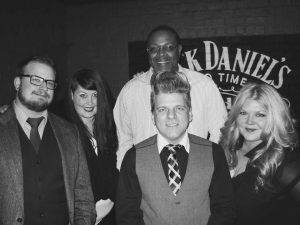 "I definitely agree about the strength of our 5-part harmonies," adds Noel. "It's funny because I was only 17 years old when I started with Lila Rasa; and I'll be 32 this year, so it's hard to believe I've been at this so long.  But that experience has led me to search for the best, strongest, most powerful dance songs out there and that is what we strive to perform. In addition to classic material we do a lot of current songs by artists like Bruno Mars and Sam Smith and material that nobody else is doing in this area, so we mix it up pretty evenly with the old and the new."
"We probably have 50 songs to work with," adds Chris, "and between the five of us we have over eight hours of music that we can perform, which allows us to change things up. We can be lounge-oriented or loud and big. We have a lot of diversity and range happening in this group."
And while the group is conscious of integrating contemporary material into their set to bring people to the dance floor, they are equally conscious of their legacy & history. "I really want to give a strong shout-out to all the classic guys in the area like Mike Brush, Bruce Crawley, and Butch Burden," states Noel. "They represented the 'sound' of this area when I first moved here and each of them gave me so much musically."
Although they haven't written any originals together to date, right now a top priority for the band is getting booked into casinos and festivals and focusing more on the wedding circuit. "Since the economy crashed six or seven years ago, the scene totally changed radically," states Chris, "so it's these larger and more targeted events that really work best for a band of our nature. It's tough right now simply playing clubs because it's more of a police state and seems there are more cops on every corner waiting for somebody."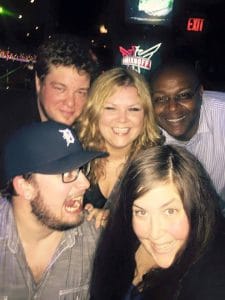 "We try to make our shows a total experience," notes Mel. "A lot of the things that DJ's play in clubs today we perform live, with horn tracks, full force, so I think this is another important component to our appeal."
While Avenue 5 perform regularly at venues such as The Stables, Bay Lanes and Redwood Lodge in Flint, the band says the most challenging component for them is scheduling, as each member also involves themselves in side projects, Chris & Noel also performing as a duo on the side.
When asked what is about the genres of R&B, Funk & Motown that gives it to the power to engage broad audiences, Noel points to the strength of the songs. "Over the years I would see these songs that kept bringing people out to the dance floor over and over, so my goal was to compose a list of material that was the cream of the crop.  That's my goal. If a song isn't strong enough to fill you with that power to get motivated and get moving, then it's tossed. I want to find that perfect list of material and mix between classic and current material that brings it all together, which can be hard.  When we start a new Bruno Mars song the dance floor gets filled and things get crazy, which I love. And our set list is at a point now where its pretty evenly mixed between the old and the new."
"Nobody is doing what we do," comments Vince, "because a lot of the material that we perform is quite challenging, which speaks to the ability of the band. Everyone is talented and owns their own instrument and area of expertise. We all own what we do and it makes things easier and more intuitive. I can do something on the drums and not think twice about it, so we can push the sound of the group further."
"It all comes down to what you want to do with your talent," he continues. "We want to get people dancing and for us its about entertainment and range. We can configure our set list for an audience 35 and younger or 35 and older, so are very malleable as group. We can handle a lounge or a crowd of huge concert-goers."
"It's been a long road," concludes Noel, "with a lot of memories gathered over the years; and we are lucky to be able to keep this going and perform together in so many ways over the years. I feel in my bones that things are only going to get better."
Uptown Funk Mark
Ronson ft. Bruno Mars
Play that Funky Music Wild Cherry
Brick House Commodores
I Want You Back Jackson 5
September Earth, Wind & Fire
Wishing Well Terrance Trent D'Arby
Superstitious Stevie Wonder
Sunday Morning Maroon 5
Bennie & the Jets Elton John
Give it to Me Baby Rick James
Beast of Burden Rolling Stones
Knock on Wood Eddie Floyd
I Feel Good James Brown
Nothin on You B. O.B./ Bruno Mars
Get Lucky Daft   Punk
Happy Pharrell
Billie Jean Michael Jackson
Signed, Sealed, Delivered Stevie  Wonder
Use Me Up Bill Withers
You Dropped a Bomb on Me The Gap Band
Get Down Tonight KC & the Sunshine Band
Let's Get it On Marvin Gaye
Rude MAGIC
Groove Me Baby King Floyd
Mercy Duffy
Some Kind of Wonderful Joss Stone
Mustang Sally Wilson Pickett
Treasure Bruno Mars
Good Times, Bad Times EdieBrickell/Barry White
Easy Like Sunday Morning Commodores
You Make My Dreams Come True Hall & Oates
Stir it Up Bob Marley
Call Me Al Paul Simon
This Love Maroon 5
Oh What a Night Franki Valli
Bad Mamma Jamma Carl Carlton
Little By Little Susan Tedeschi
Billionaire Travie McCoy ft. Bruno Mars
Proud Mary Ike & Tina Turner
Stray Cat Strut The Stray Cats
Honky Cat Elton John
Honky Tonk Women Rolling Stones
Locked Out of Heaven Bruno Mars