COMICAL MAGIC PERSONALITY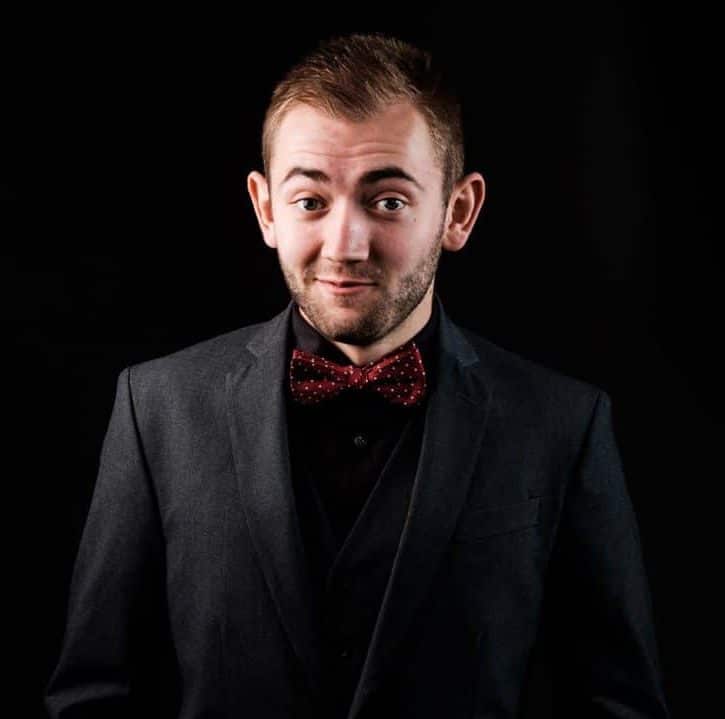 Cameron – Magician. Balloon Artist. Speaker. Entertainer
Cameron has been performing since he was 12 years old. Now 22, and a senior in college, he has had the privilege of performing for many different events.
While in pre-school, he received his first magic kit. He loved to perform for his family and friends not knowing he would soon make a career of it. Later down the road, Cameron received an opportunity to watch the late, great, Mark Bellinger perform. He was hooked from the very start.
In 3rd grade, Cameron began acting at the Bay City Players. Directors and fellow actors in the Tri-Cities helped Cameron develop his stage presence. He combined his acting and magic ability to create his very first magic show when he was 12 years old.
Since then, Cameron has kicked his entertainment career into full swing. He has opened live on stage for the Detroit Tigers, was named Michigan's Young Entrepreneur of 2013 by the National Federation of Independent Business, and performed in the Dominican Republic on a medical mission trip. He performs 150+ shows every year ranging from small private parties, to large corporate events!
Cameron is passionate about his craft and hopes to perform for your next event in the near future!
Corporate Events | Conferences | Holiday Parties | Special Occasions | Private Parties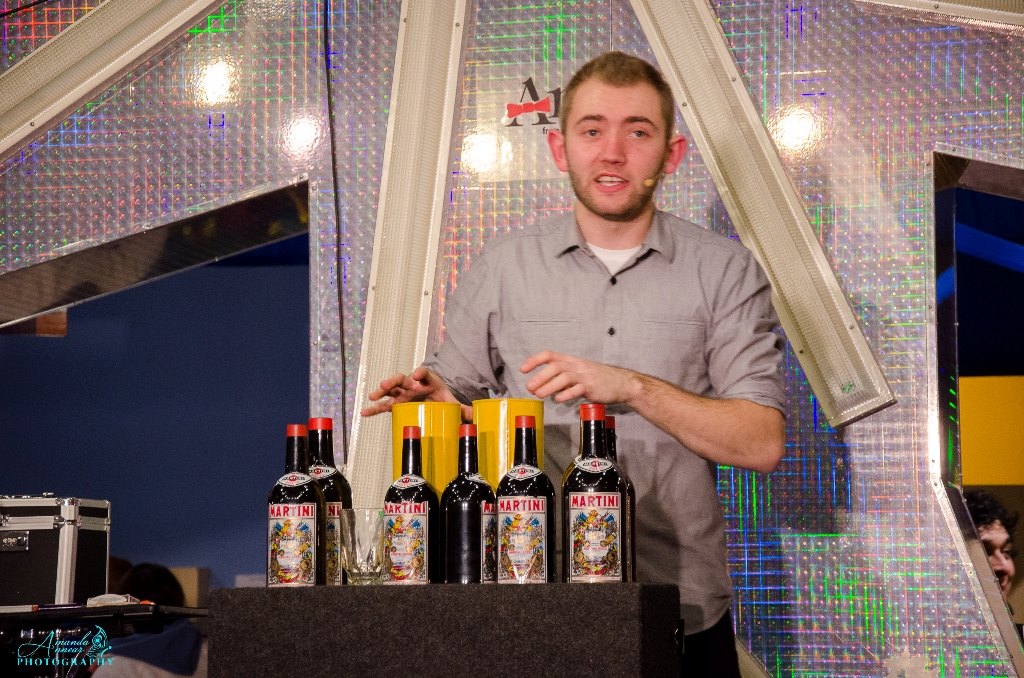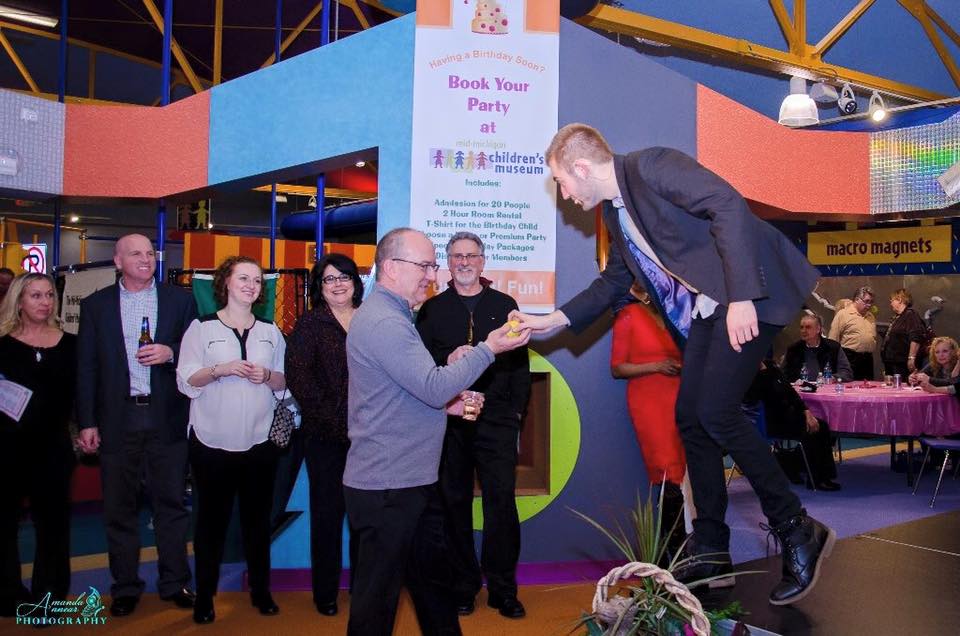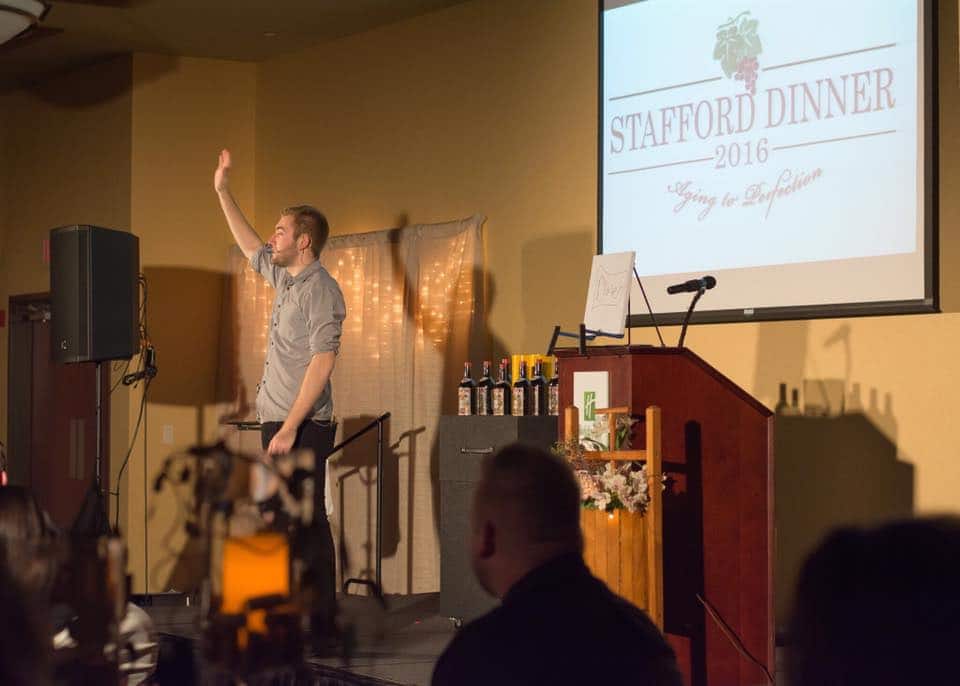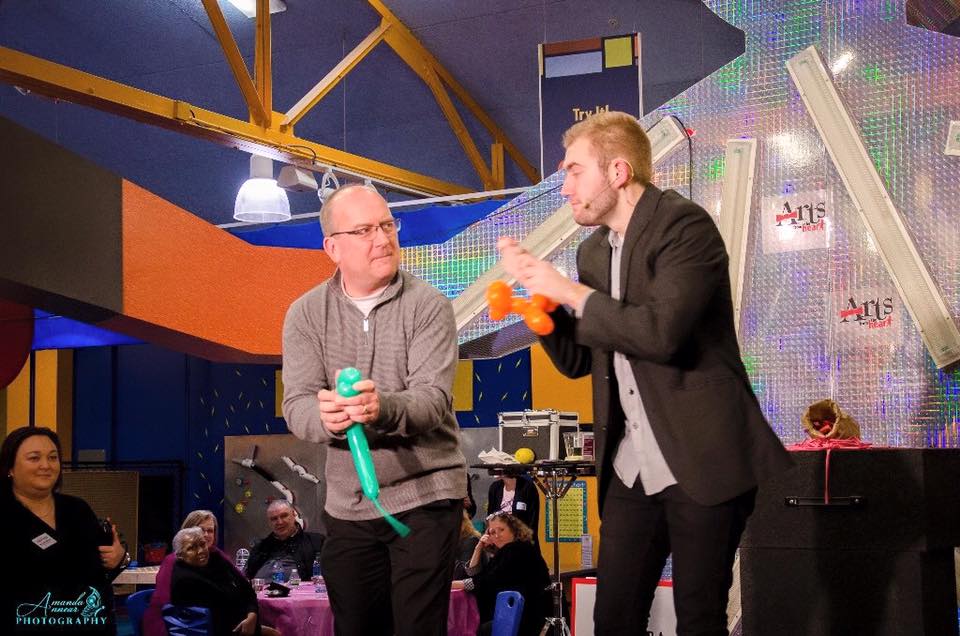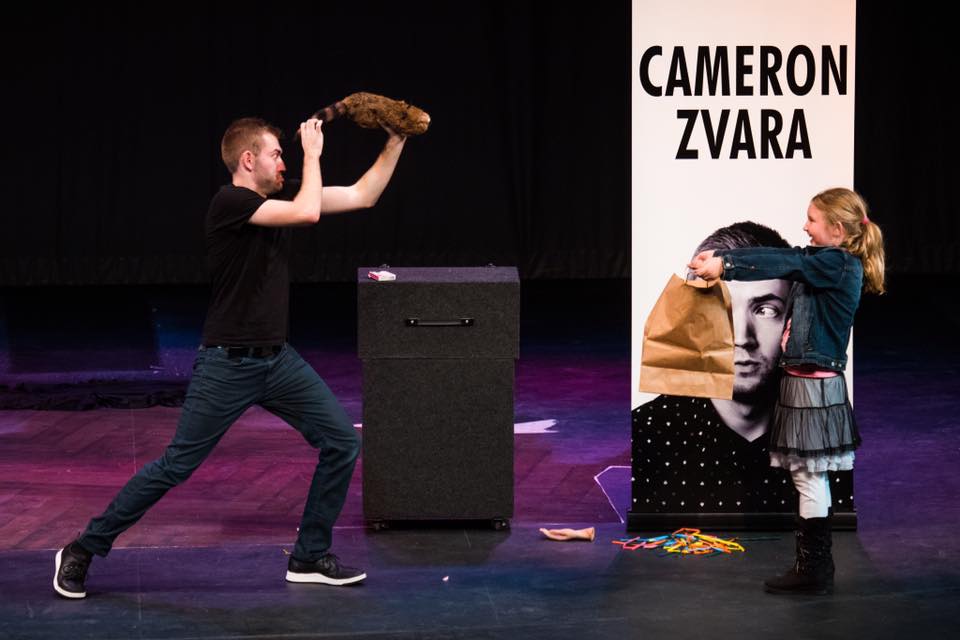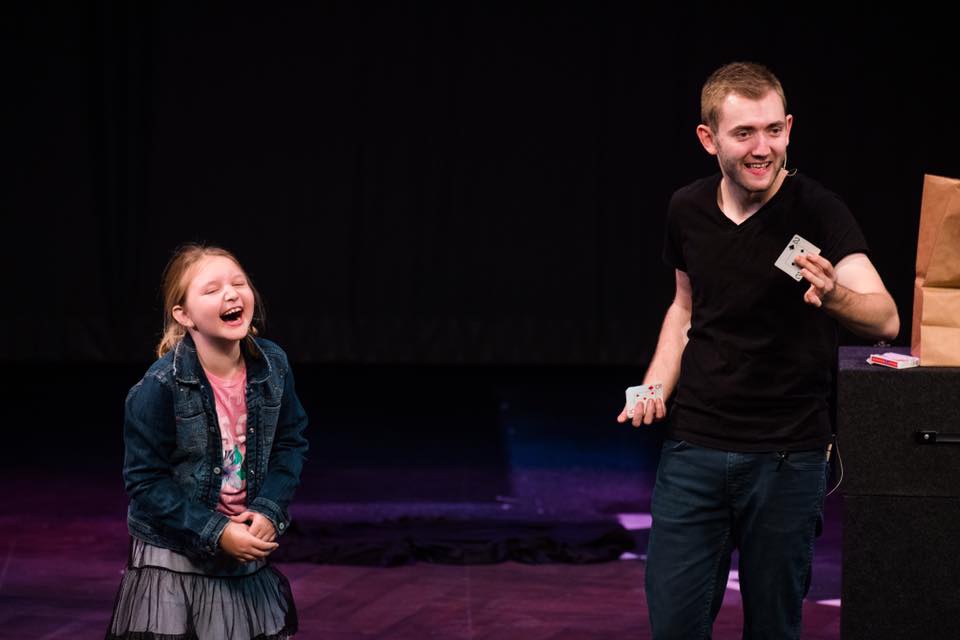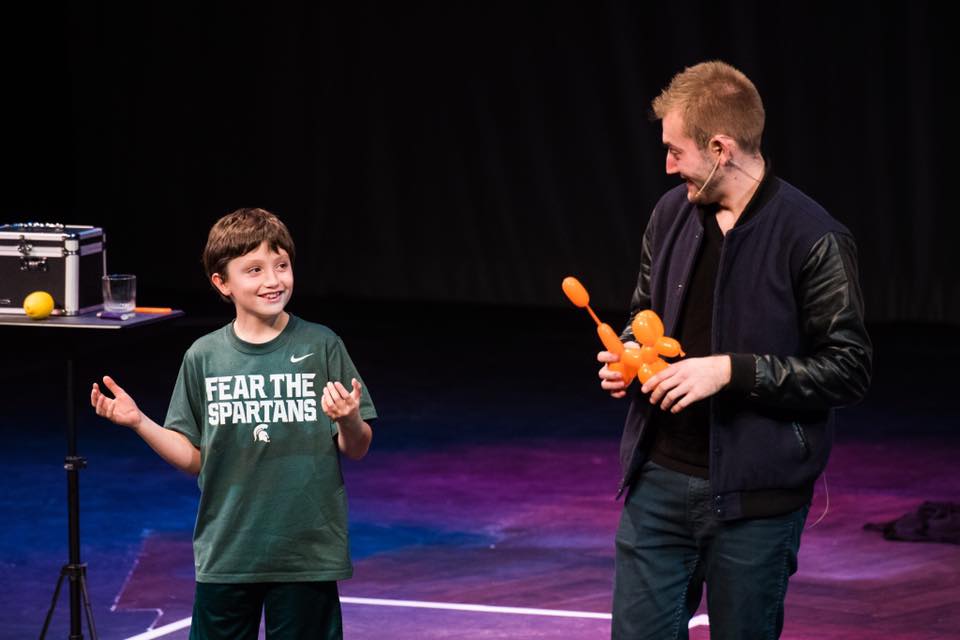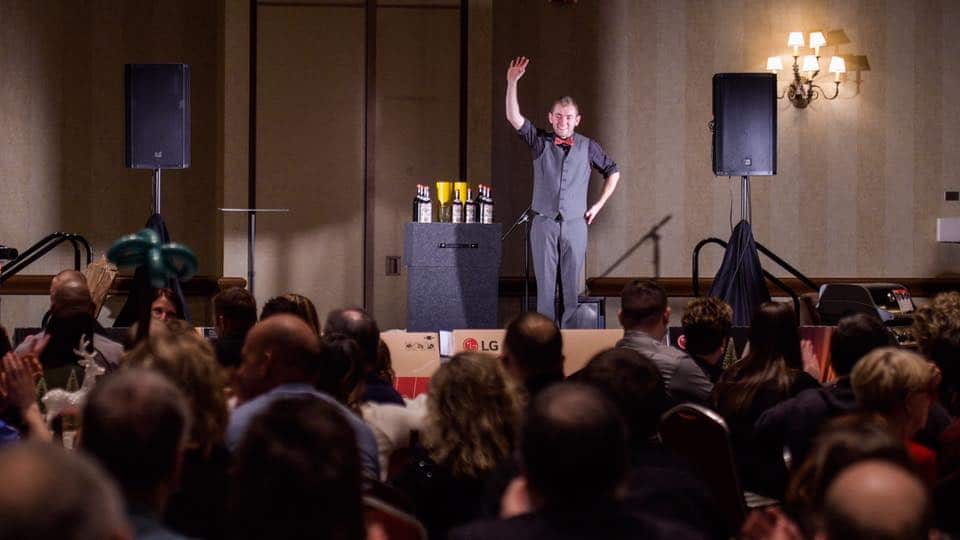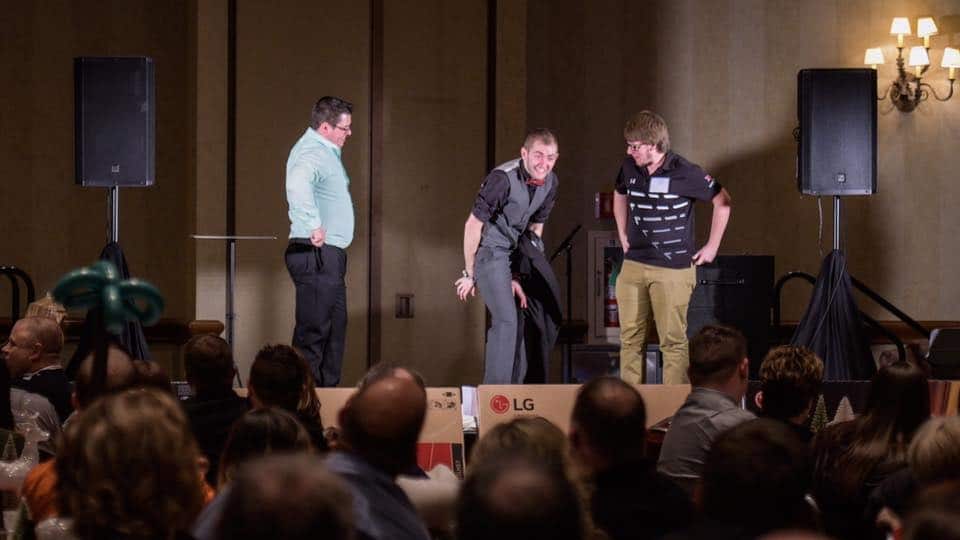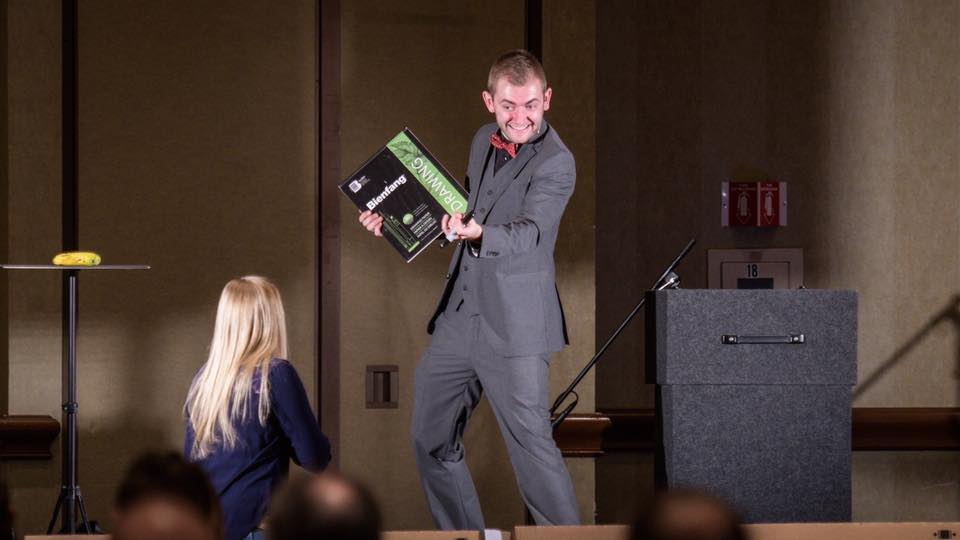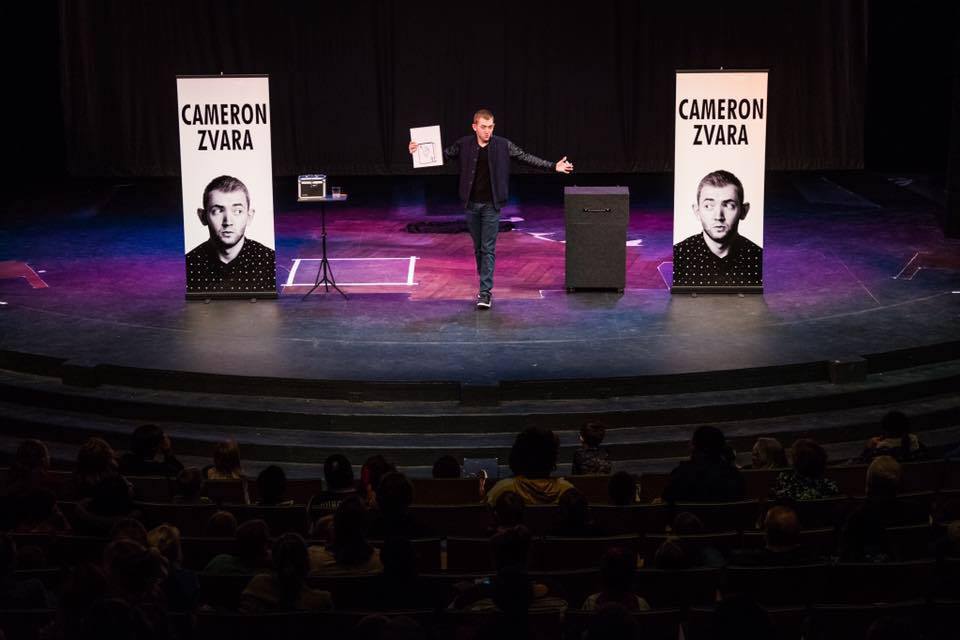 Cameron's show is filled with magic, comedy, juggling, stunts, music, and TONS of audience participation!
Libraries
Cameron's show is a perfect fit for any library event. His magic variety program is filled with magic, comedy, juggling, stunts, music, and TONS of audience participation!
Fairs & Festivals
Cameron's balloon sculptures and interactive magic variety show will be a great addition to your fair or festival's entertainment line up!
Corporate Events
Cameron's comedy magic is perfect for any company party, picnic, conference, convention, or trade show. His material is 100% squeaky clean, yet ALWAYS entertaining!
Schools
Cameron offers assembly shows for elementary, junior high, and high school students! Cameron's interactive comedy magic is always a hit whether he is performing for children, or teenagers. Cameron also offers a motivational speaking program titled: "Life is Not an Illusion" for both middle and high schoolers.
Private Events
Over the past 10 years, Cameron has performed for COUNTLESS birthdays, weddings, family reunions and beyond!  
Cameron was amazing for our Entertainer for Holiday Party!! Thank you so much for the reference.
Robin R.  ABC, At The Venue at 501 in Clare, MI
We used Rusch Entertainment for a holiday party. They were extremely expedient and helpful finding the perfect entertainer for us. They provided a top notch comedian (Cameron) at a reasonable expense. I would highly recommend them for your entertainment needs.
Mandi
Hey Dean,
Cameron was absolutely-terrific! Everyone and I mean everyone loved him!  Thank you for your recommendation and connecting him to us. It is greatly appreciated.
Dr. Root & the Dentist Office – Employee Christmas party – 25 Guests at the Melting Pot of Troy 
Cameron was AWESOME!!!!  Our attendees (young to old) loved his show.  Thank you for the opportunity to work with your company this year.
Karlyn W. – Deputy Director, MWEA
Cameron's magic/comedy show was very well received so if there's something similar, that would be great for next year at Boyne.
Thanks and have a happy holiday, Amy B. – Membership & Events Coordinator MWEA
I think everything went well.  Yes we are back at Grand Traverse Resort.
Cindy T., CMP – Director of Membership Services MA for HC
Thanks again. Cameron was amazing. The show was the hit of the party.
Cameron provide his Comical Magic show for about 40 people at Keith's Retirement party from the Powley Alaska Company- 40+ years  (Keith is 65)!
Cameron was hilarious and wonderful. Everyone enjoyed him. EVERYONE laughed and laughed. We have a stressful day and he made it all melt away!  This Conference at the Bavarian Inn Lodge is for Michigan Dairy farmers age 21 – 41 that come together for one day to learn about the dairy industry and get to know other farmers within our cooperative. The evening activity is their time to unwind!
THANKS Jessica!
Hi Dean
All Three acts went over really, really well.  It was fun to hear crowd cheers amongst the crowd of 1000-1500 people for our spring corporate trade show at the Soaring Eagle Casino!  We had tons of smiles from the guests watching the strolling entertainers surprise everyone with one trick after another.  We heard lots of compliments!
THANKS  Kim F. Operations Manager
(FYI: This company has already hired 6 more entertainers for NEXT year from Rusch Entertainment!  Rusch Entertainment began entertaining for them every year, since 1994!!!)
I just wanted to write a comment to let you know how awesome the magician/comedian we hired from Rusch Entertainment was. He engaged the whole audience and everyone had a great time. I was especially pleased because I am part of a committee and some of the members had reservations about hiring a magician/comedian. I heard nothing but great feedback from all who attended. Thanks for helping to make our event great.
Linda
Hi Dean!
Cameron was great!!!  Everyone loved it 9 Magic/Comic/Entertainer for Employee's Christmas luncheon)!!!  Merry Christmas!
VP-Sales Dir, Mfg Inc, Alma MI  ( Rusch Entertainment has booked over 20 events since 1997!)
Good Morning,
Cameron was by far one of the the best entertainers we have had for our group's annual Vendor Party at the Soaring Eagle Casino & Resort for About 300 Guests. Thanks for recommending him.
Carrie W – M. Supply
(Rusch Entertainment has booked great acts every year for this since 1993)
Everything was great Dean!  Thanks for the top notch entertainment!!  You were right, Cameron was a big hit and we all enjoyed the band CEYX for the 3rd year in a row.  Thanks too for the special music during the happy hour (CEYX unplugged!)…..another great idea to move near us for that set.
Karen – Nexteer Automotive  Christmas party at the Country Club  
Cameron Comical Magic and Readings by Laura were AMAZING!  Rob with the Photo Booth was extremely helpful and tolerant with us!  We received several compliments from all our attendees and they were all still talking about them in the morning at breakfast.  Our convention was extra awesome this year because of you.  We have used your company several times and have never been disappointed and this year is no different.
Thank you, Sara, Dairy Queen at the The H Hotel 
Cameron was AWESOME!!!!  Our attendees (young to old) loved his show.  Thank you for the opportunity to work with your company this year.  Comedian / Magician for 90th Annual Conference at Boyne Mountain  for about 200 Guests
Karlyn W. – Deputy Director
Cameron was an exellent magician. He was able to adapt to all age groups. Very energetic and entertaining! He did great with the crowd.  There were a few kids there, and he did a very clean and professional performance.  We were very pleased with Cameron!  5.0/5.0  Rating!
Amy, Annual Company Party, Bad Axe, MI at the Franklin Inn for nearly 200 people
"Magician Cameron had the crowd in stitches!"
Yfat Yossifor, Journalist, Mlive Media
The party was a huge success! Packed room, everyone drinking and dancing….Cameron was great! Everyone really enjoyed him! Thanks!
Greg – Lumber Barons Brewery for Mandi Layne & The Lost Highway Band's  CD Release Party   
Our company Christmas party was a huge success thanks to Cameron! He did a great job getting people talking and mingling with his magic tricks and great sense of humor. I would recommend Cameron without hesitation!
Rachel Higgins, ESCH Landscaping LLC
Cameron Comical Magic Personality kept our group of 20 fully engaged in a great program.  Our group would highly recommend him for any function.
Bernie Williams, Wanigas Credit Union
The Rotary groups all raved about your performance last night.
Melanie McCoy, Sebewaing Rotary Club
 It was amazing seeing Cameron interact with our guests at Deck the Diamond. His exciting personality mixed with amazing talent brought nothing short of pure joy and wonder to the children's faces! It was truly great to see.
Amber Ferris, Marketing and Promotions Manager, Great Lakes Loons