Musician • DJ • MC • CEYX Band Leader/Drummer/Keys/Vocals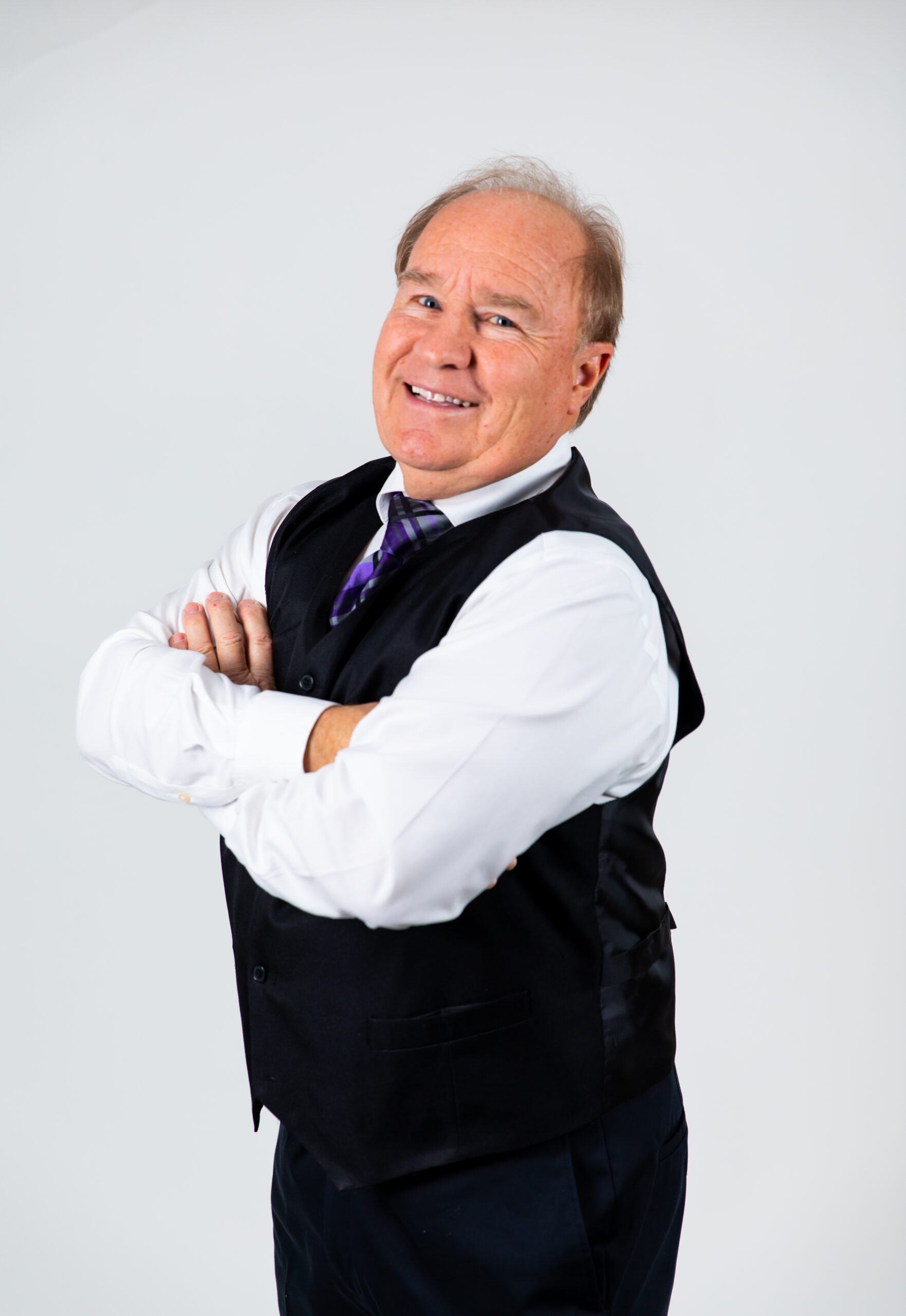 DJ Dean has been creating an upbeat atmosphere at special events since 1971 when he started with the CEYX Band. Over the years CEYX has entertained at 2000+ events, including weddings, festivals, concerts in the park and corporate events – and the band has also opened for Bob Seger, Ted Nugent and REO.  As a DJ, he has performed over 1,400 successful wedding receptions. Something that makes him unique is his ability to "jump-start" a party and keep it going.
Dean is known for keeping the energy positive and the dance floor packed! He's not your typical disc jockey, he is the perfect party host. His ability to communicate with the crowd and convey his energy and musical passion is something that sets him apart from the competition.
Dean is also an excellent MC. Whether you're planning a Wedding, Festival, Reunion, Birthday Party, Bat Miztvah, School Dance/Event, or a Corporate Event/Outing, Dean is the perfect host to handle your introductions, announcements, etc. and keep everything flowing smoothly.
Because Dean is one of the most respected DJs, MCs, musicians and business owners in the Michigan, Indiana and Ohio areas, he is recommended by hundreds of banquet halls, photographers and caterers.
It takes an amazing DJ, like Dean, to create a dream wedding reception. Call Dean today at 989-781-1553 to discuss his unique style, presentation and music for your future event.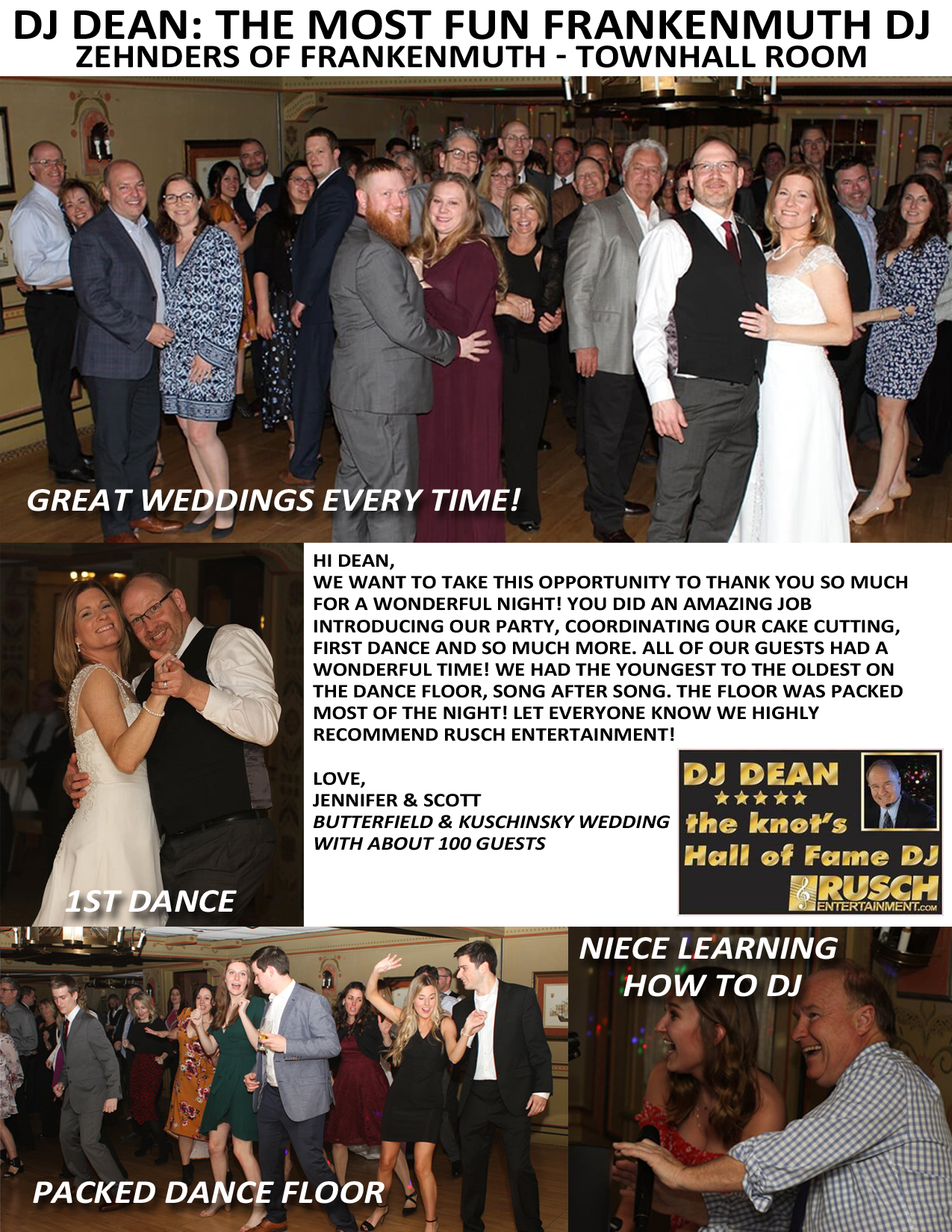 A Great DJ is nearly impossible to find!  There are hundreds of guys that can push a button and play a song.  After entertaining at over 1400 weddings & over 1000 other events, I have discovered a way to create "Musical Magic" DJing at weddings in which I get EVERYONE engaged and dancing within minutes!  No other DJ has been able to duplicate this FUN approach!
If you are looking for the ONE DJ to make your wedding extraordinary and if you are tired of seeing lame/boring DJs then you need to call DJ Dean.  Dean offers the Most Advanced DJ and Music presentation for weddings in the area.  He will work with YOUR budget, YOUR songs, YOUR times, to customize the party you envision!  You will love his unique approach to jump starting your party.
This will be The Biggest Day In Your Life!  You only have one chance to make your party FUN and your goal should be to find the ONE DJ that keeps the party going every single minute, NON STOP, like Dean will.  He is different from any other DJ you have seen!   He brings a great sound system, plays a wide variety of the best dance songs, provides elegant lighting & is considered the most experienced FUN DJ by over 122 banquet halls.  He will pack the dance floor and make it a memorable time.  Most of all, You and Your guests will enjoy celebrating your special day: Stress Free.  His Motto is:  The Right Song at the Right Time to Pack the Dance Floor!
Dean at Horizons - Photos Courtesy of Black Sheep Photography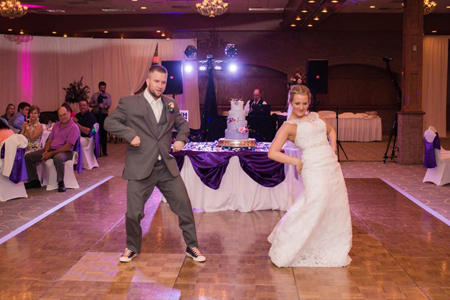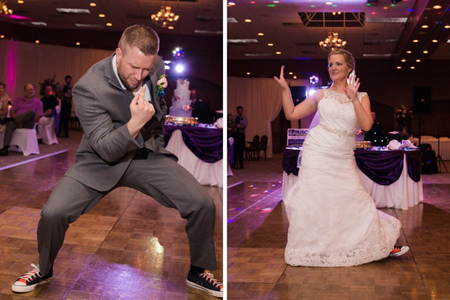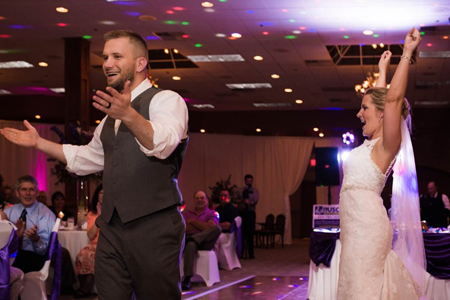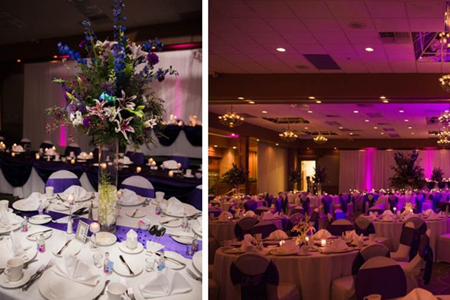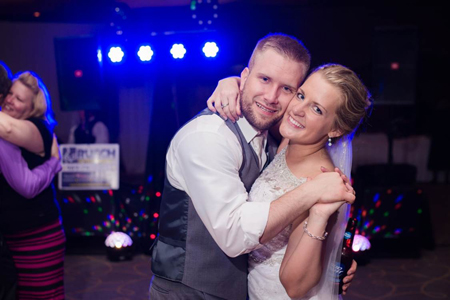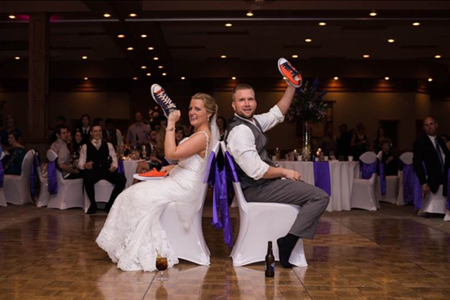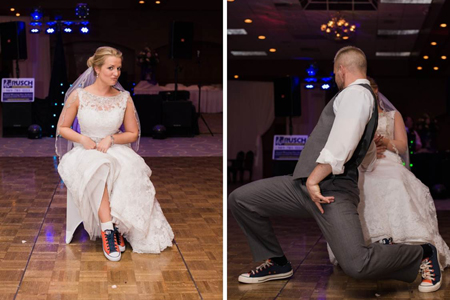 Bay Valley - Jamie & Jordan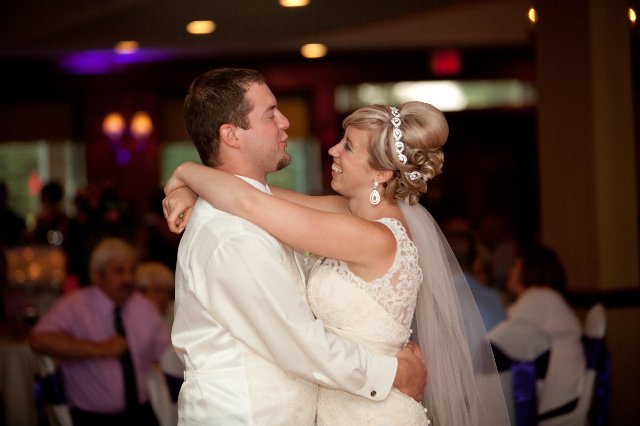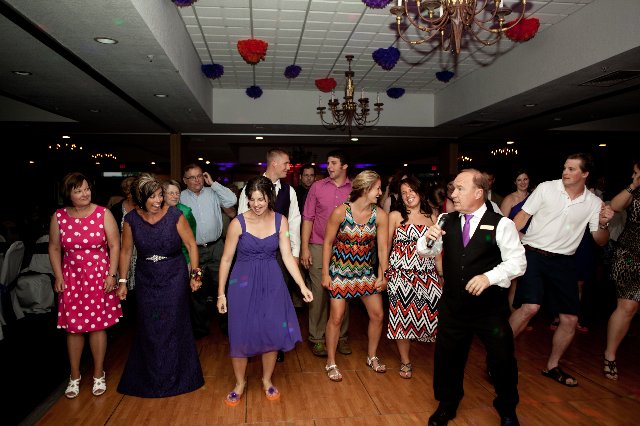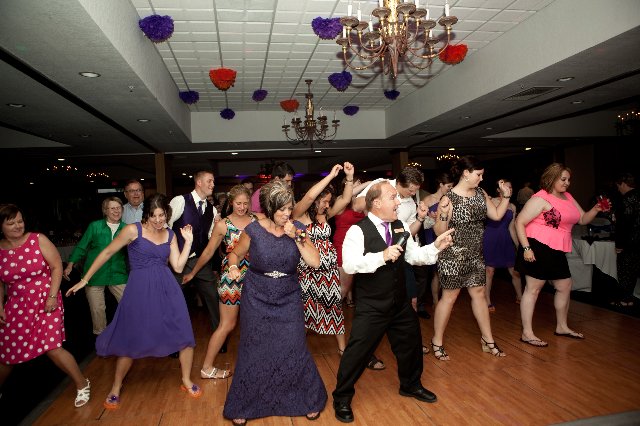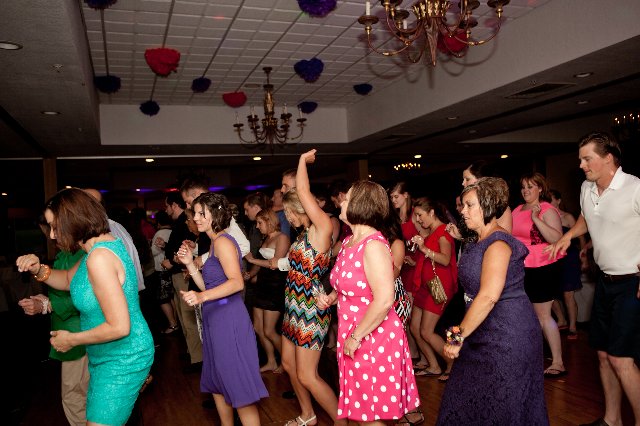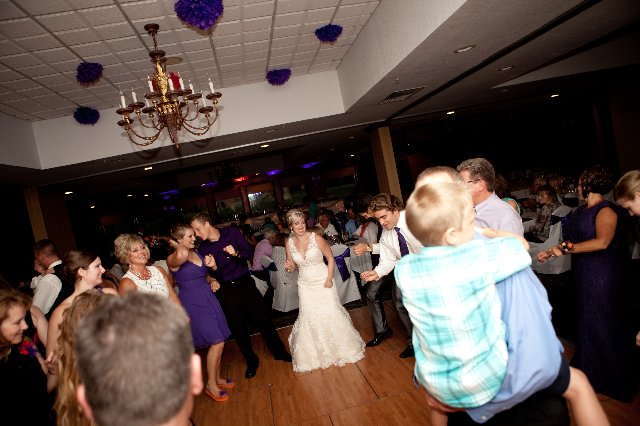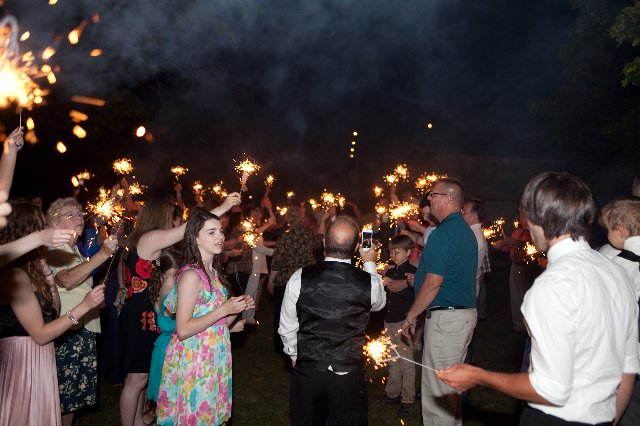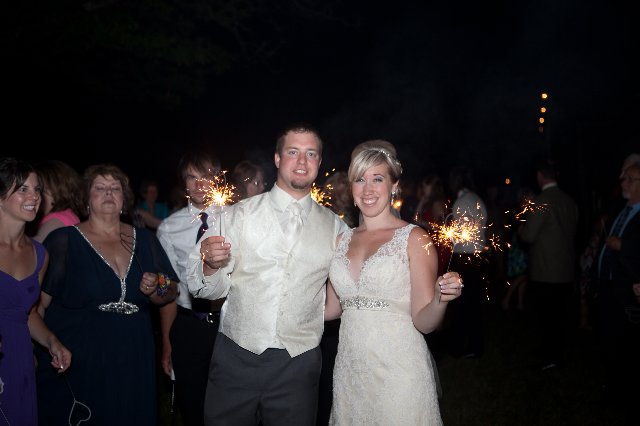 2016 Rusch Entertainment Featured in DJ Times … read more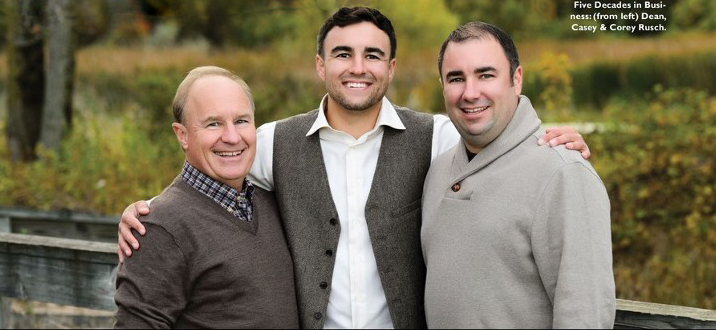 Dean's Family FUNDay!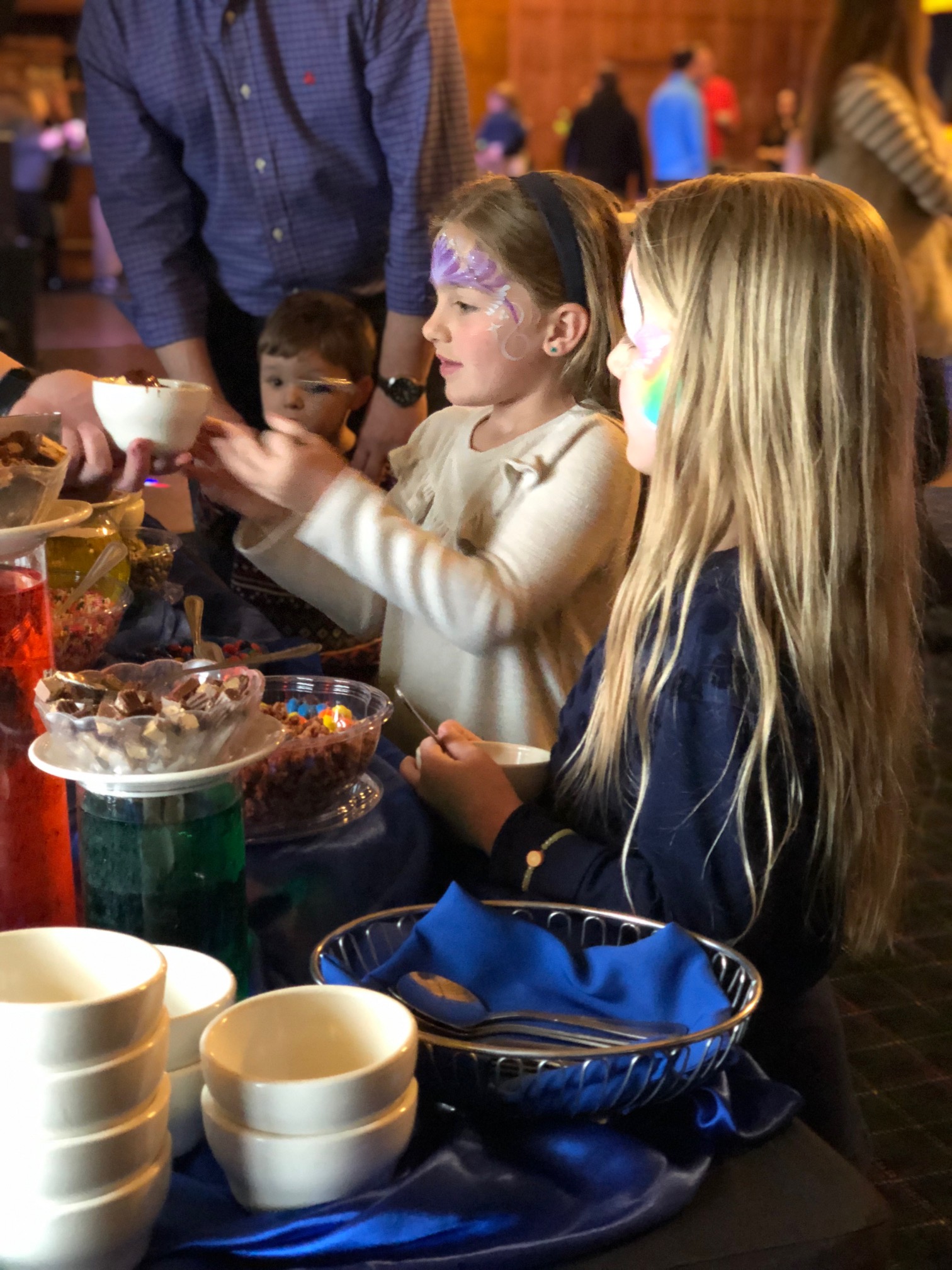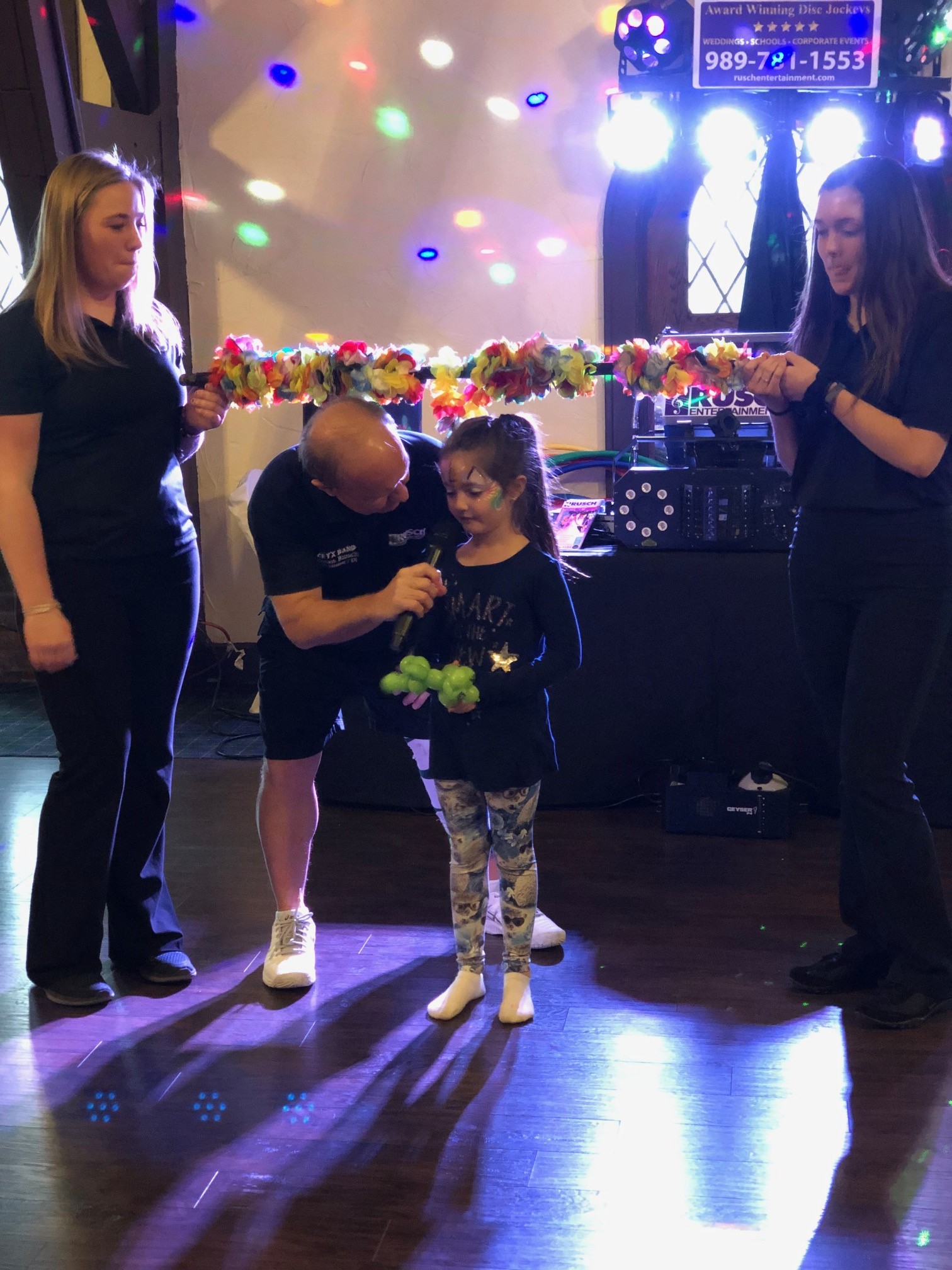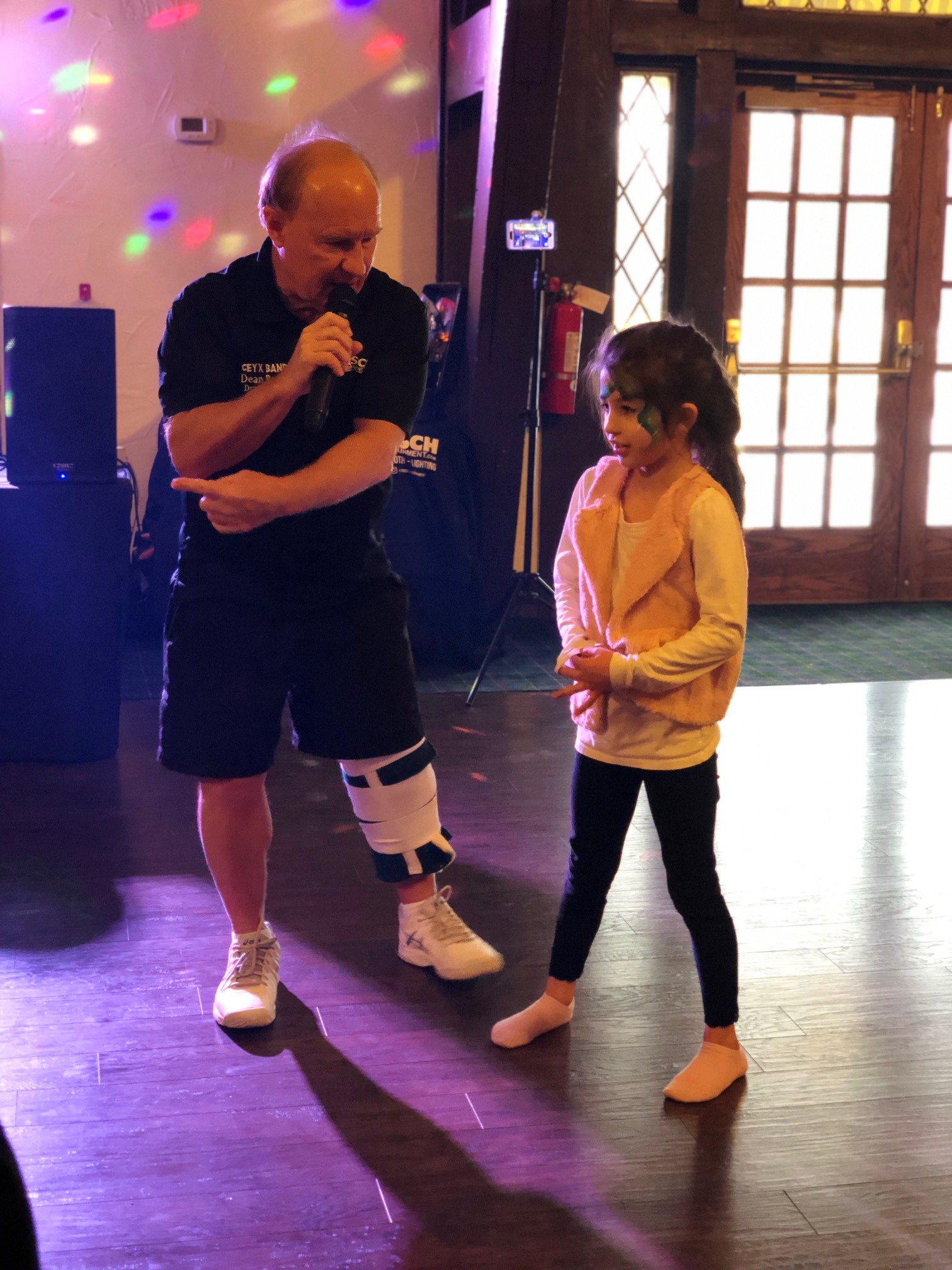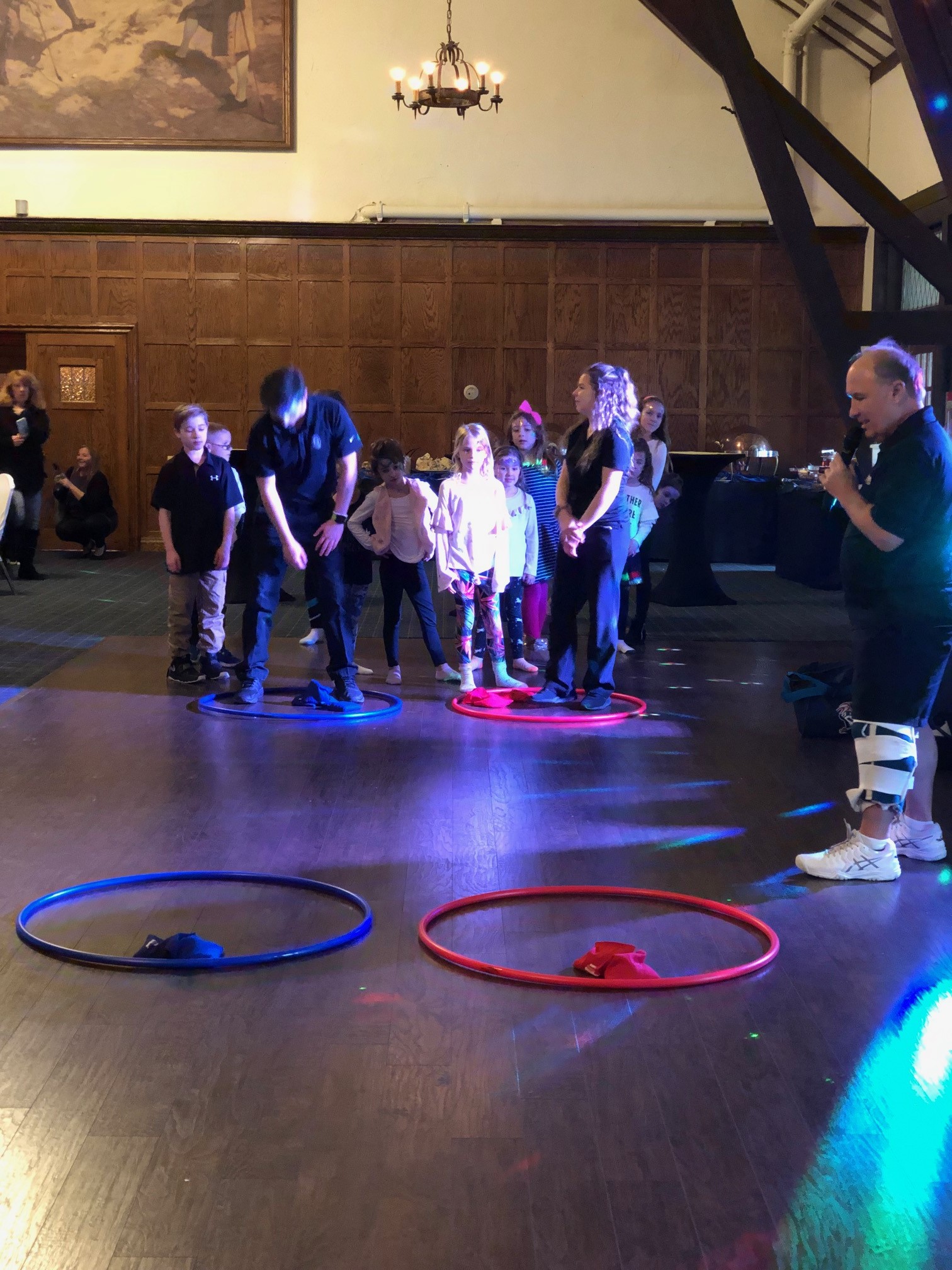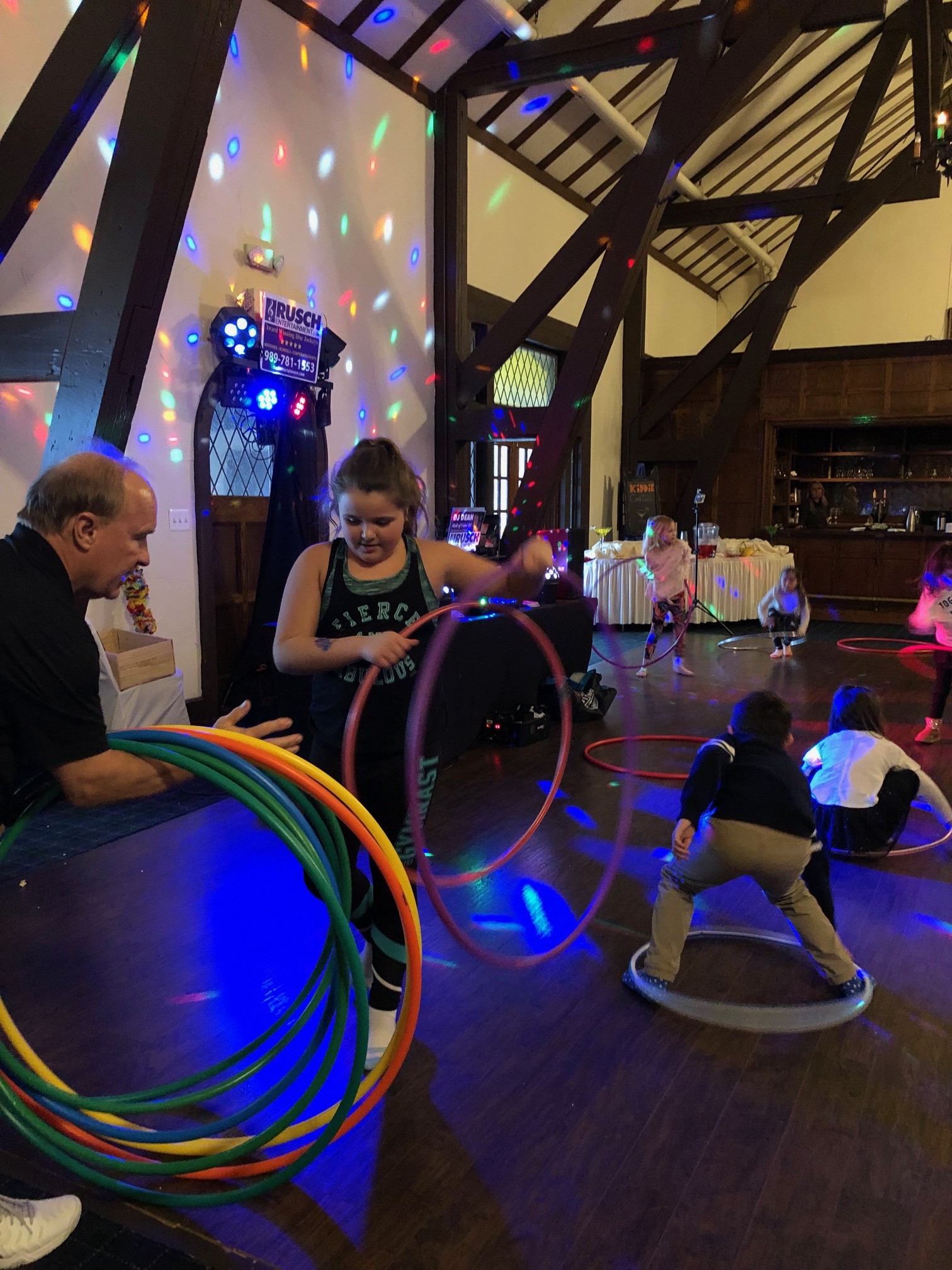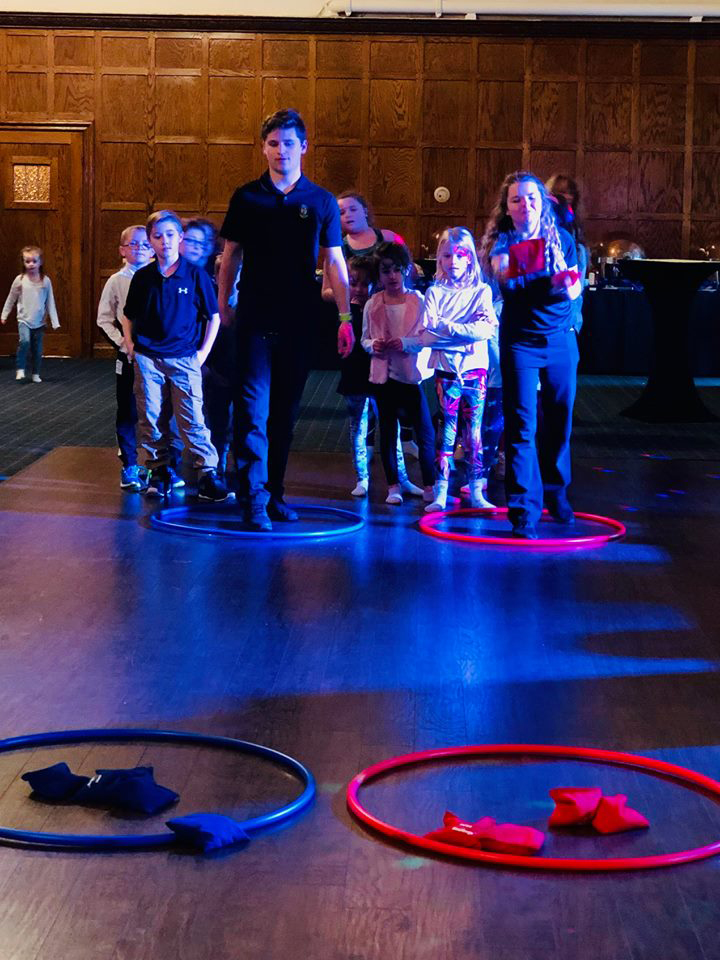 Dean,
You were awesome for the Family FUNDay at the Country Club! The event wouldn't have been as much of a success without you there to keep the party going. Thank you!  Thank you and have a great day!  Look at these photos with you in action: You can see how it was FUN & engaging for the member's families on a Sunday afternoon Thanks Dean!
Sam, GM of the Country Club, Detroit MI
Elyse & Dylan - Photos Courtesy of Tauri Baum Photography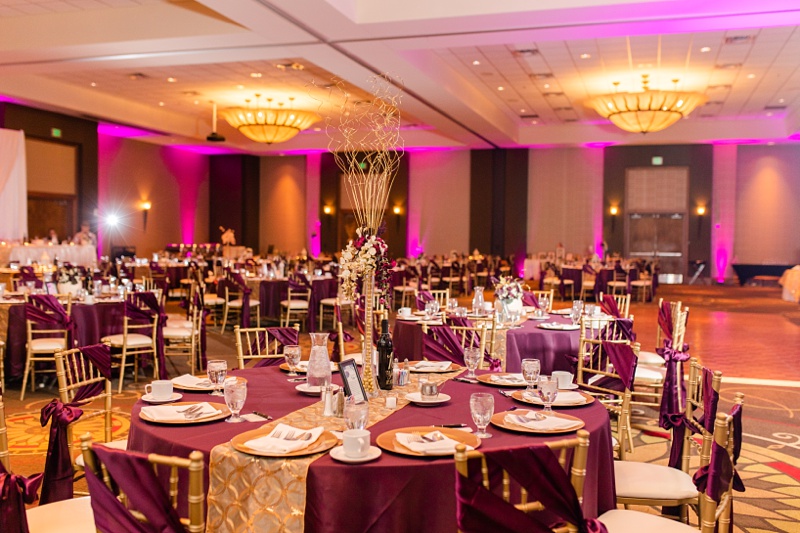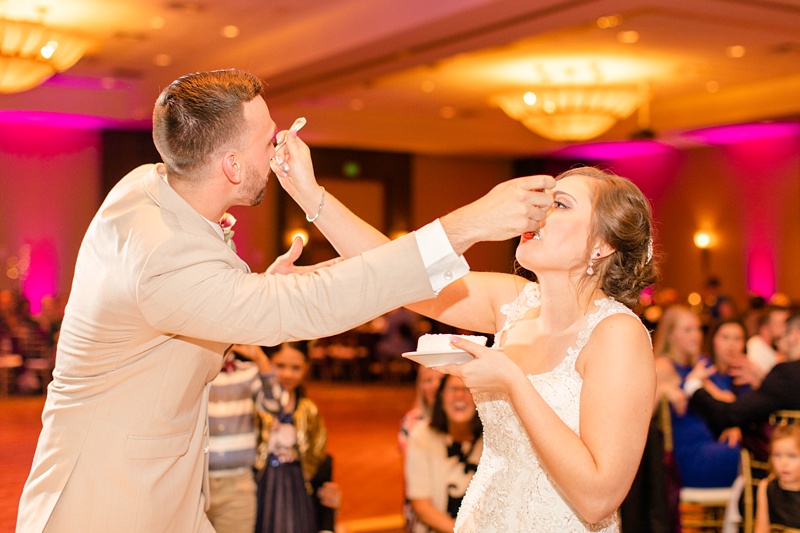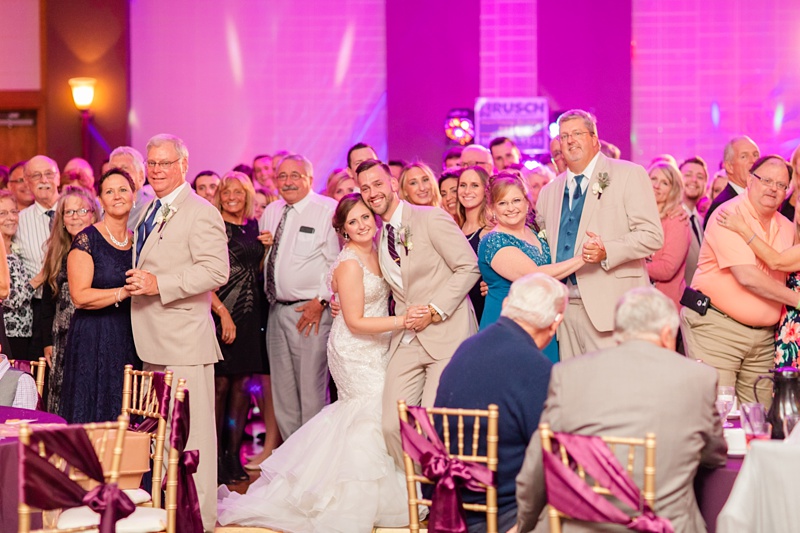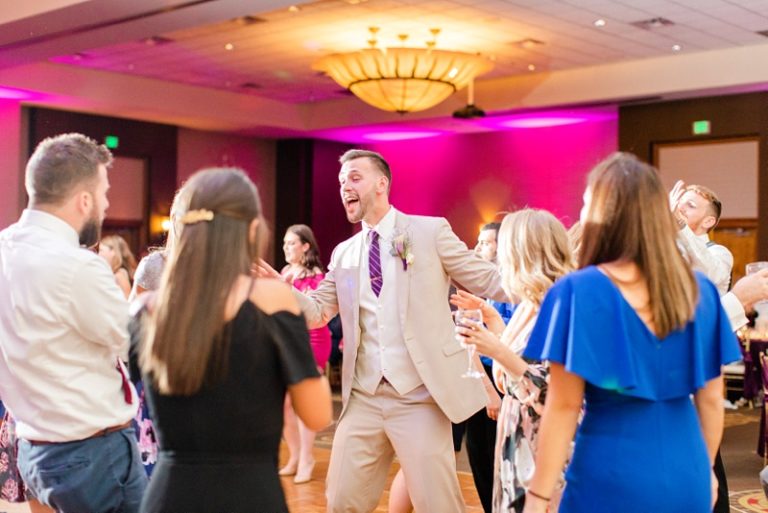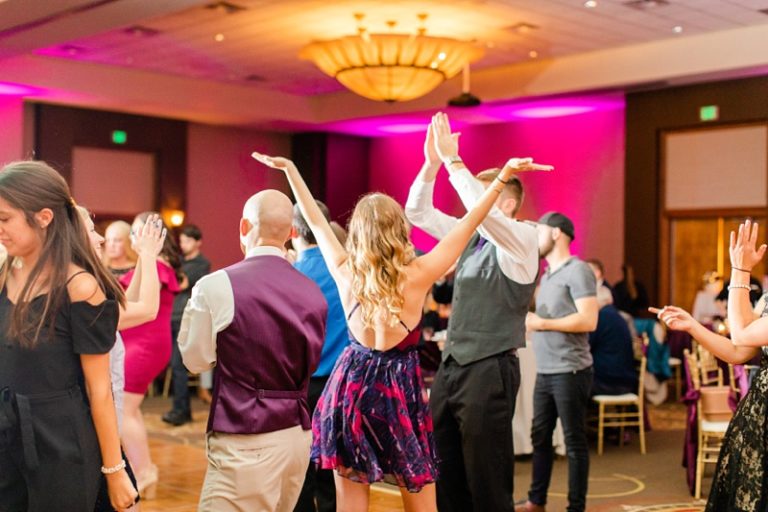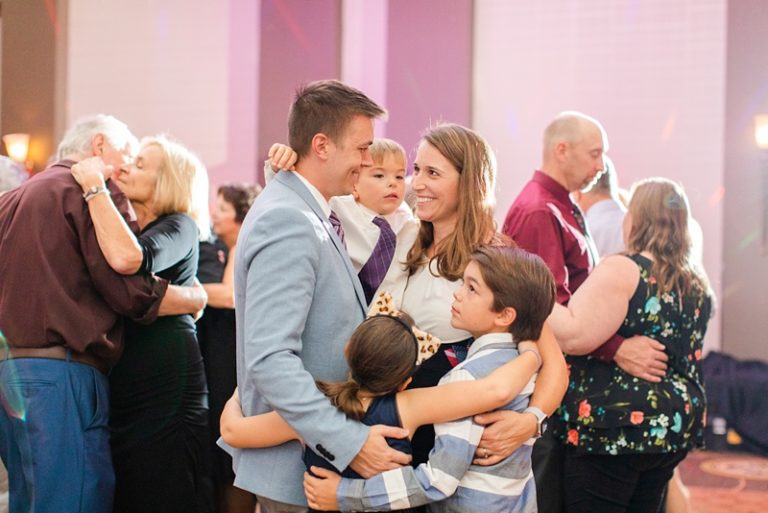 Hello Dean,
You did a wonderful job.  I think everyone enjoyed the music you played and by the looks of the dance floor everyone had fun.  Thanks for accommodating us behind the curtain, till after the ceremony and dinner, it all worked out perfect. Thank you for your help in the transition too. I asked Kristie and Beau, and they said they thought you did a great job too.  They were happy how everything turned out. You helped make their day a happy and memorable one.
Thanks again. Maureen Darling, Mom  We had about 250 Guests at the Black Forest in Frankenmuth
Chris McAlindon – Photographer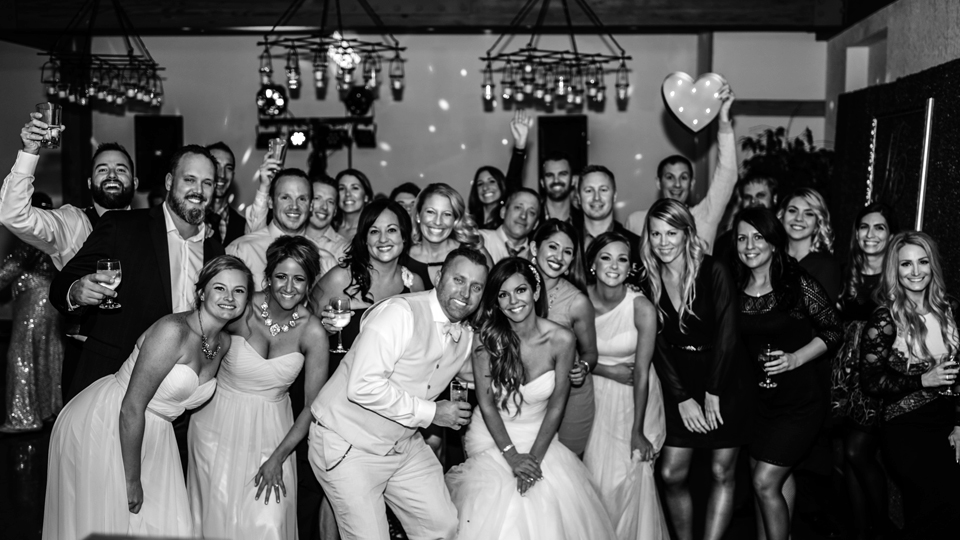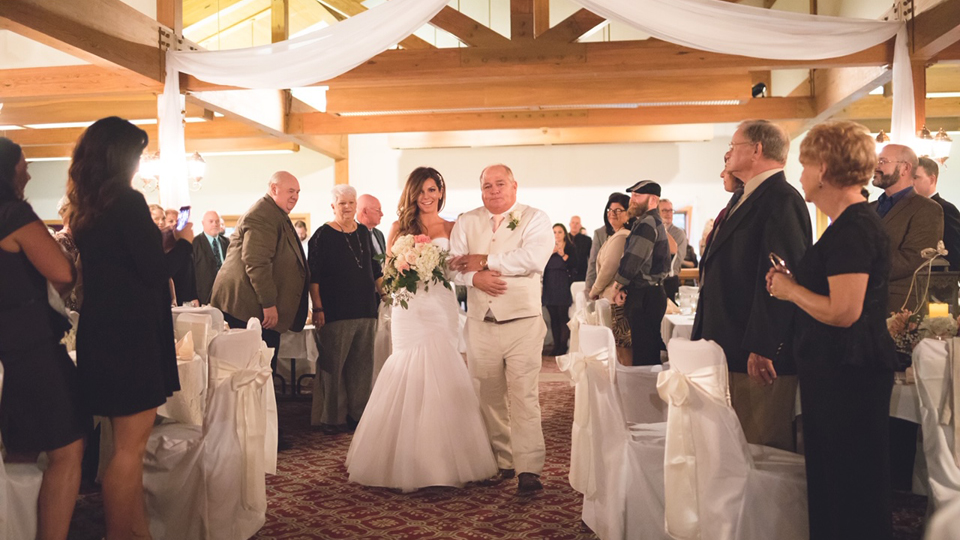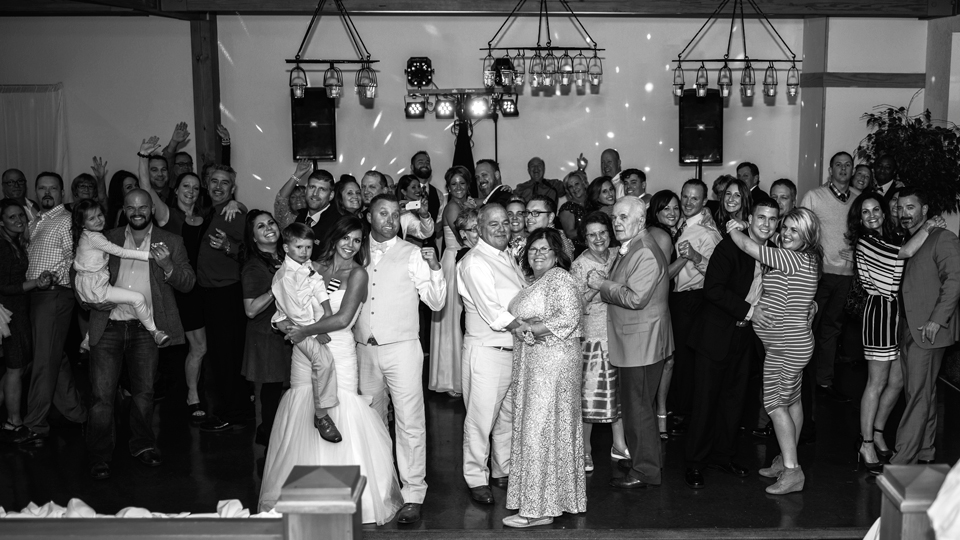 DJ Dean at the DoubleTree the MOST FUN Wedding DJ! (Photos Courtesy of Collier Studios)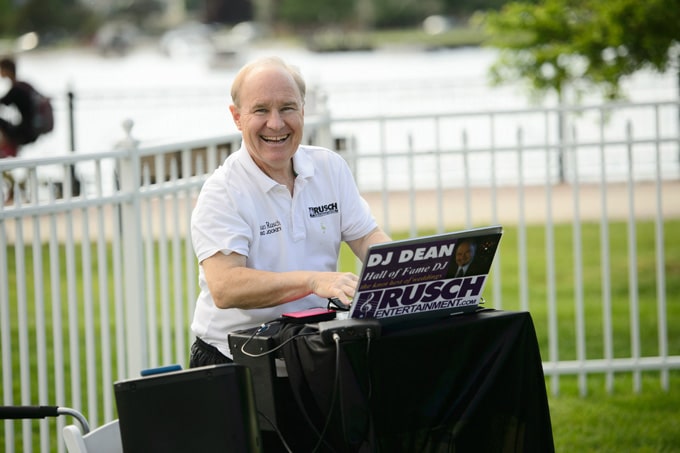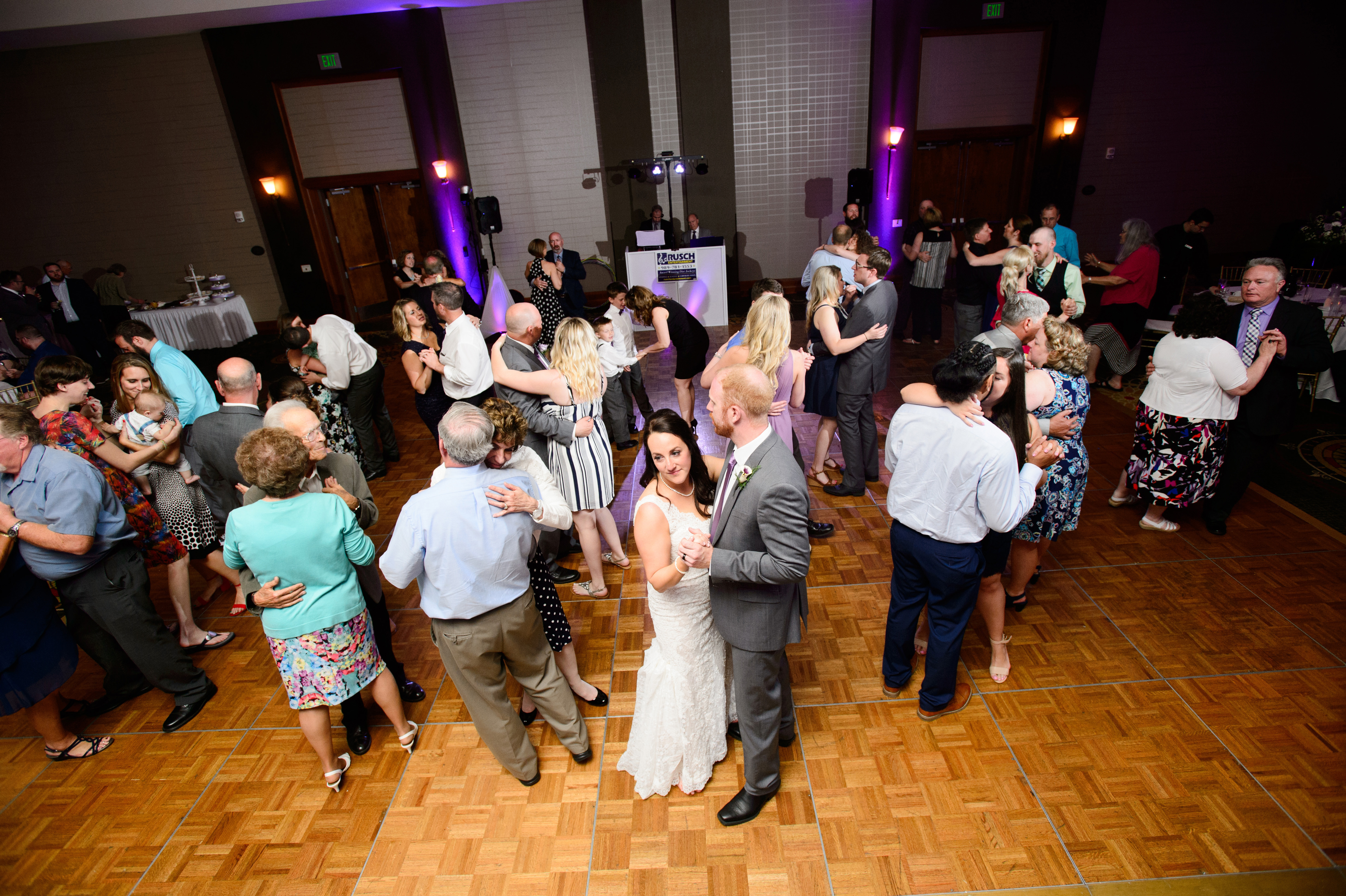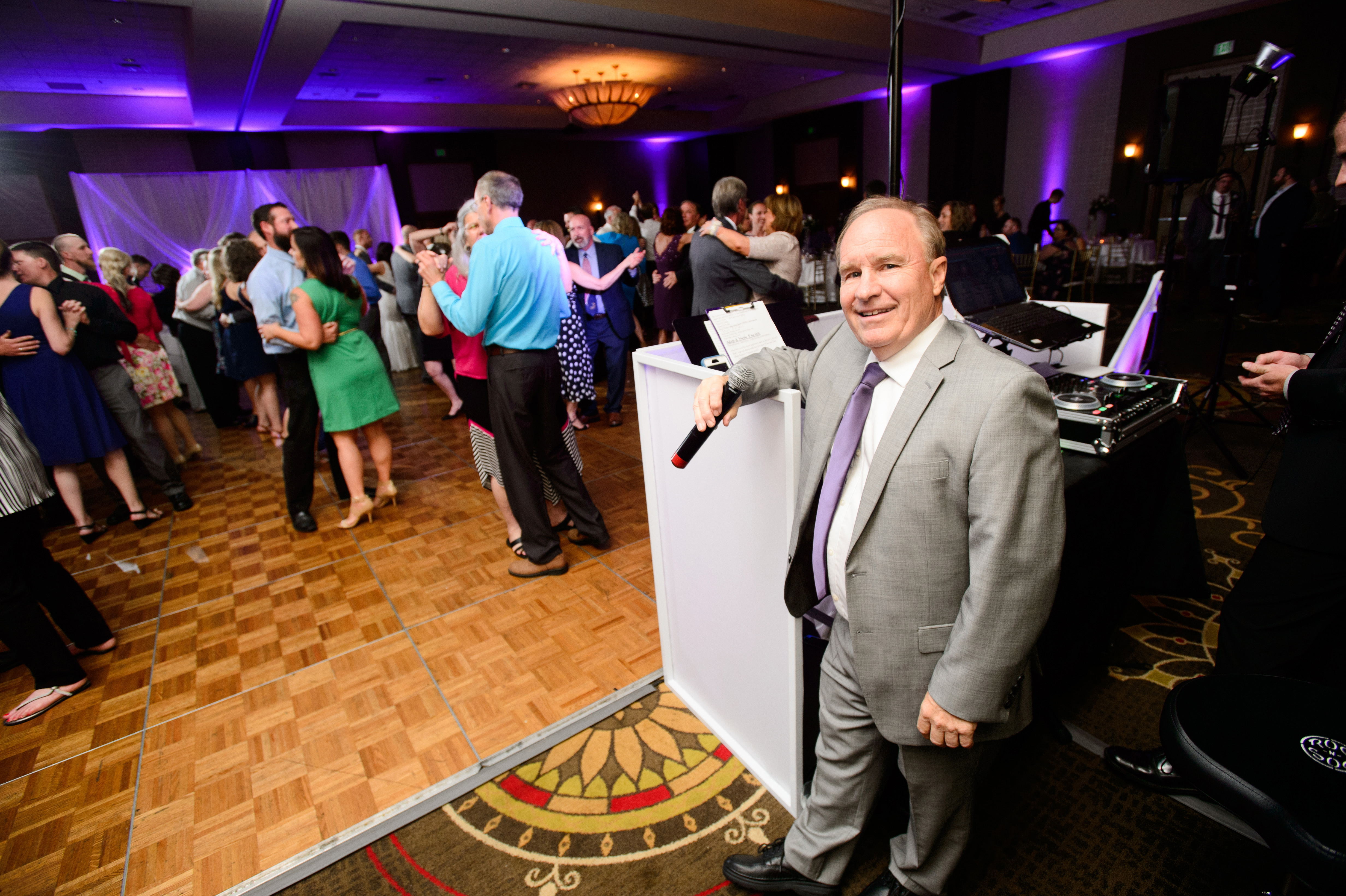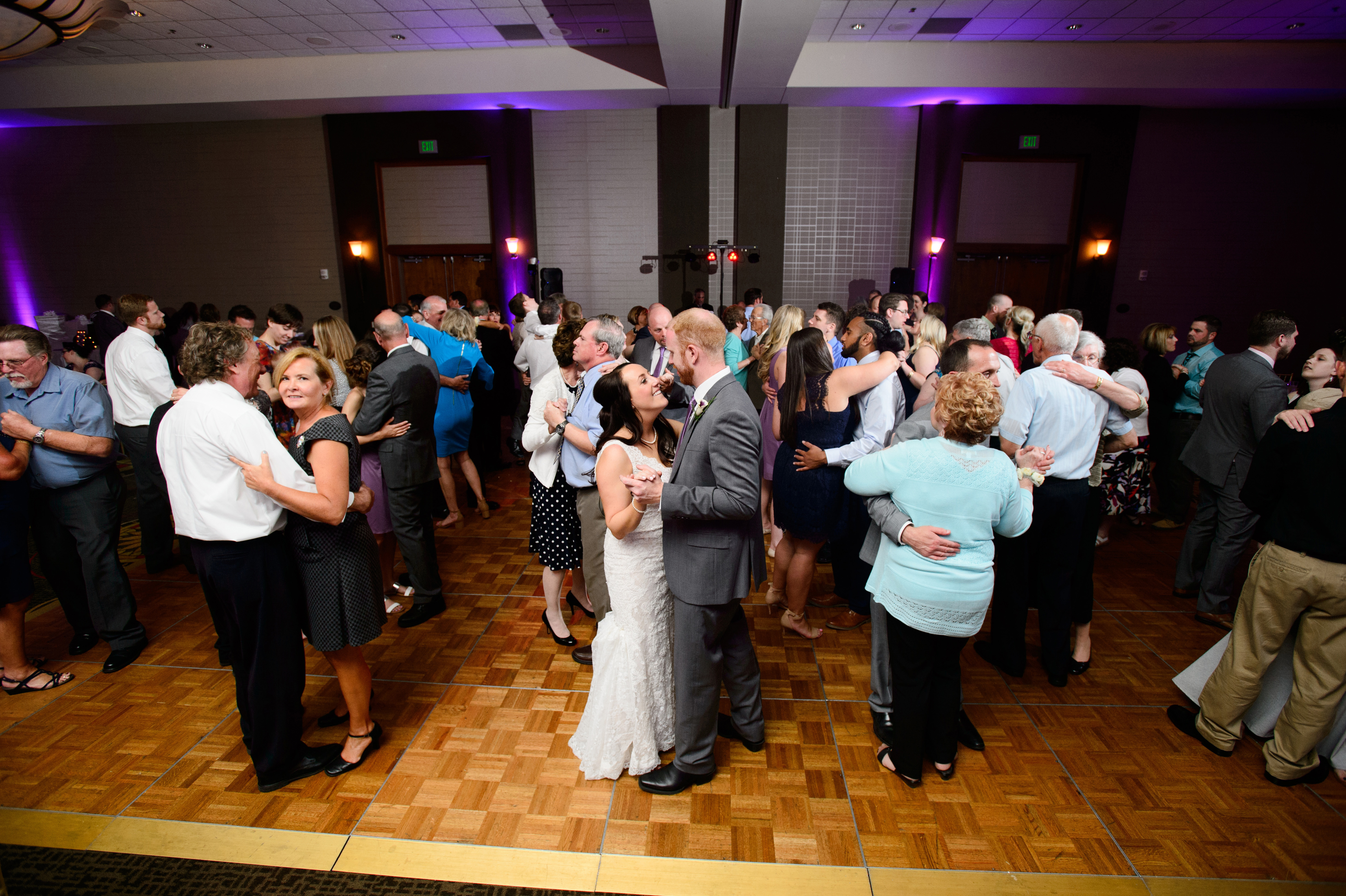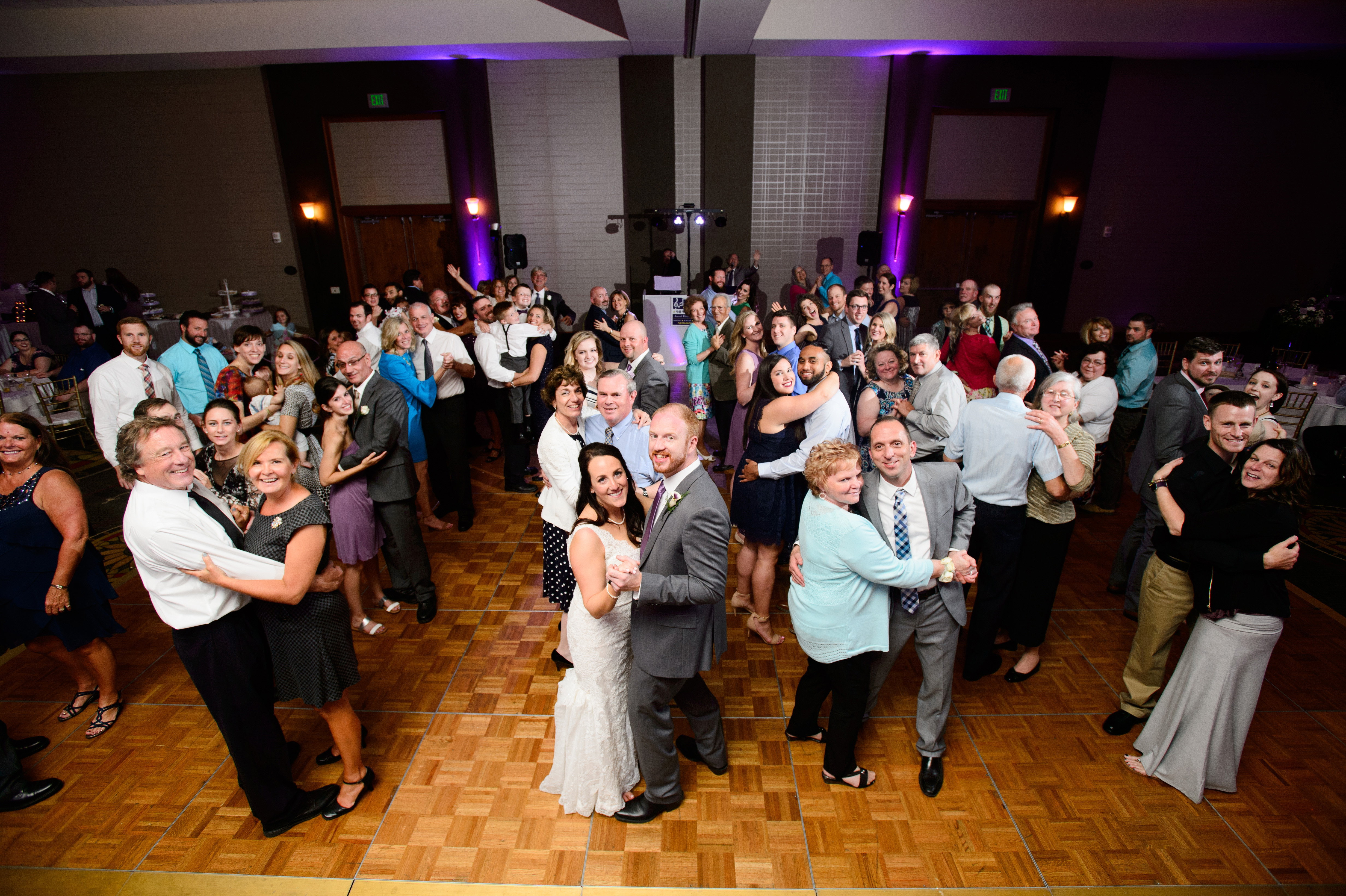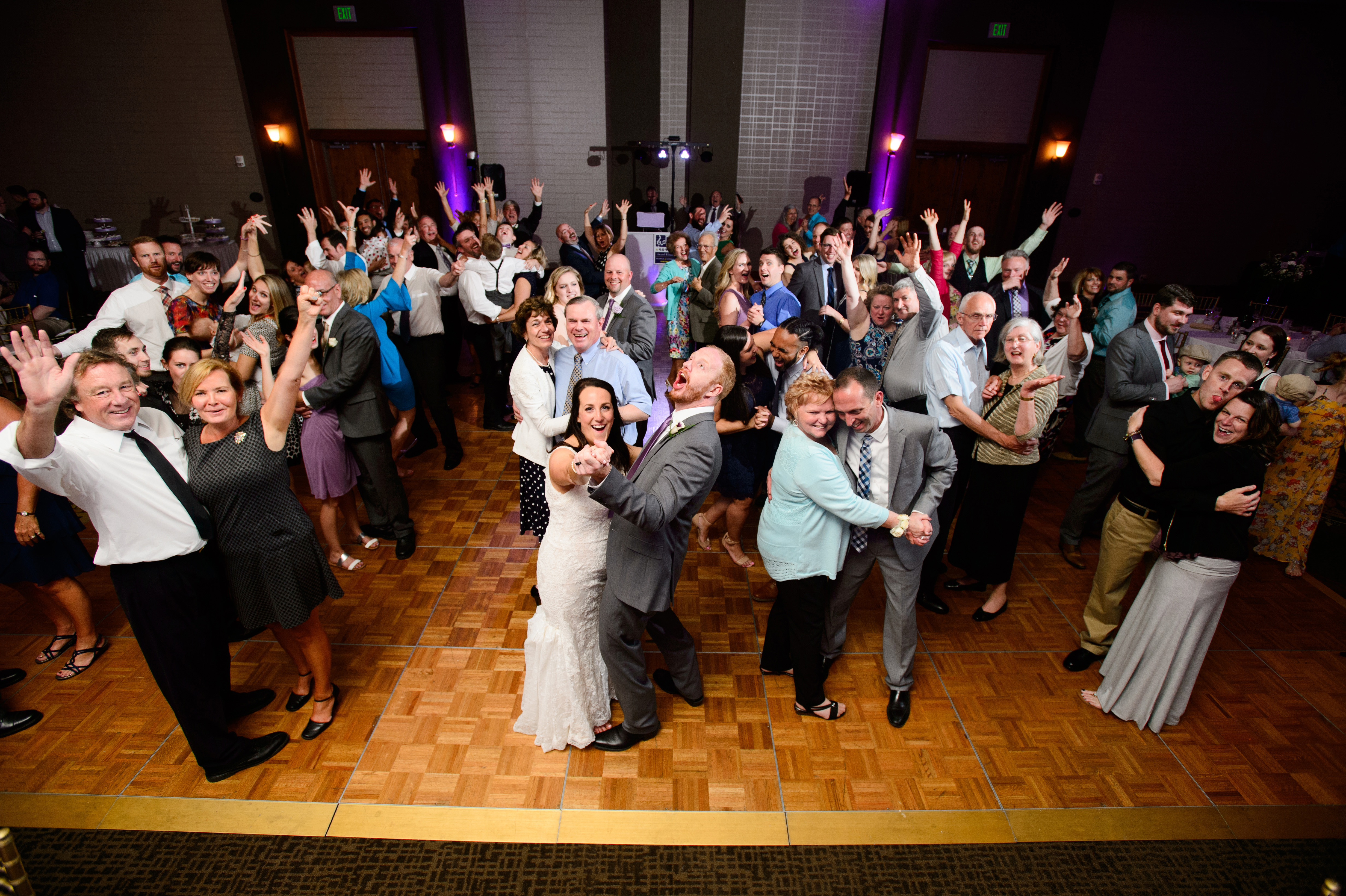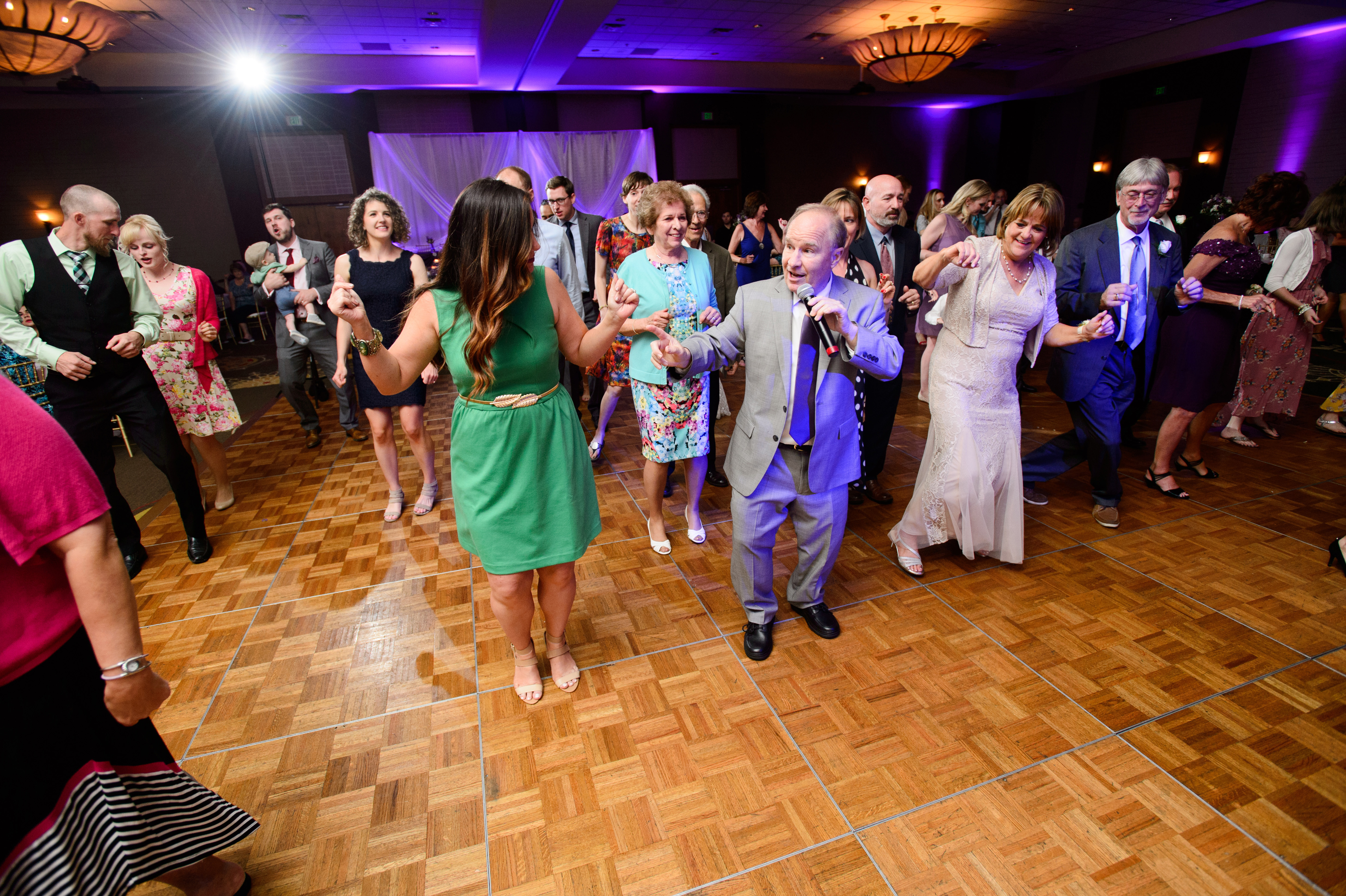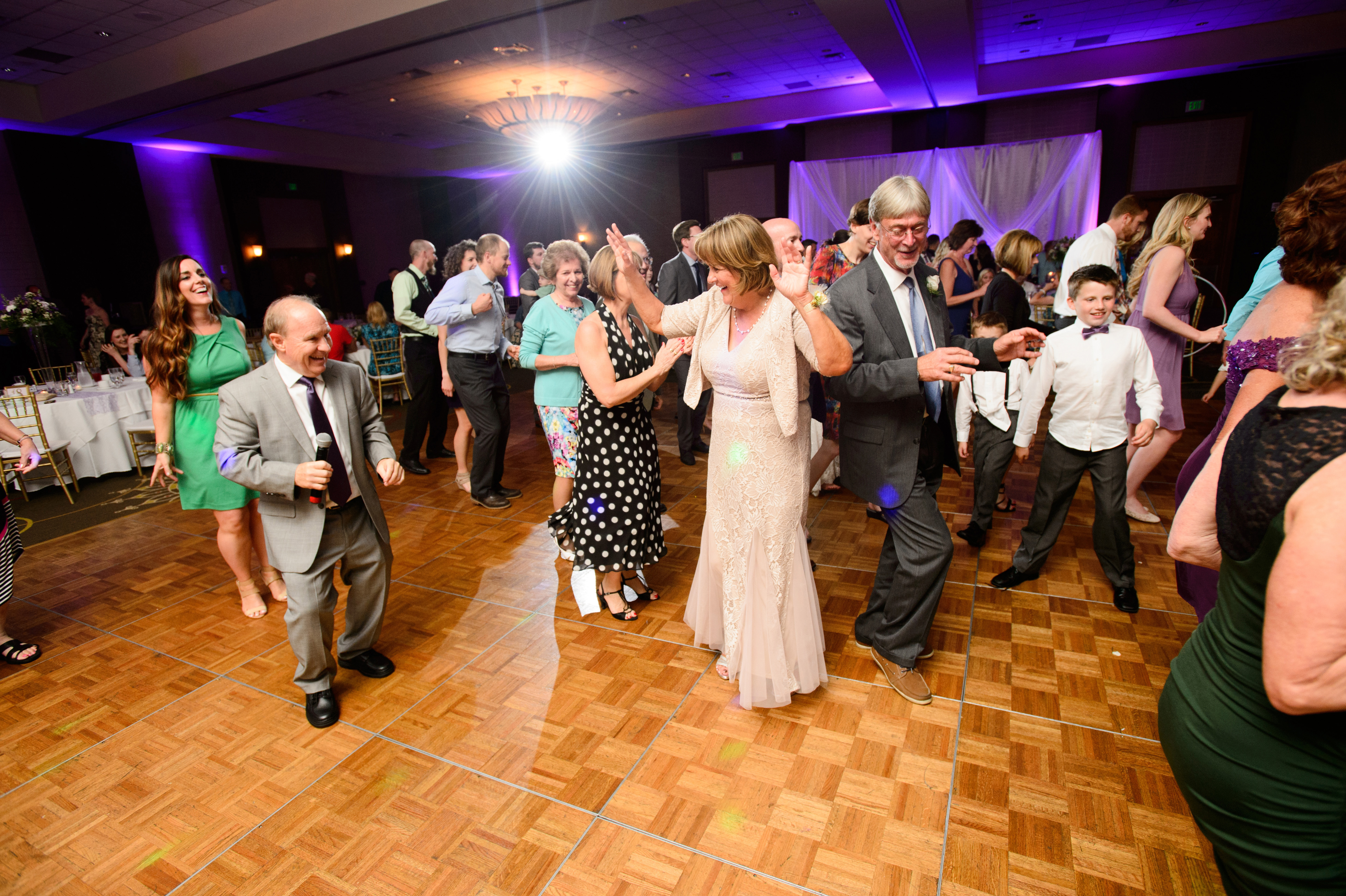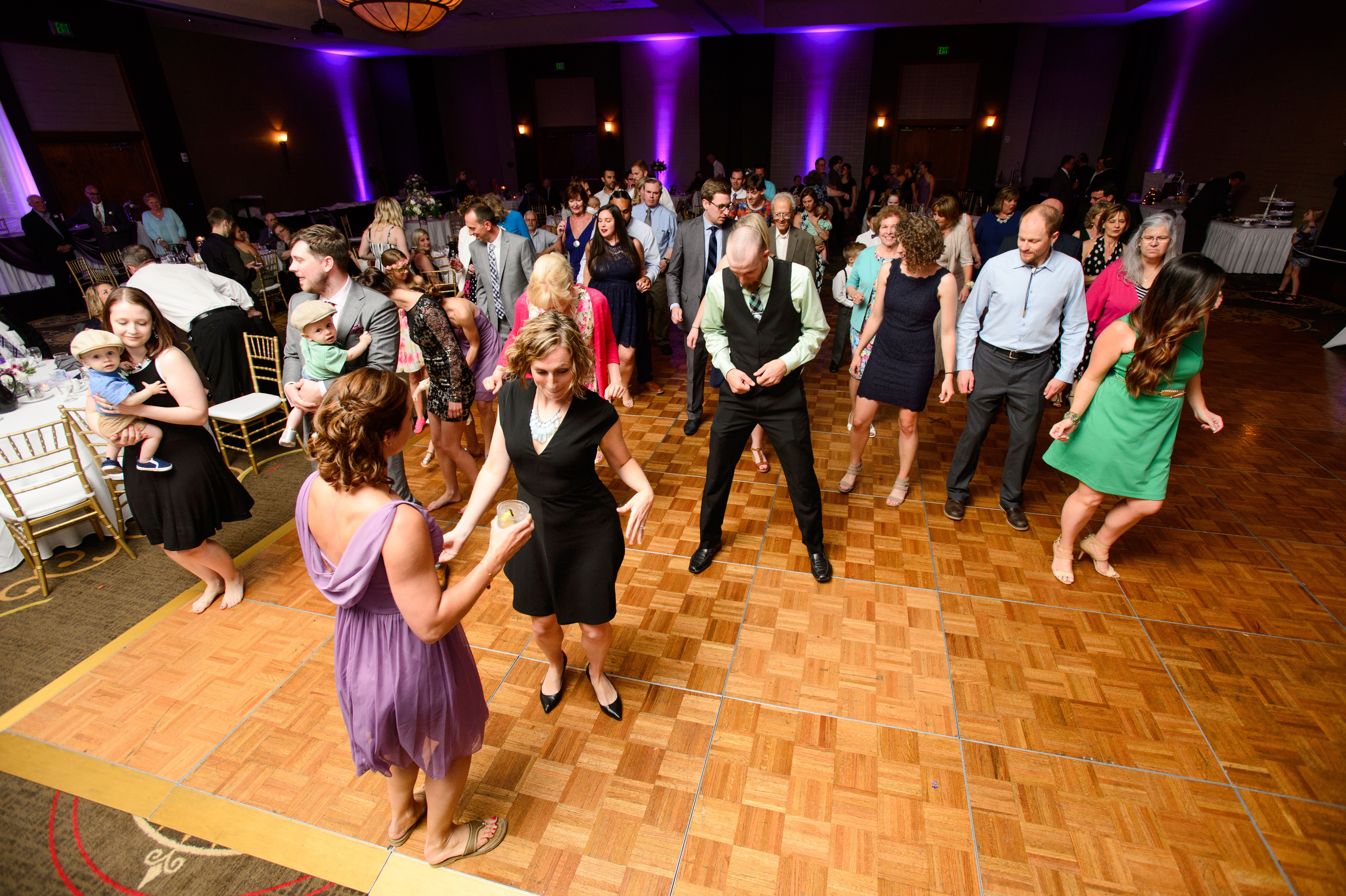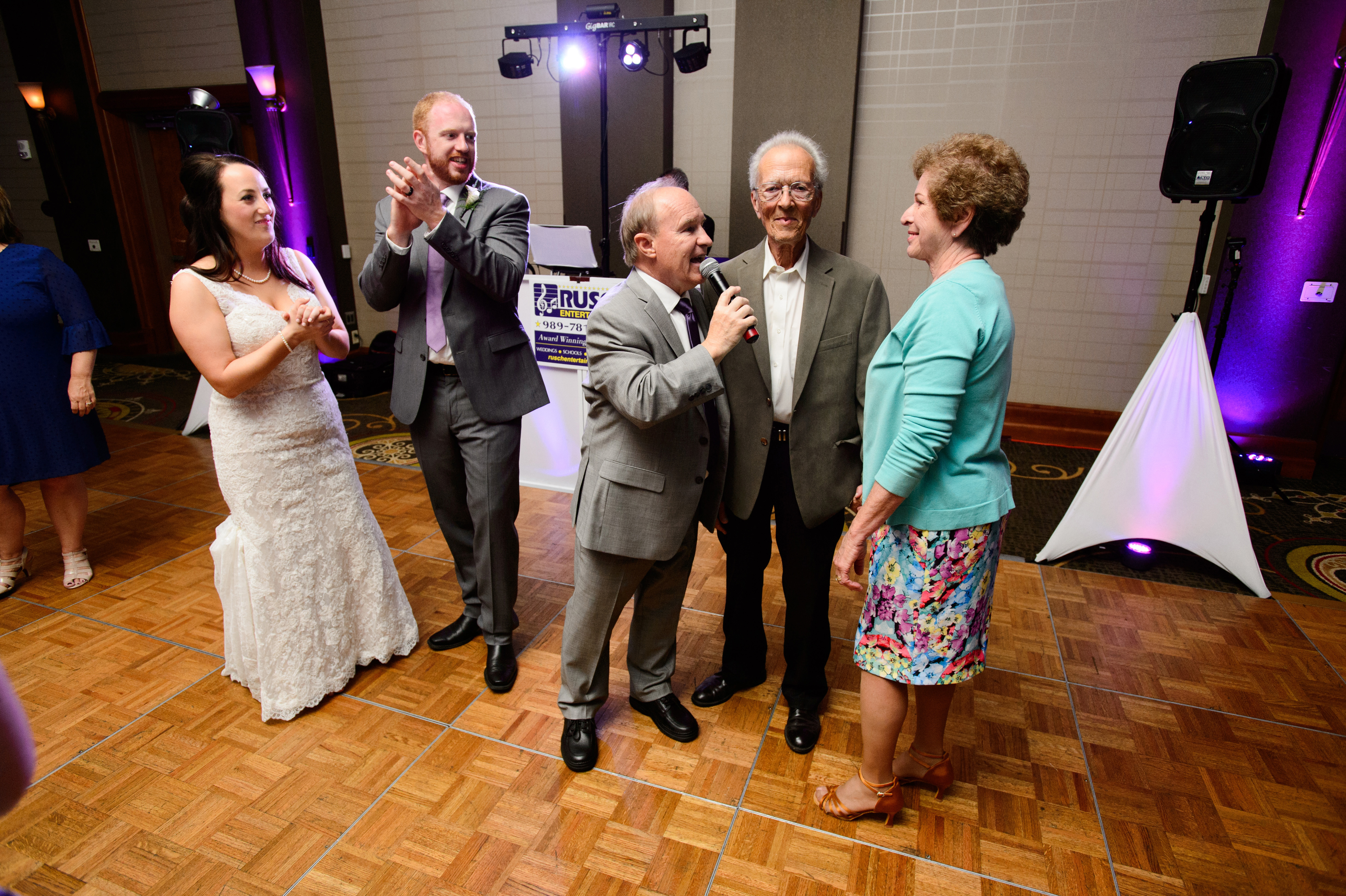 DJ Dean Keeps the Party Going - Stroebel/Toupin Wedding at The Great Hall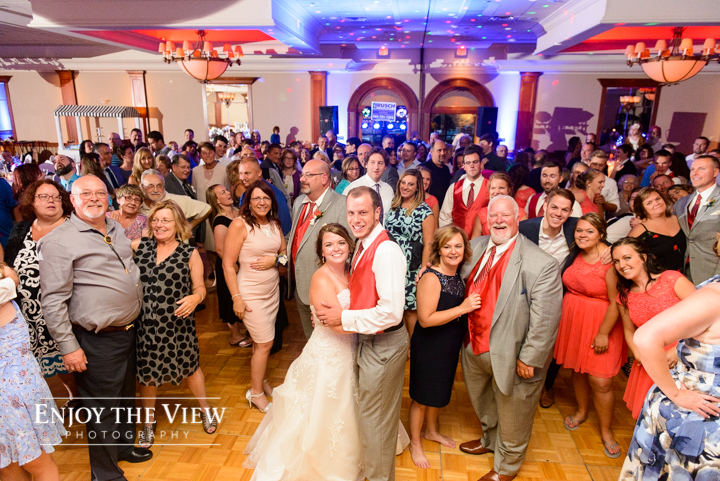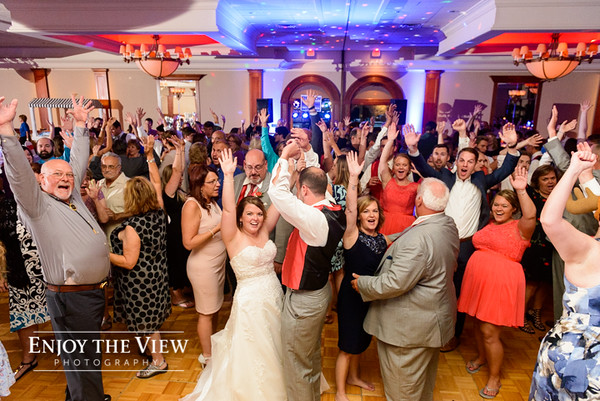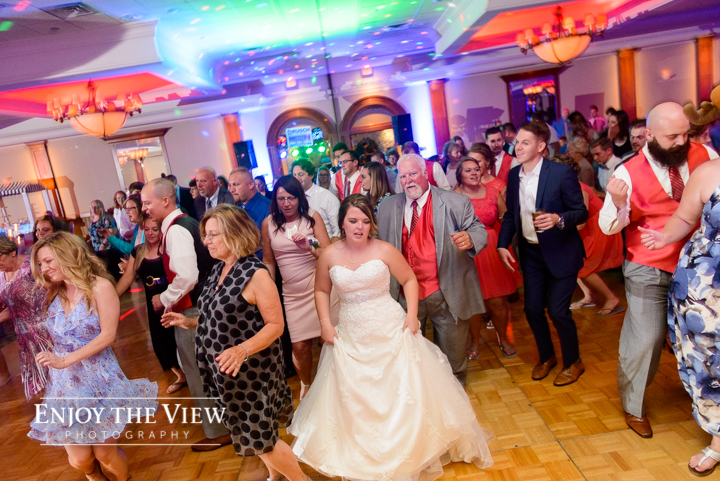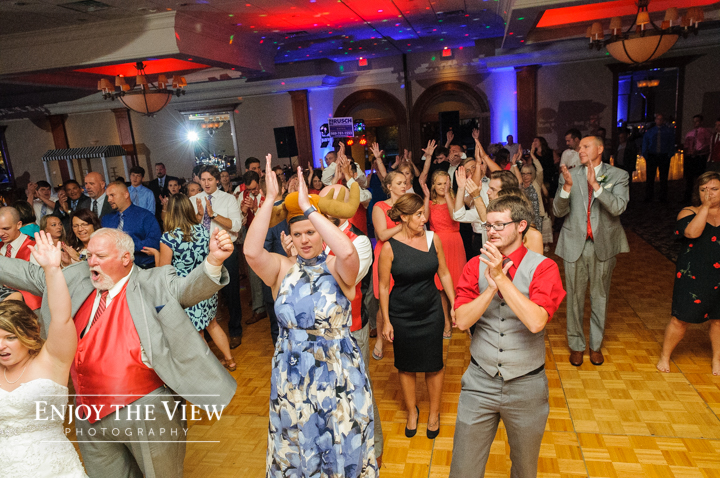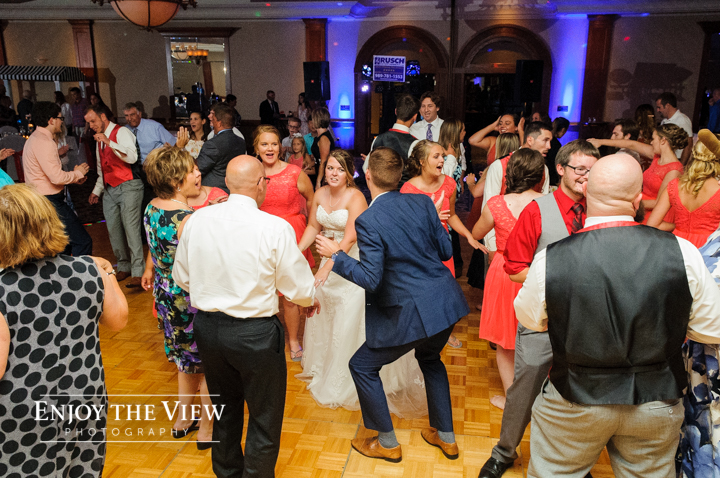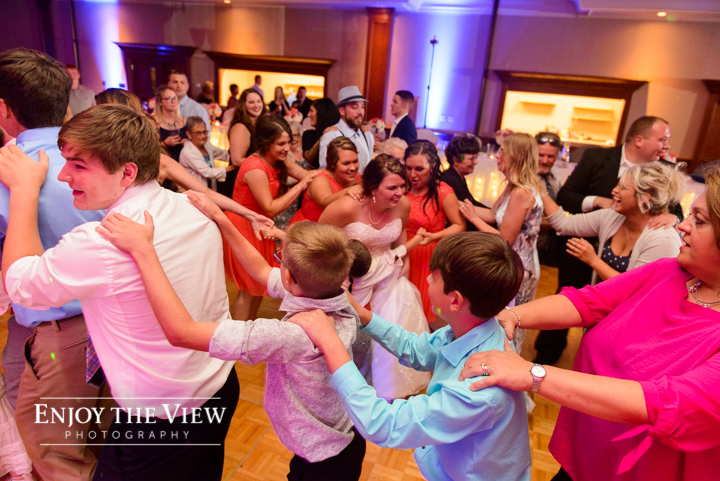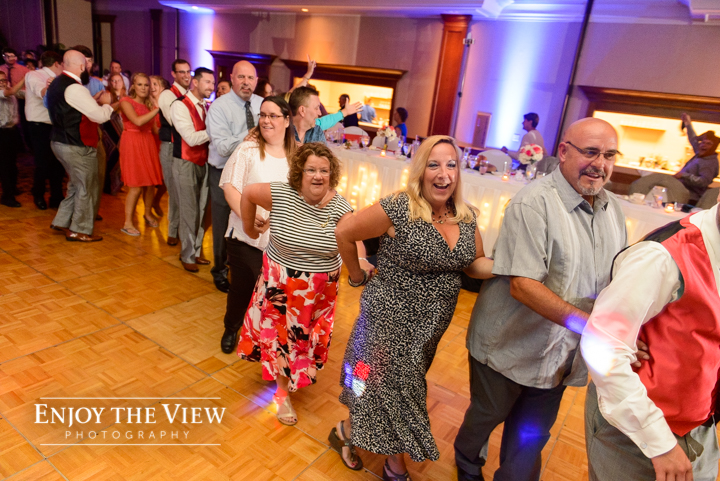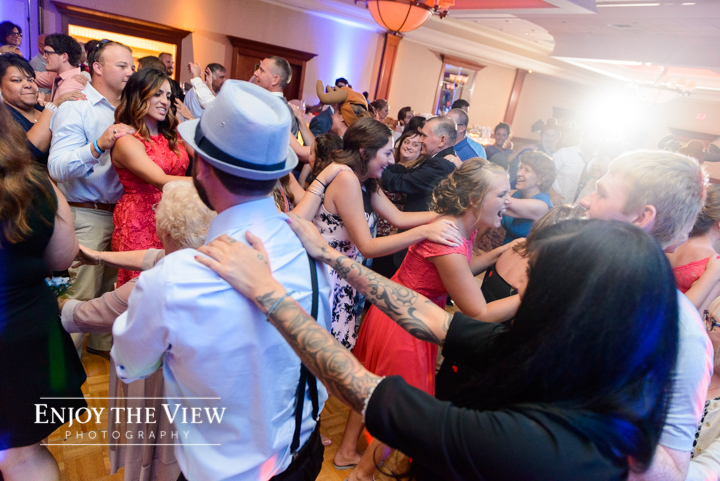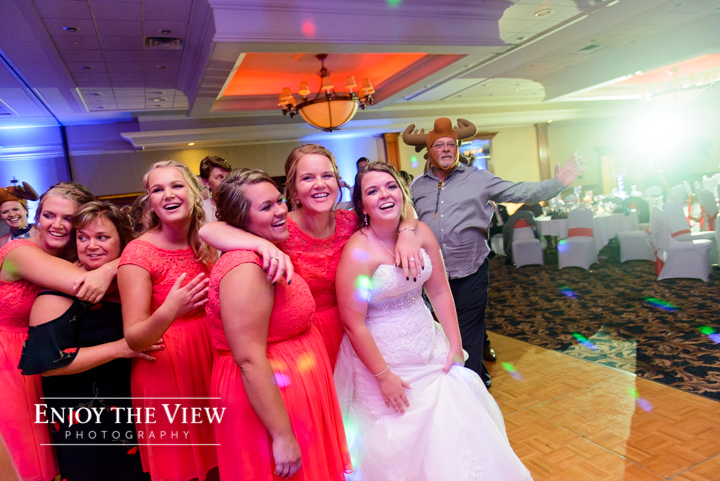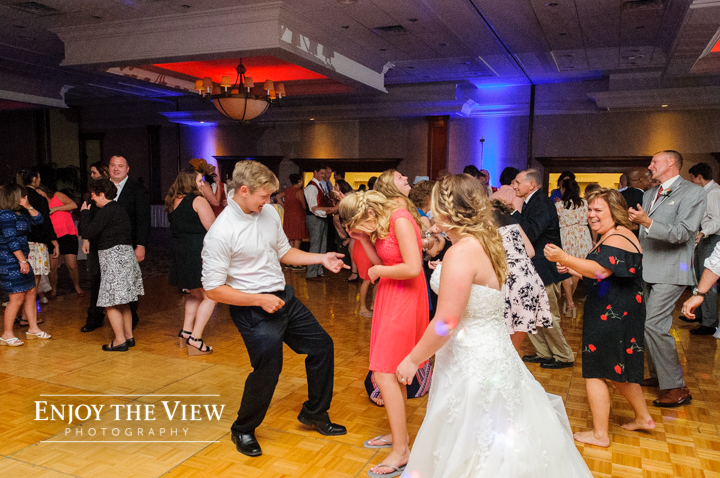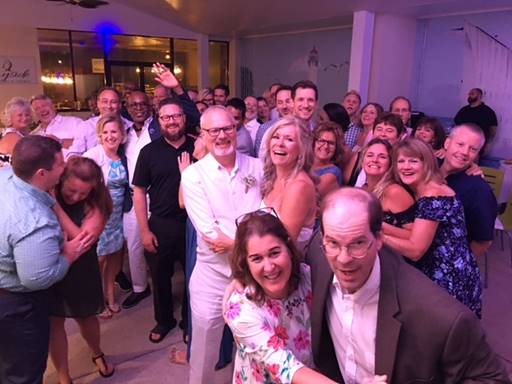 DJ DEAN at the Double Tree … Packs the Dance Floor Again!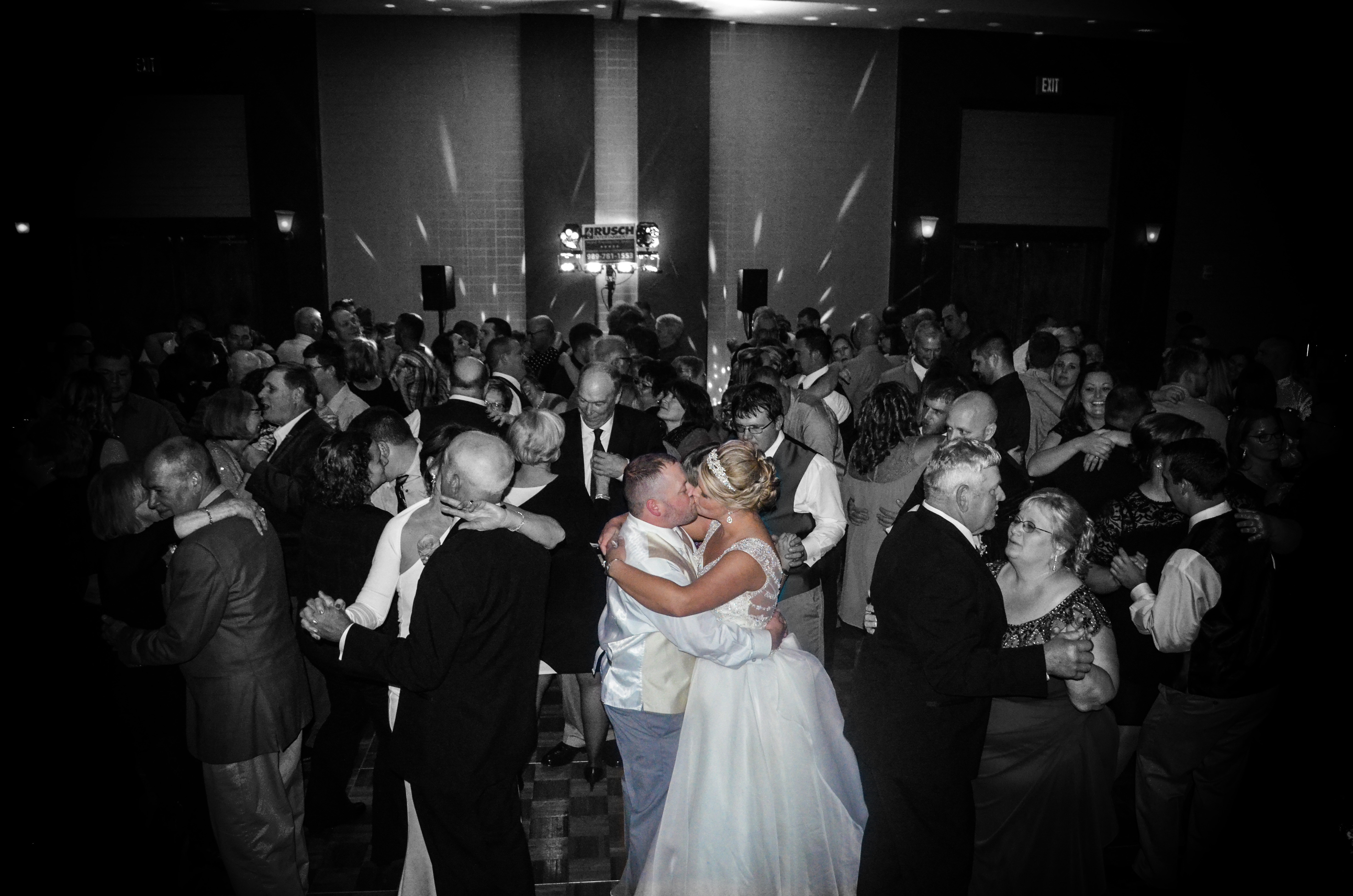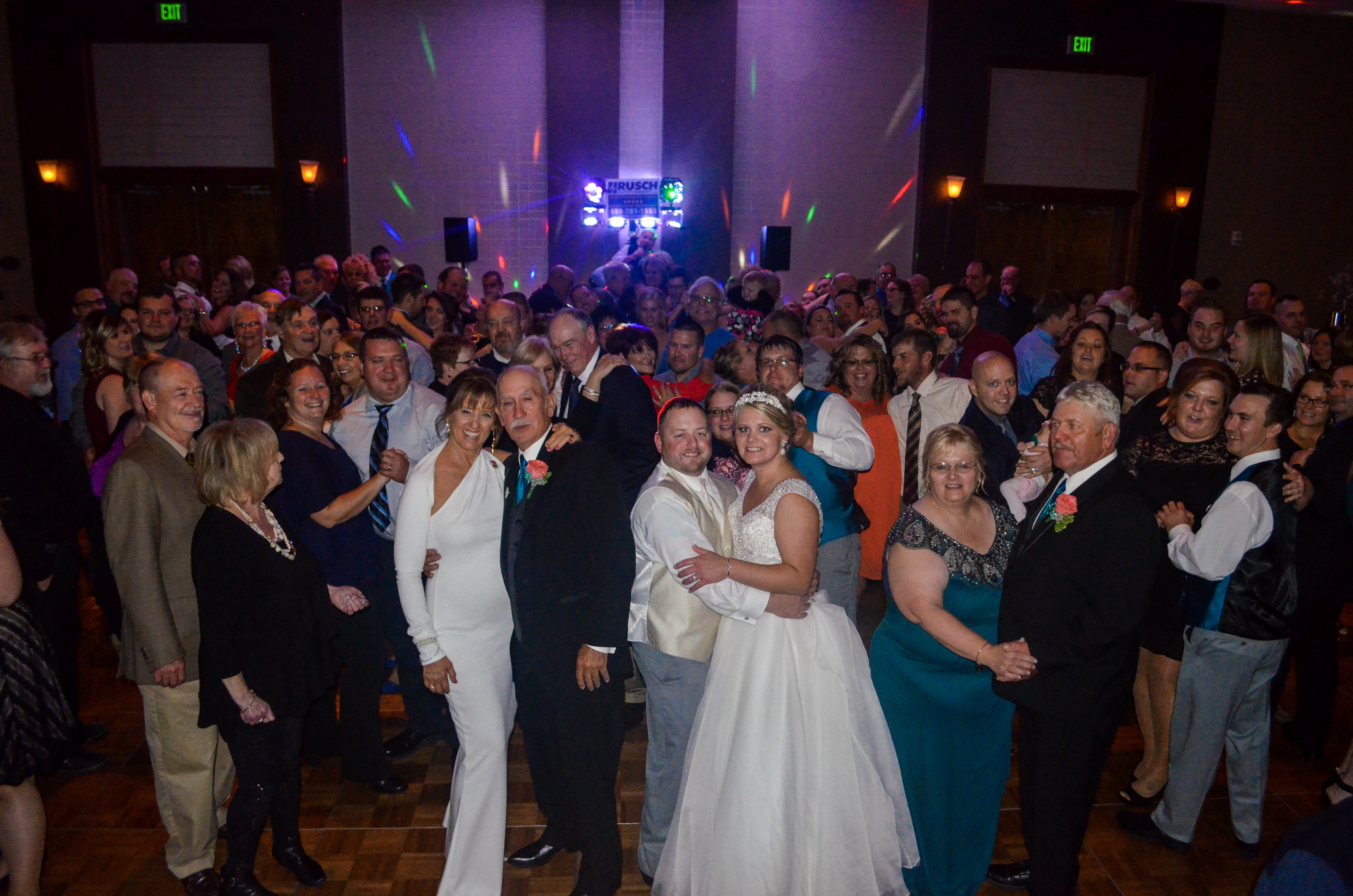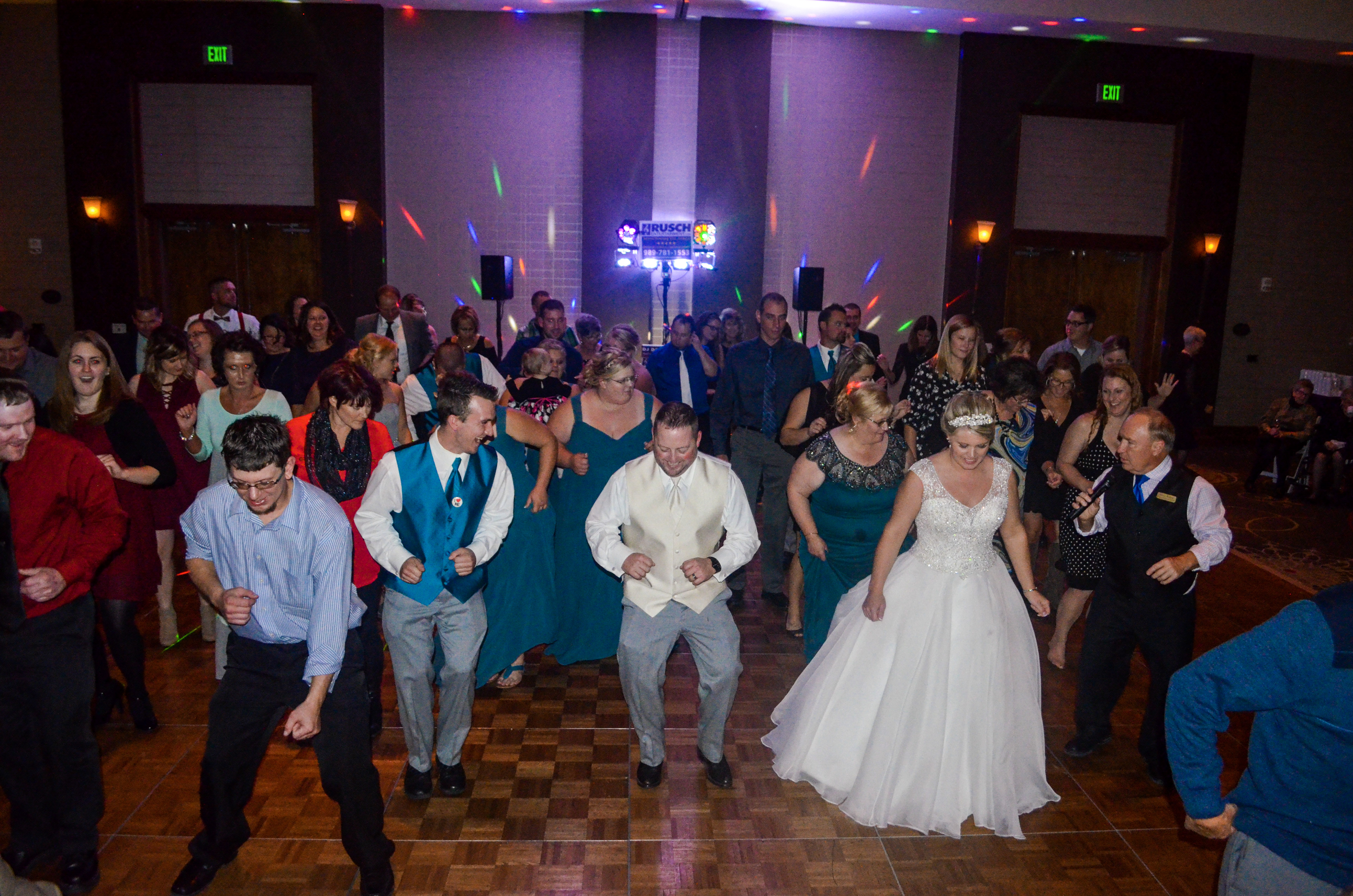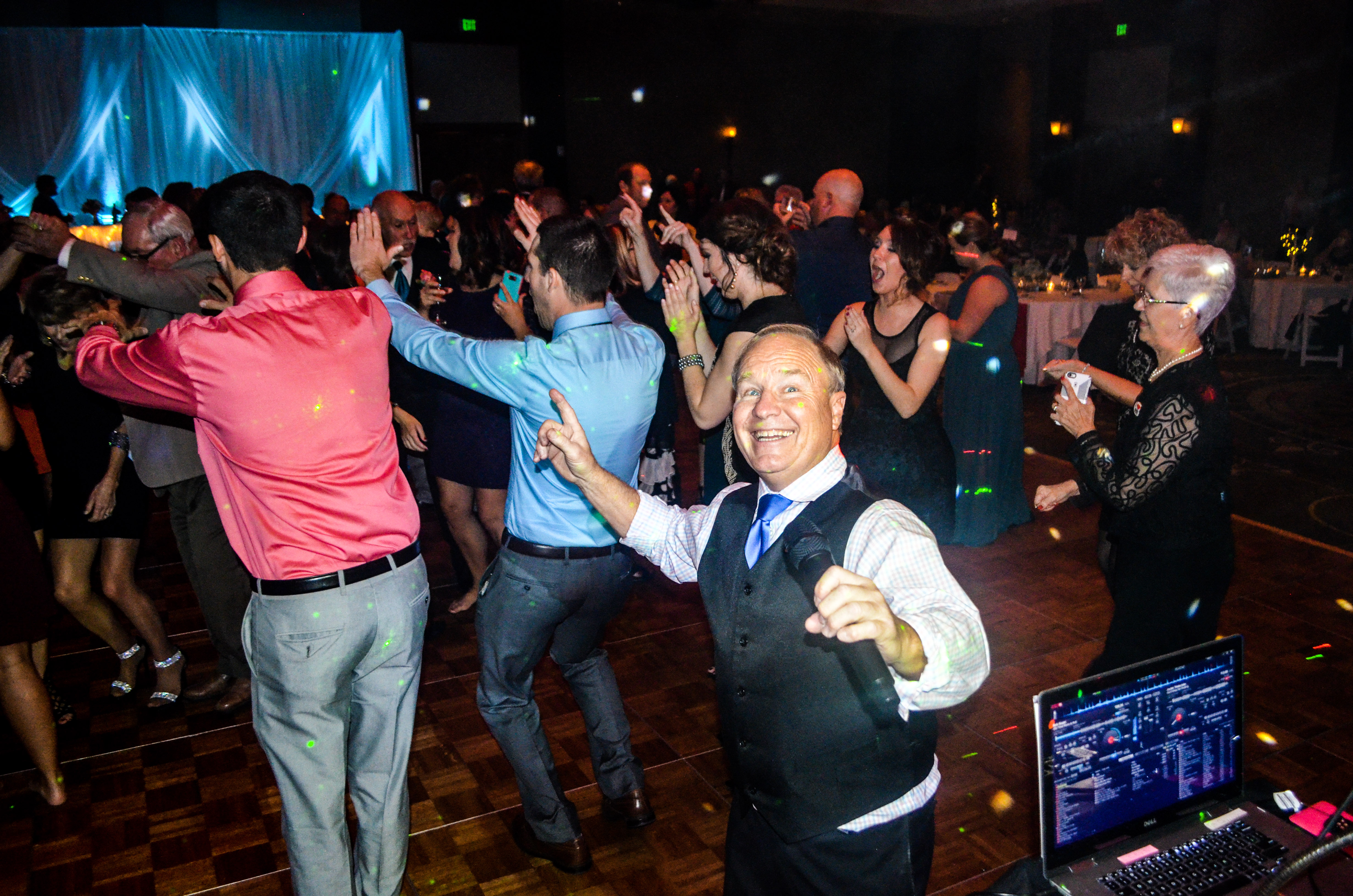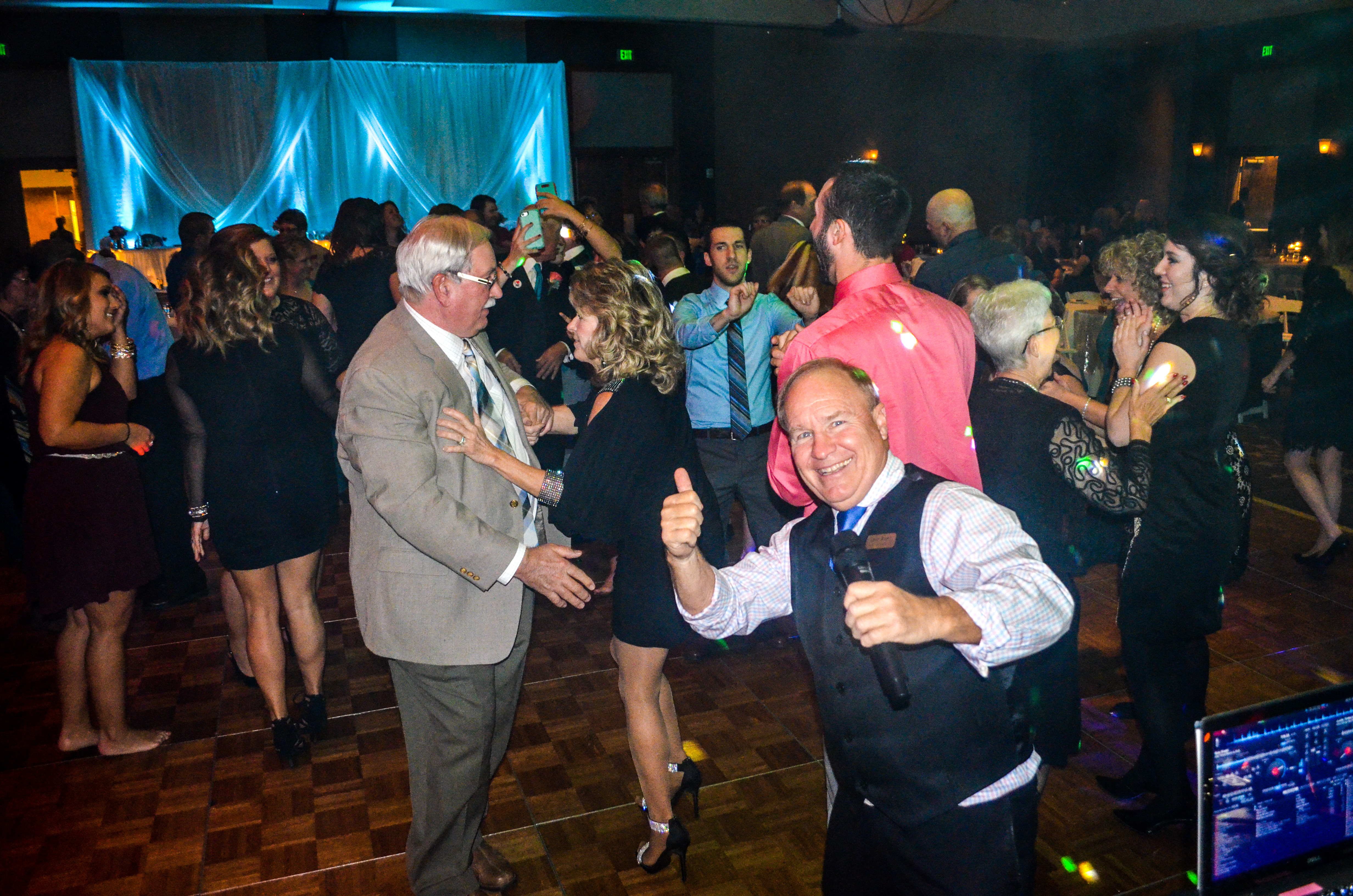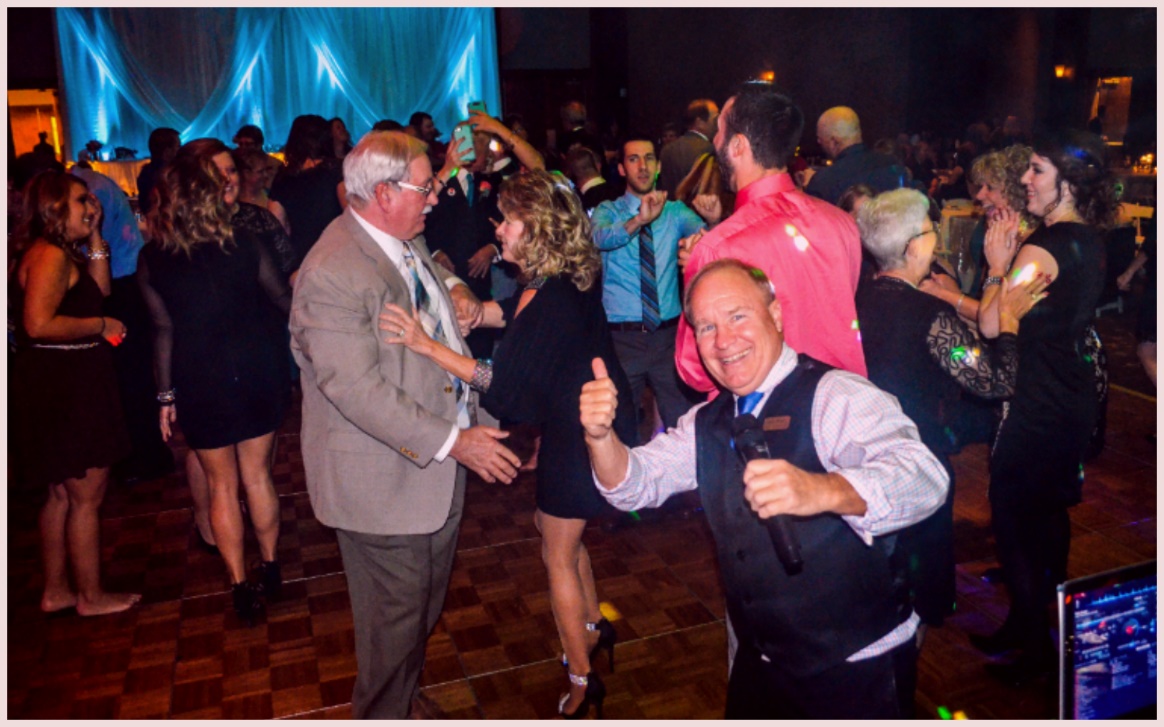 Adams School 3rd Graders Had a BLAST with Dean!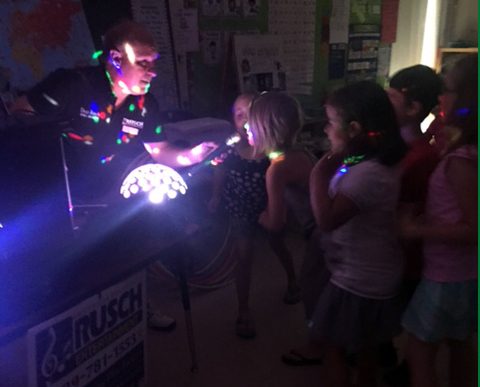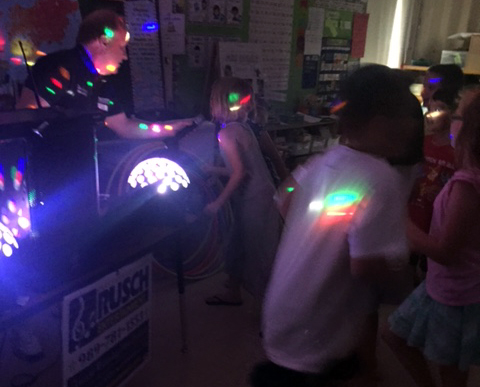 DJ Dean Rocks the Temple Theatre!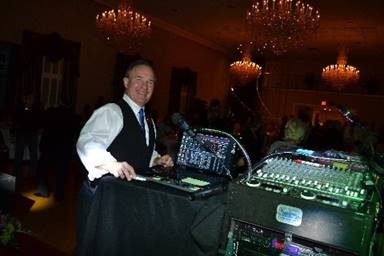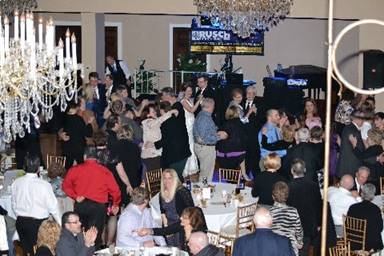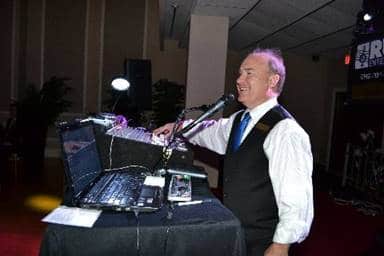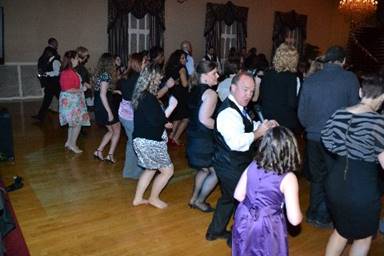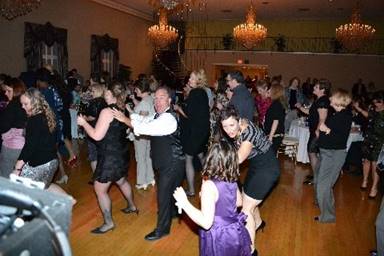 Dean at Castle Farms - Photos Courtesy of Darrell Christie Photography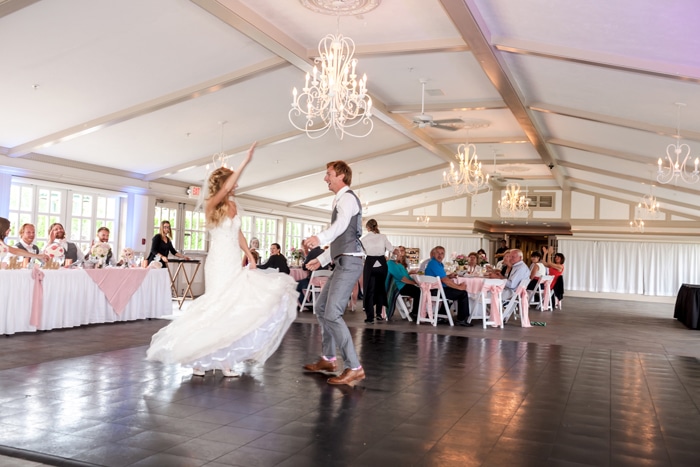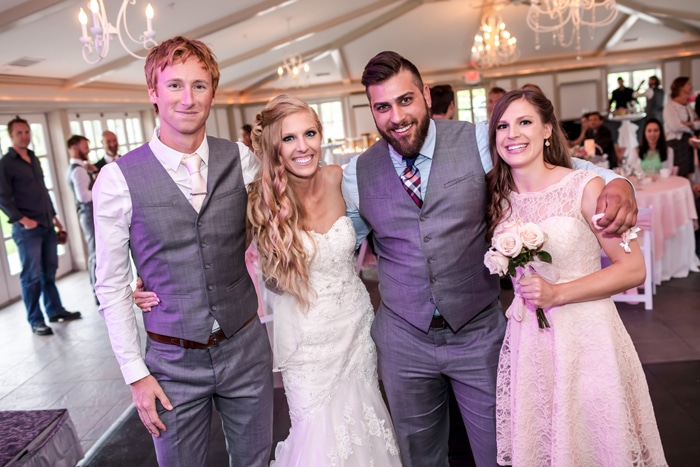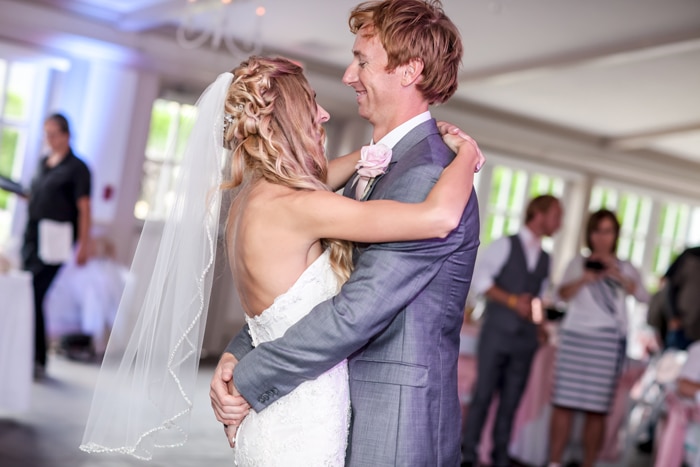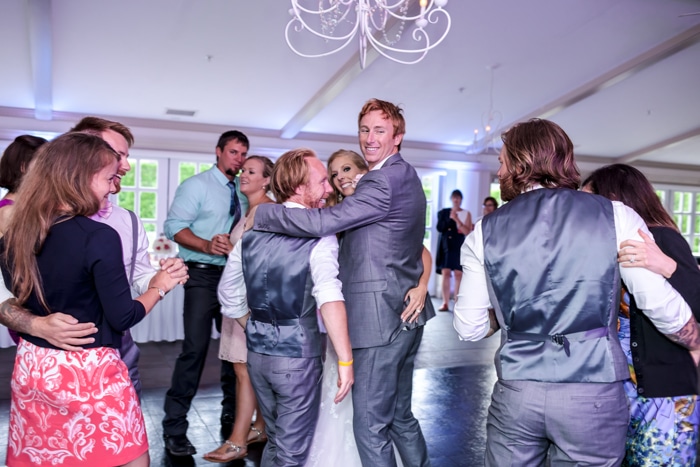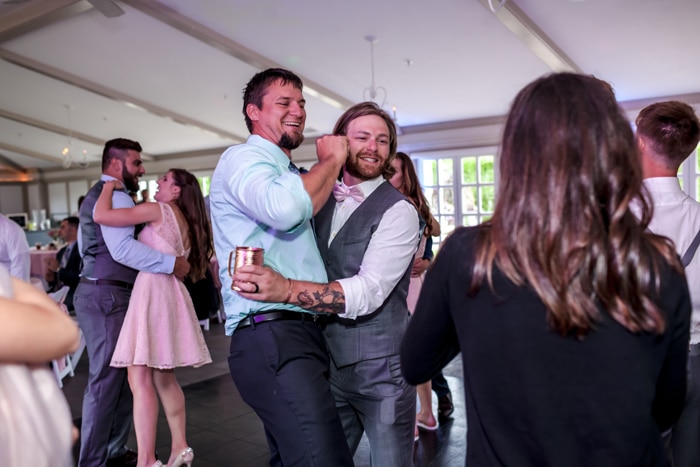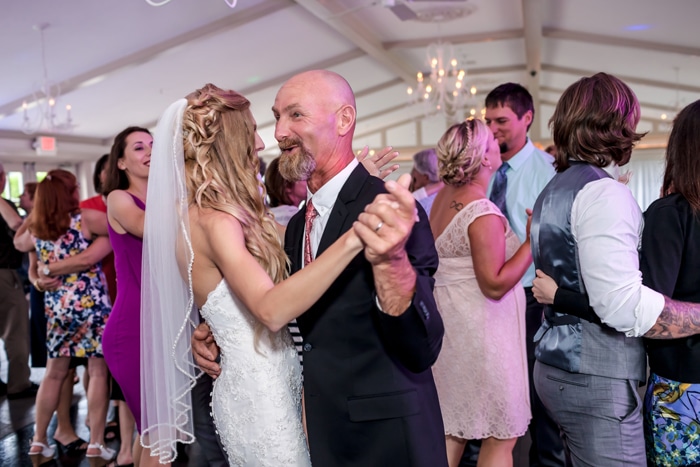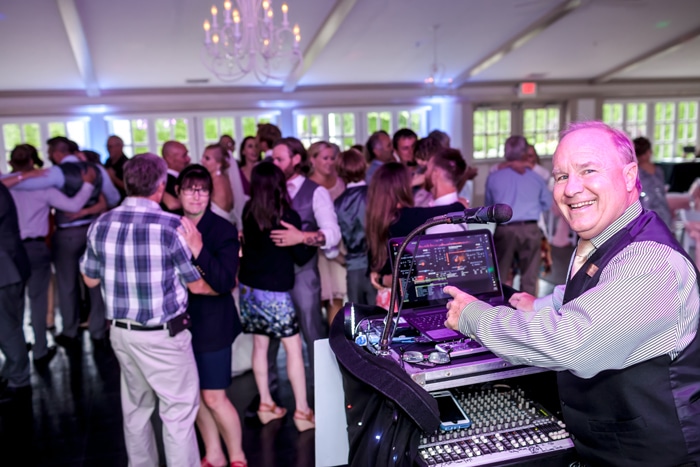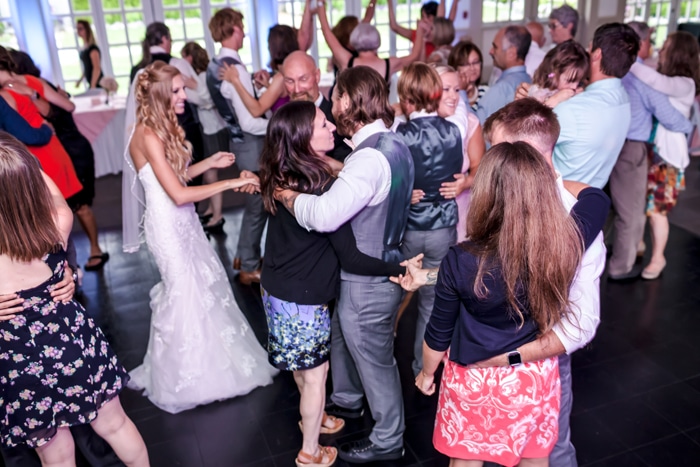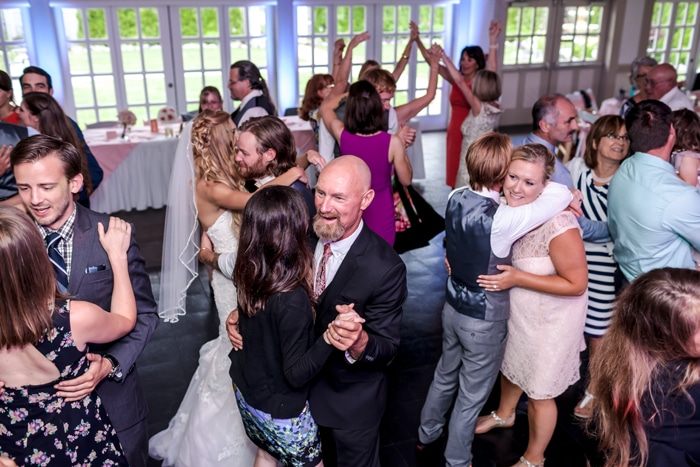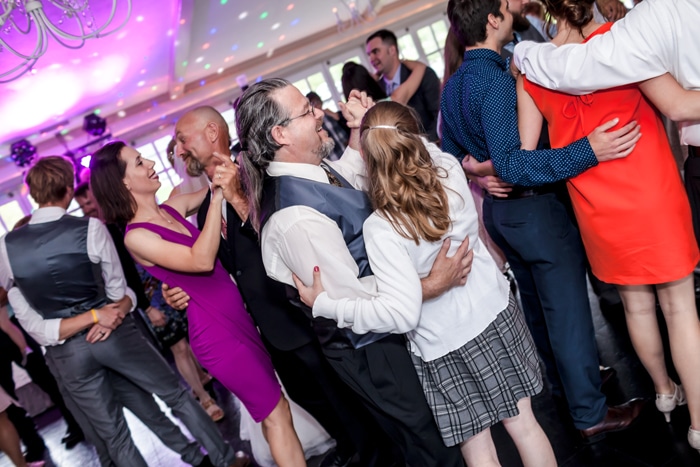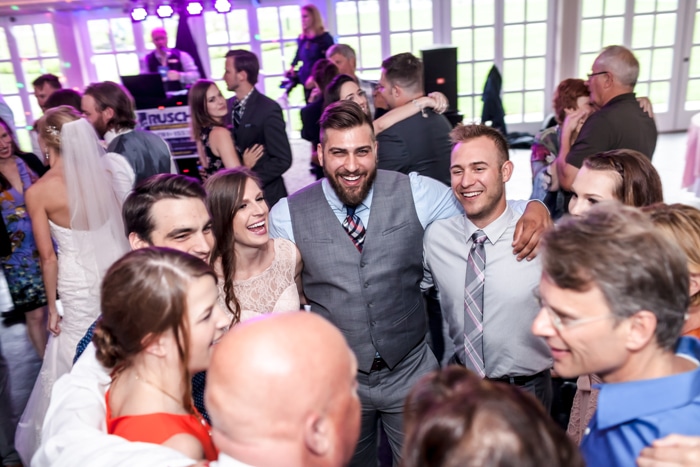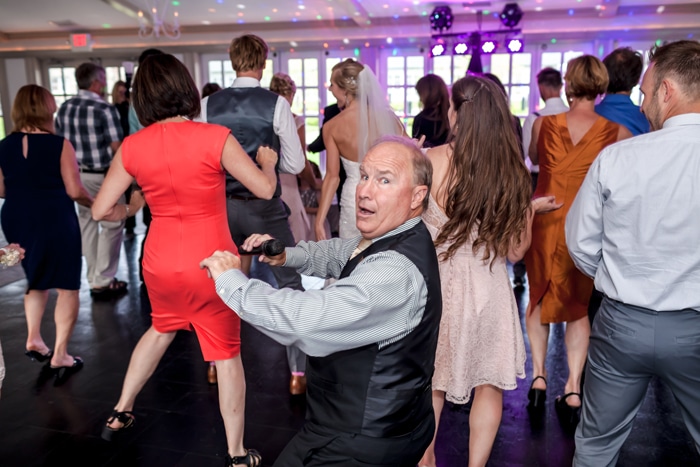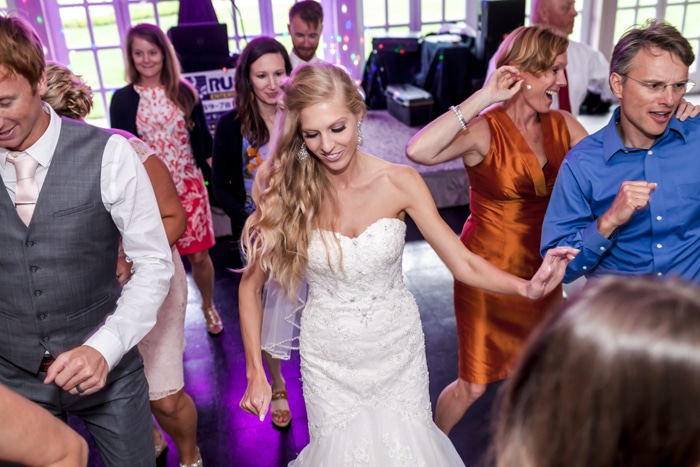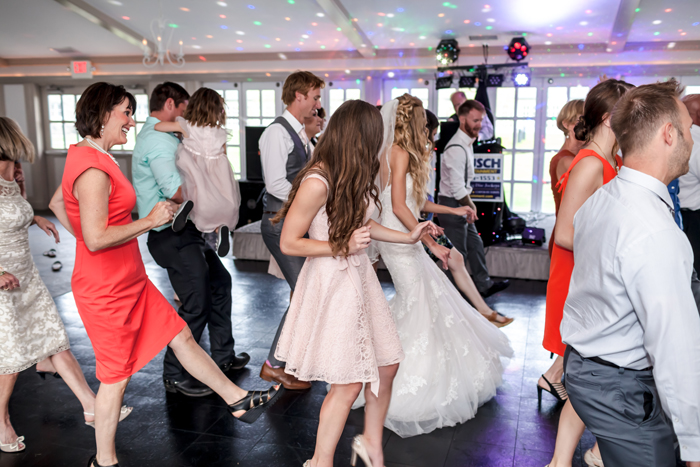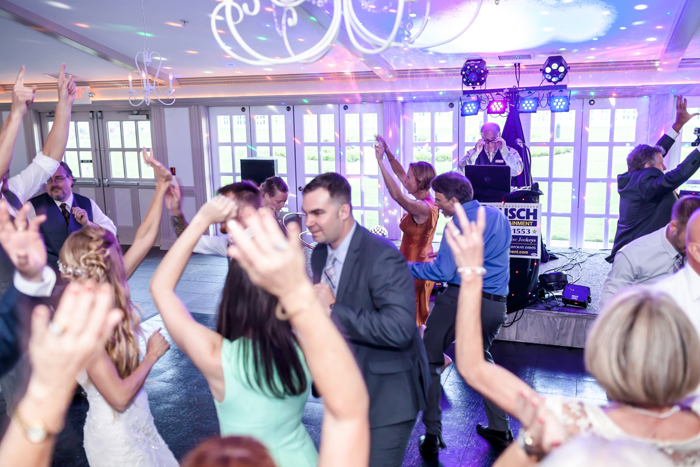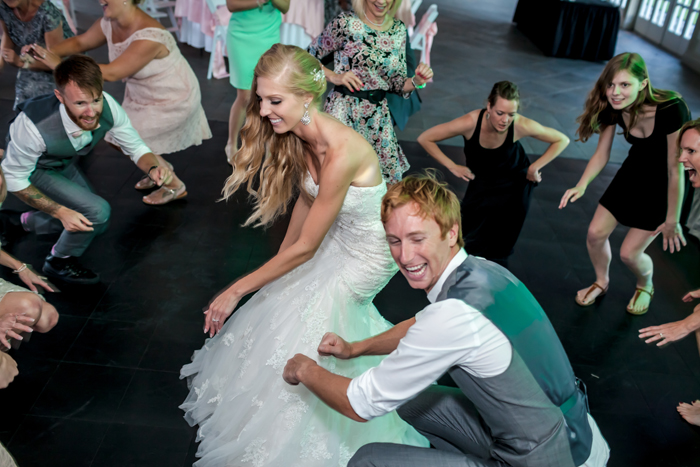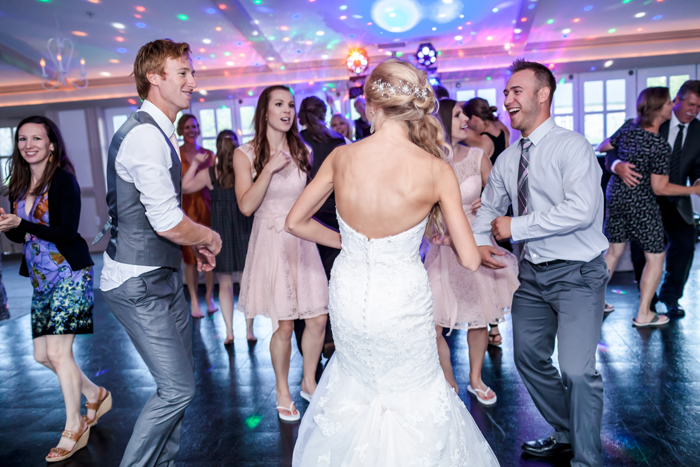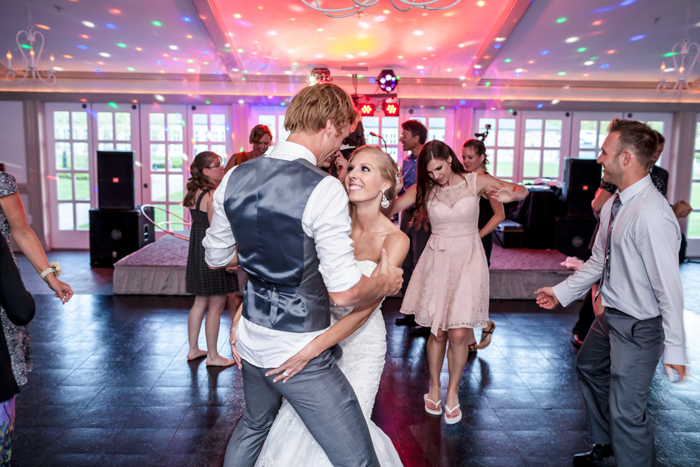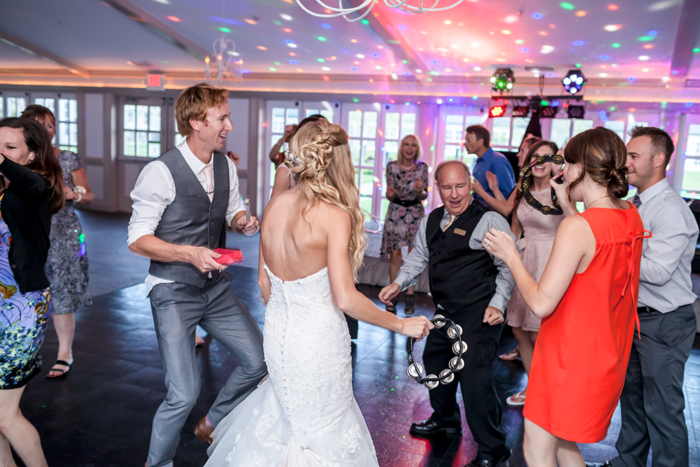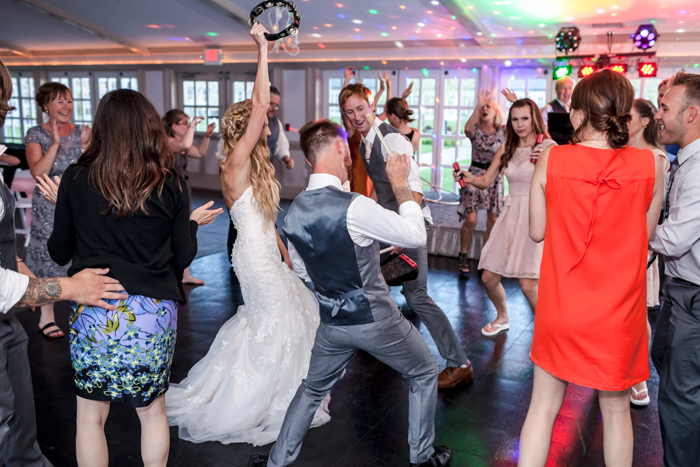 Montague Inn Weddings Are A BLAST with DJ Dean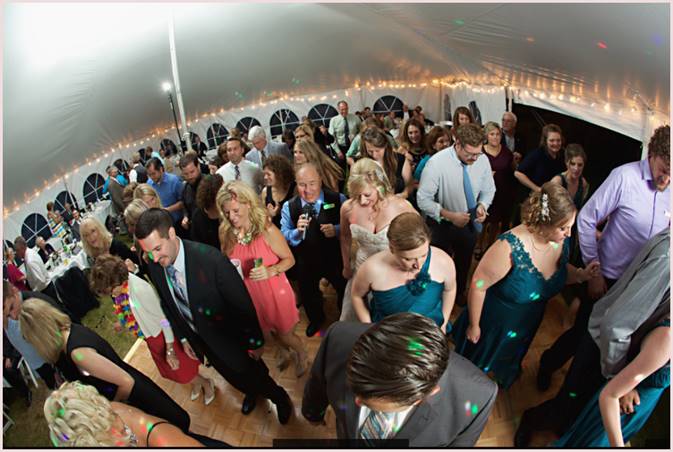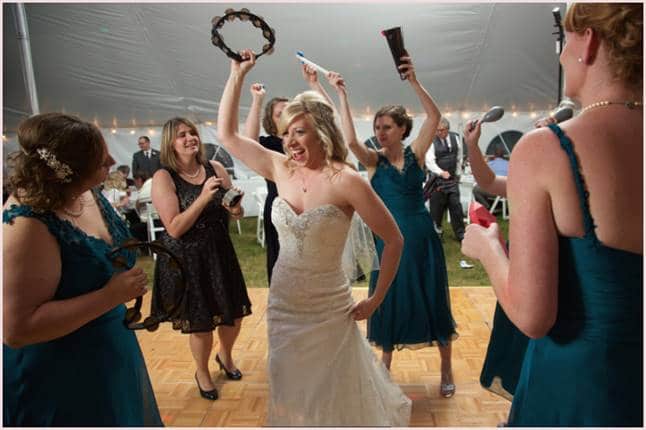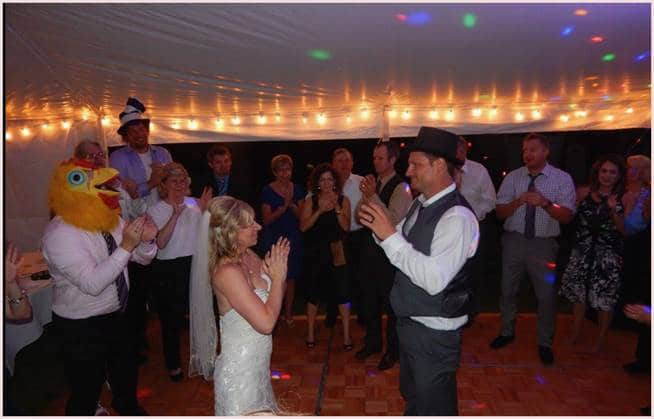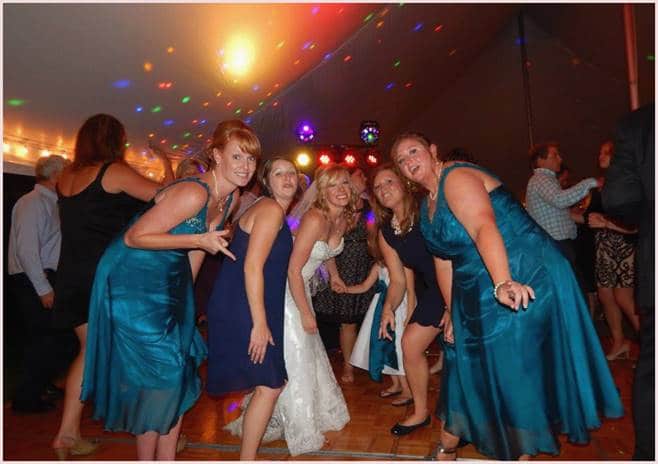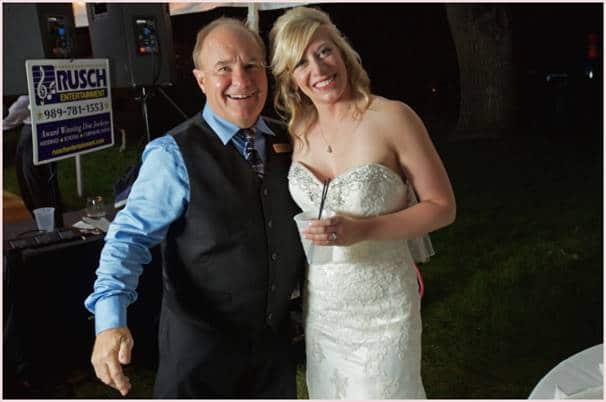 Vanessa, owner of Moments Captured by Vanessa, booked Dean for her sister's wedding at The Grand Banquet & Conference Center. Everyone danced all night!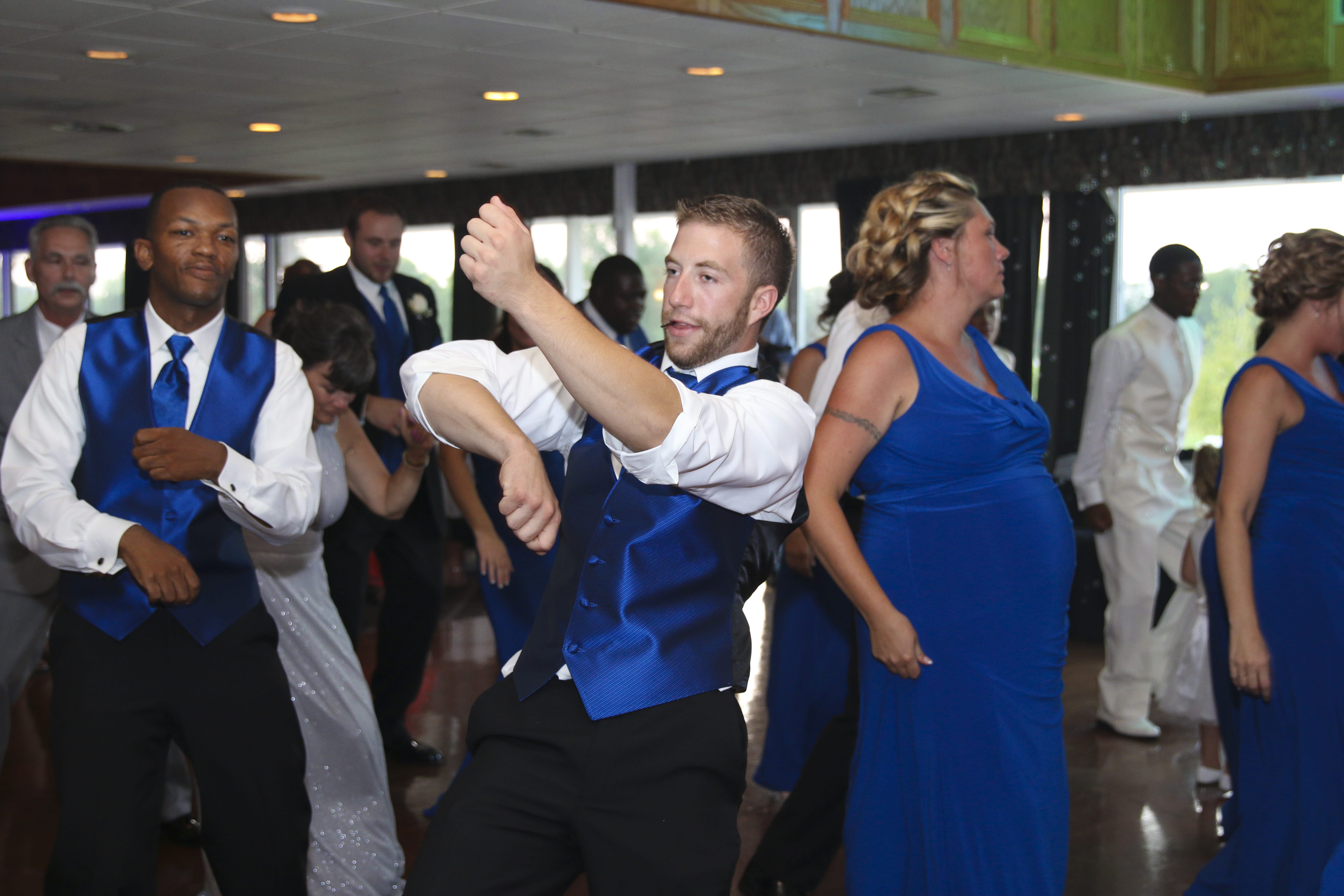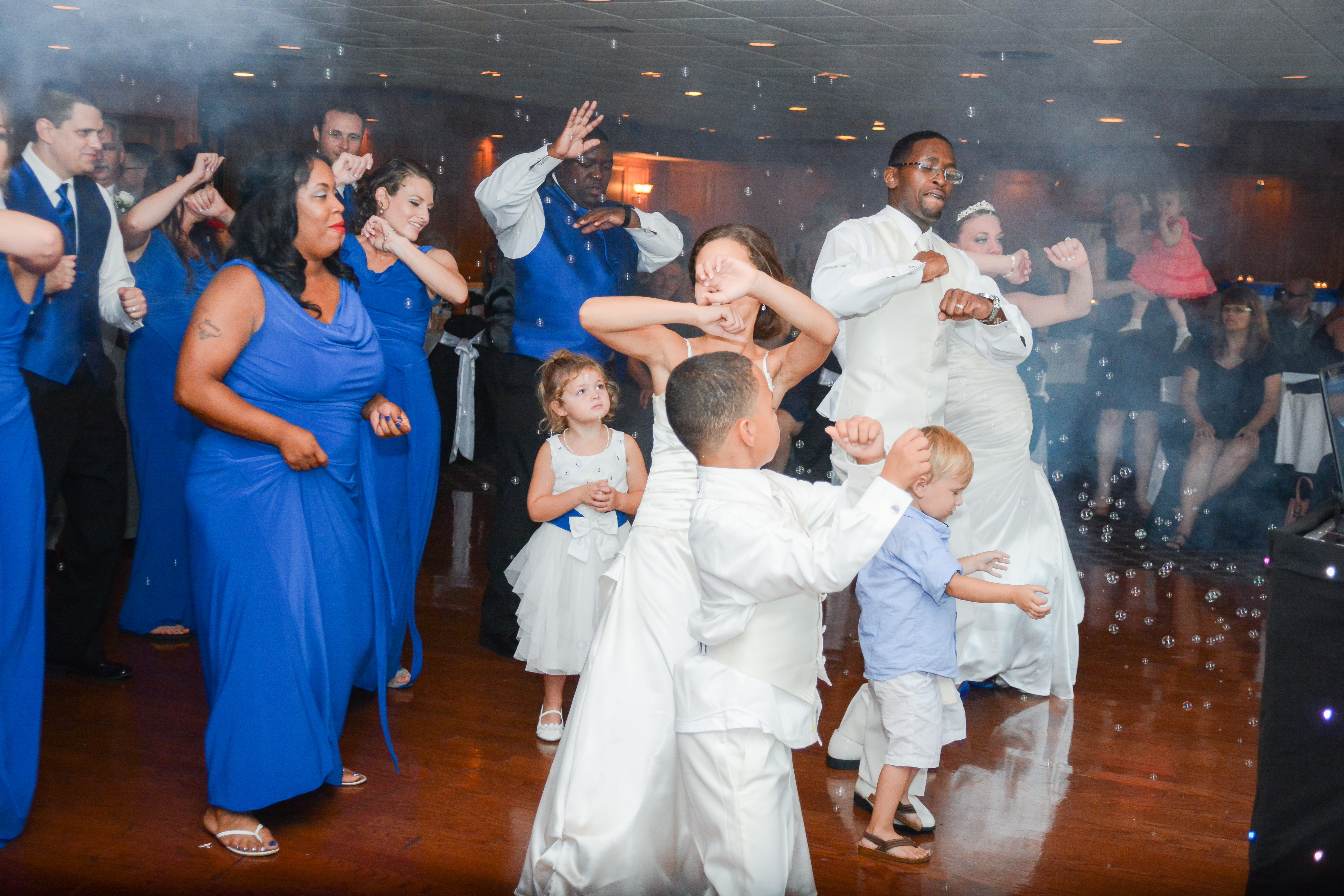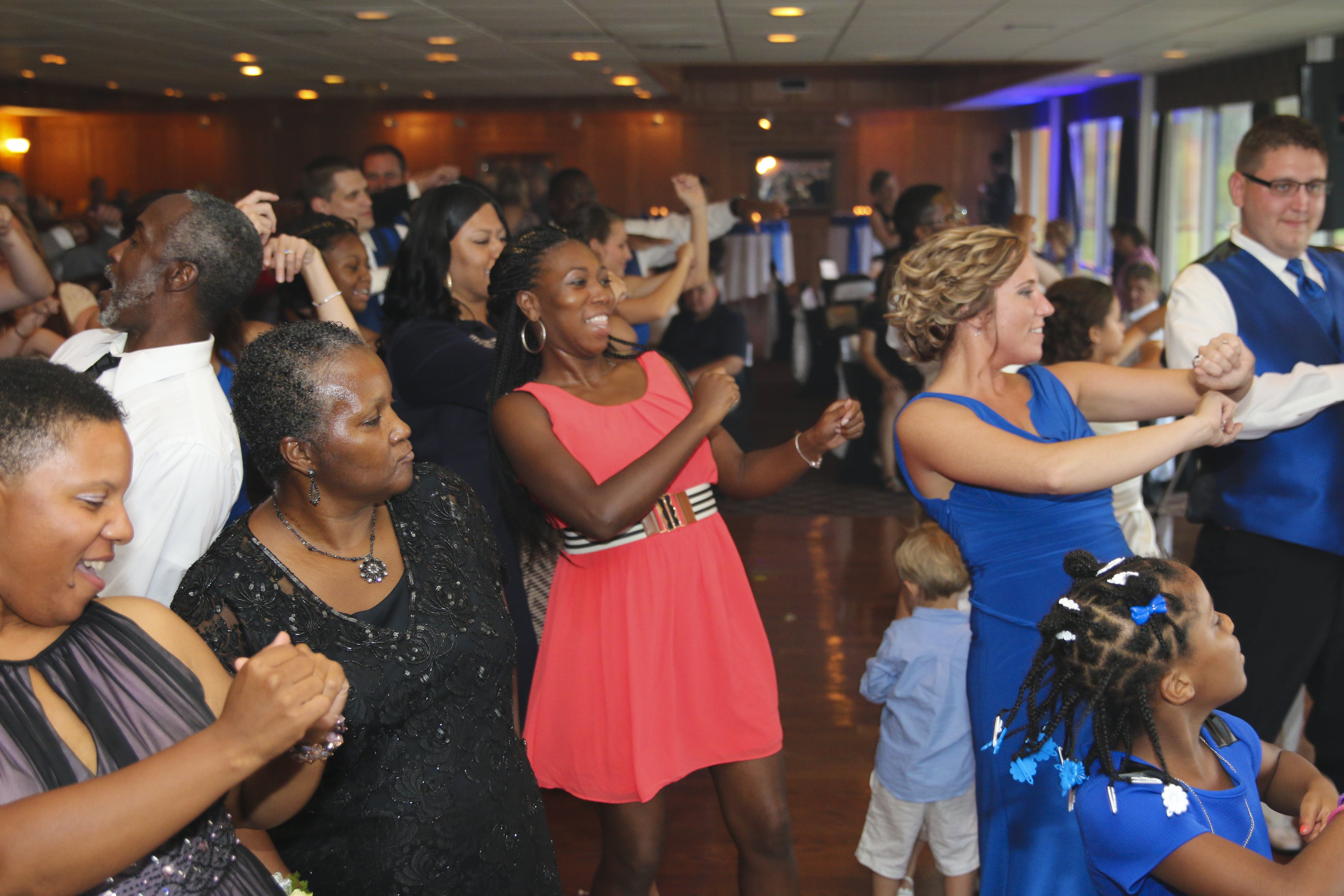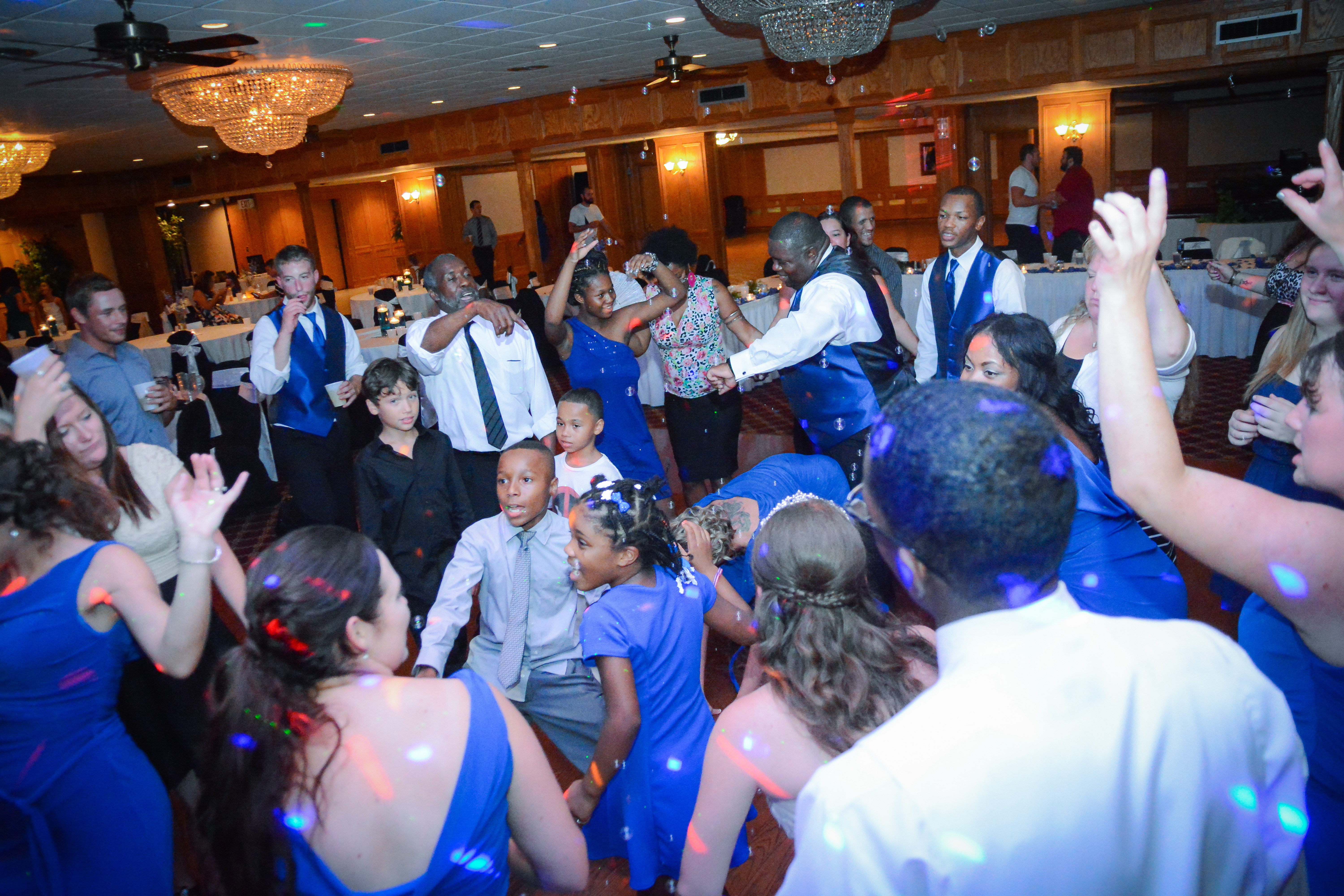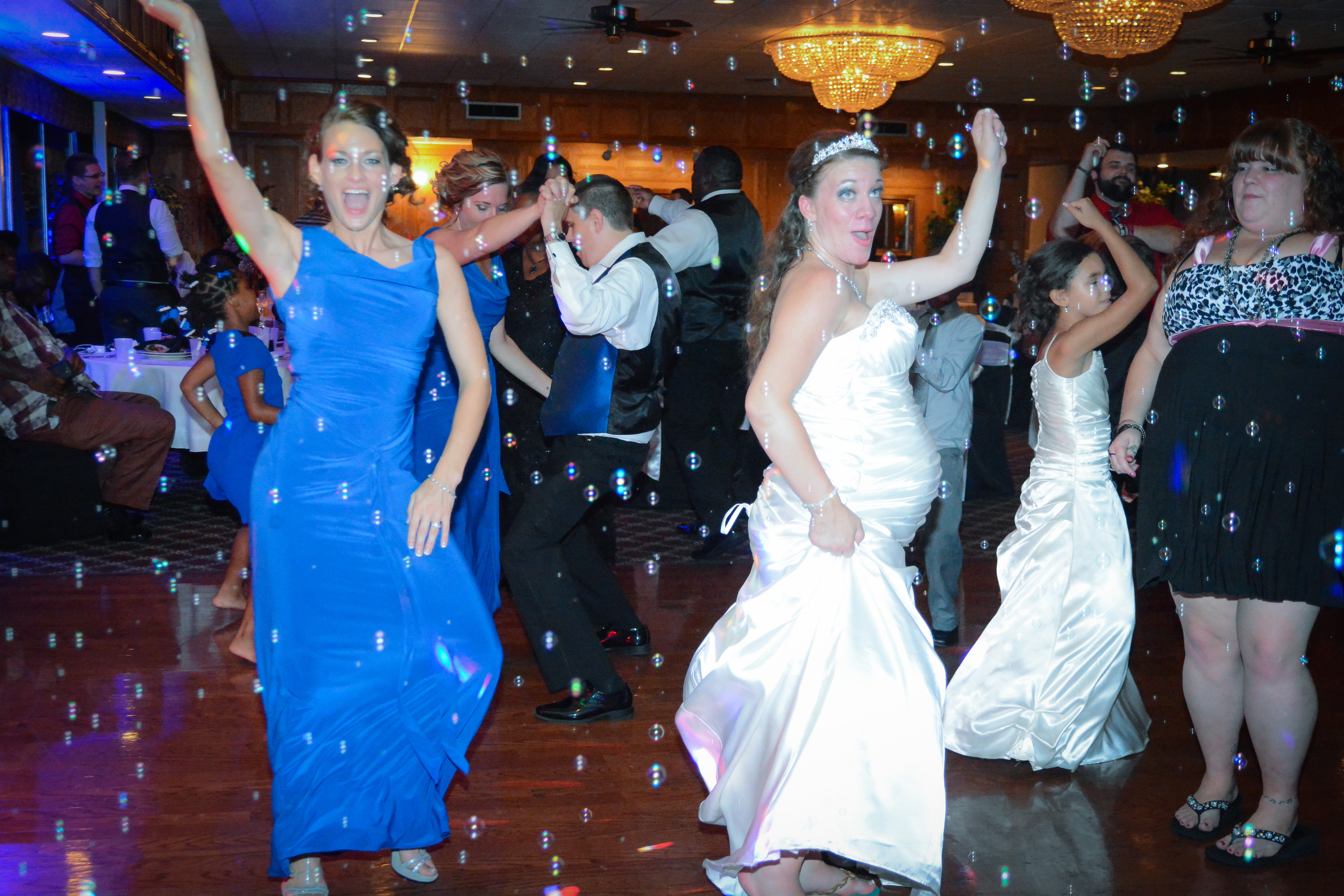 In this past 24 months DJ Dean and CEYX have entertained at the following:
Soaring Eagle Casino & Resort  – 2016 Mapers Spring Conference
Holiday Inn of Midland  – The Dow Chemical Company
Kellogg Hotel & Conference Center – MSU Horticulture Gardens
Ann Arbor Marriott – Ypsilanti at Eagle Crest Association of Student Financial Services Administrators
Warwick Hills Country Club – CPA Firm's Annual End of Tax Season Party
Shanty Creek Resorts – Lions of Michigan Annual Convention
Four Occasions Banquet Hall – Chamber of  Commerce Annual Party
Holiday Inn of Midland  – Annual Electric Company's post Christmas Party
Knights of Columbus – 32th Annual Community Hospital Charity Ball
Saginaw Country Club – The Annual Nexteer New Year Party
Golden Hawk Golf Club – Annual Post Holiday Party
St. Demetrios Greek Orthodox – Hellenic Ct. Township Fire Firefighters Association  Christmas party
The H Hotel – Annual Homecare holiday party for our staff appreciation
Shanty Creek Resort – Annual Convention for Michigan Association for Educational D S
Bucks Run Golf Club –  Home Builders Association Annual holiday party and awards
Bavarian Inn Restaurant – Plumbing and Heating company Staff Christmas Party.
Creative 360 Stage, Studios & Gallery – Daily News  employee Christmas Party
Soaring Eagle Casino & Resort  – U. S. M. Christmas Party for About 200
Springbrook Inn – Rotary Club  Spouse Appreciation Night
Midland Downtown Partners – Tenant Appreciation Luncheon
Swanhaven – Residents Annual Picnic
Alanson Riverfest – concert in the park!
Knights of Columbus – Behavioral Health Systems  Company Party!
Comfort Inn Conference Center – Company National Vendor Party
Horizons Conference Center  – American Heart Association Annual Fund Raiser
Woodland Hills Golf Course – Corporate Annual workers party
Chippewassee Park Concert
Band Shell Wenonah Park – 25th Anniversary of Americans with Disabilities Act Celebration
Horizons Conference Center – Saginaw Medical Federal Annual Meeting Dinner Party
Apple Mountain Resort – 38th Consecutive Summer Dance Series!
Saginaw Township Soccer Fields – Party On McCarty! Concert
Elks Club Lodge – 50s/60s Party
Frankenmuth Brewery – C. Productions Services  Employees party
Horizons Conference Center- Ultimate Small Business Holiday Party
The H Hotel  – Intermediate School District Yearly Educational Conference
Bavarian Inn Lodge – Fire Department Christmas Party
The H Hotel – Michigan Hospital G S Managers Association meeting
Saginaw County Fair – Client Appreciation Picnic
Auburn Bean and Grain Warehouse  – Client Appreciation Picnic
Bridge Fest Beer Tent
Horizons Conference Center – Elf Khurafeh Shriners Ladies Night Christmas Party
Horizons Conference Center – Delta College Chocolate Affair
Port Huron Golf Club – Dinner Dance Club
Black Forest Brew Haus – Michigan Licensed Beverage 75th Ann Fall Conference
Grand Traverse Resort & Spa – Statewide Trade show
Birch Run Premium Outlets® – Deer Hunters Widows Weekend Christmas Shopping Kick OFF
Rose Street Market Banquet Center, Kalamazoo – Medical Firm Company Christmas Party
OHM corporate party/Open House Party.
Bavarian Inn Lodge – Fraza Forklifts Company Post Christmas Party
Circus Park Elf Khurafeh Temple – Formal Potentate Ball
Comfort Inn Conference Center – ML  Customer Appreciation Party
Chesaning  Showboat Park – Chesaning River Days Festival  Beer Tent
Richland Township Park – BAND for Concert In the Park
Sanilac Medical Care Facility – Celebration
Video of DJ Dean at the Doubletree – Dean's Brides have more FUN!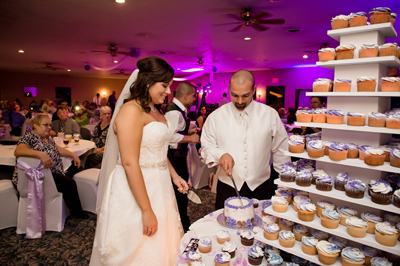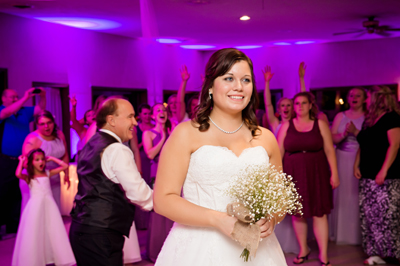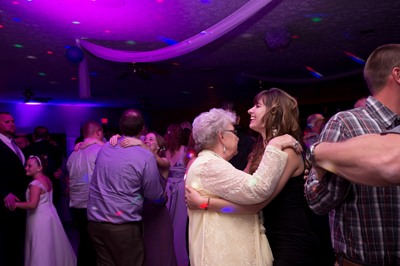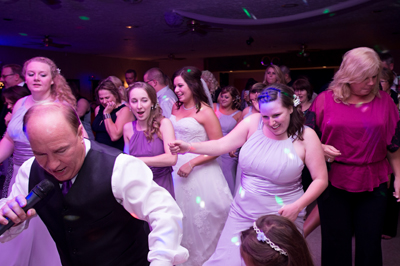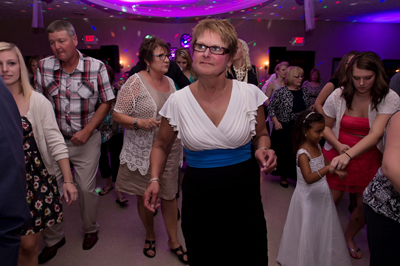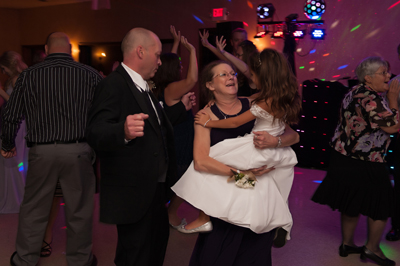 Photos Courtesy of Stefanie Miller Photography
WHAT A PARTY!!!! Dean at the Midland Country Club
with a packed dance floor from start until stop!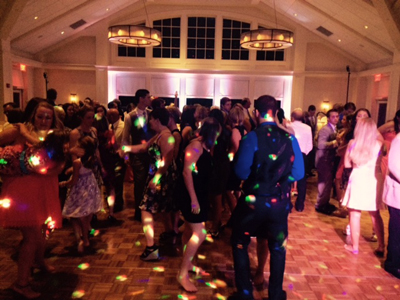 The Video EVERY Castle Farms Bride to Be Should Watch BEFORE She books some OTHER DJ!
DJ Dean is known as "The Midland DJ to book"! Midland Country Club Brides have MORE FUN with DJ Dean! Photos Courtesy of Lisa Hodack Photography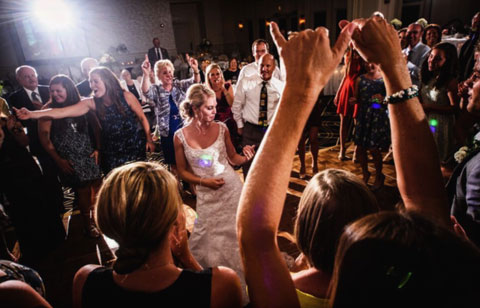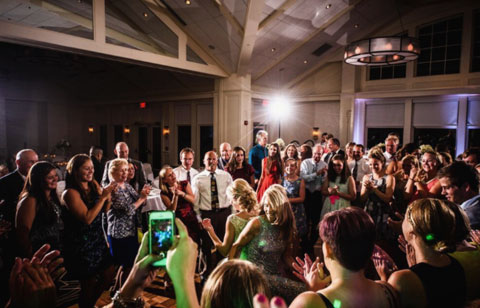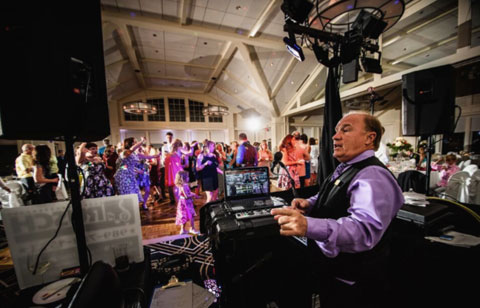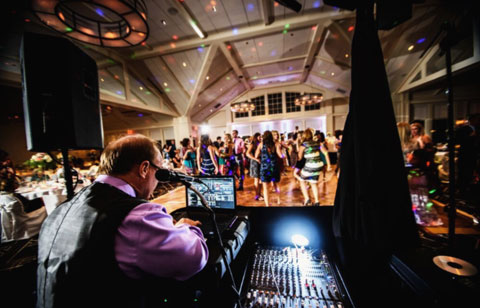 Class Up Your Wedding:  Add Dean's Smooth Jazzy Dinner Set!
DJ Dean was the MC at the Flint Bridal Show!  He is able to get people on the Stage Dancing in the Middle of the day on a Sunday!!  He is able to engage all ages:  Watch Jeremiah! ( 4-5- year old!!)
Musical Tennis Carnival for Kids with DJ Dean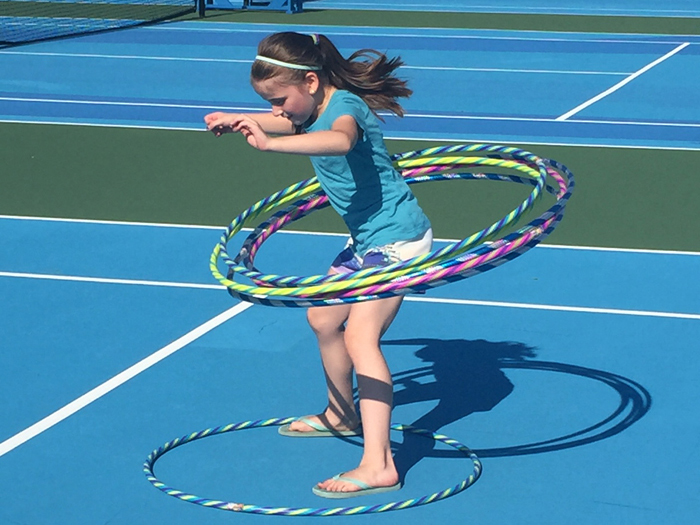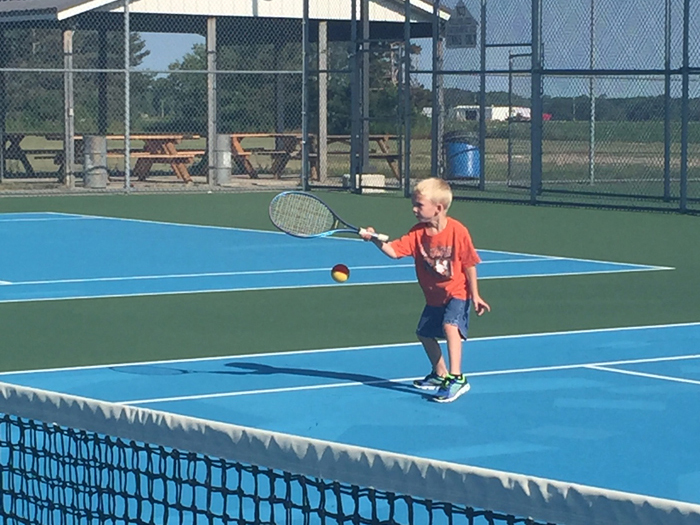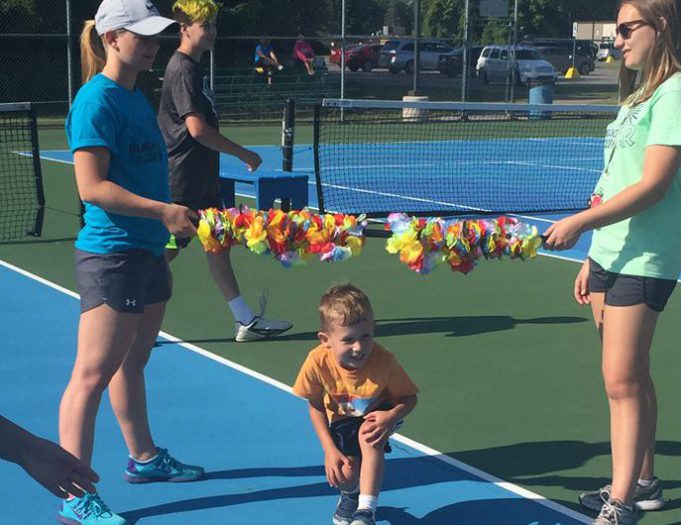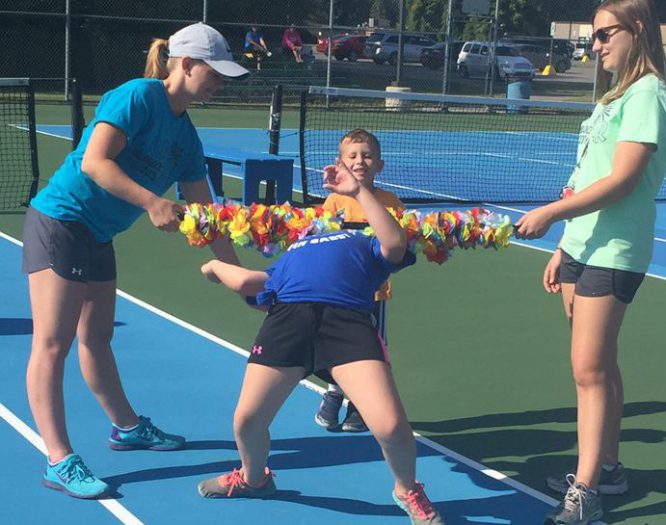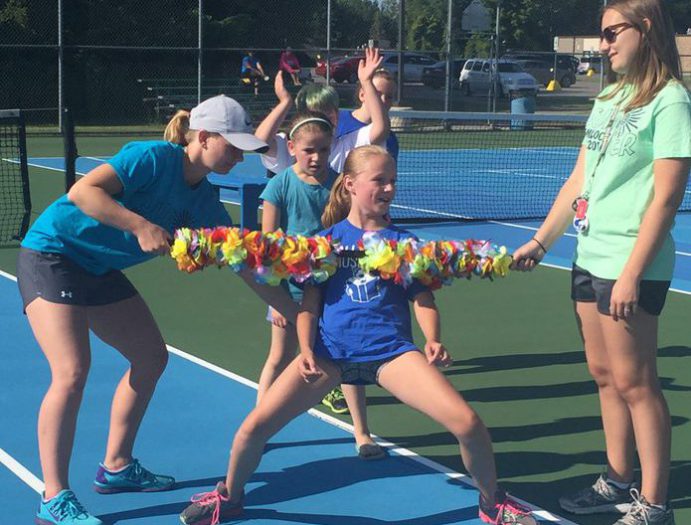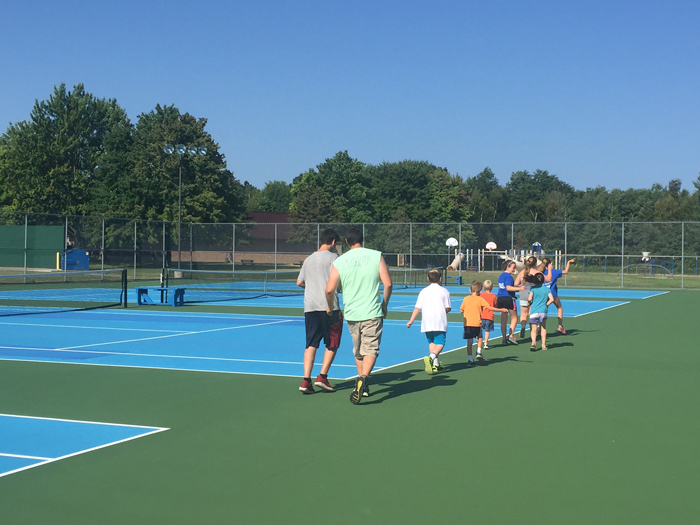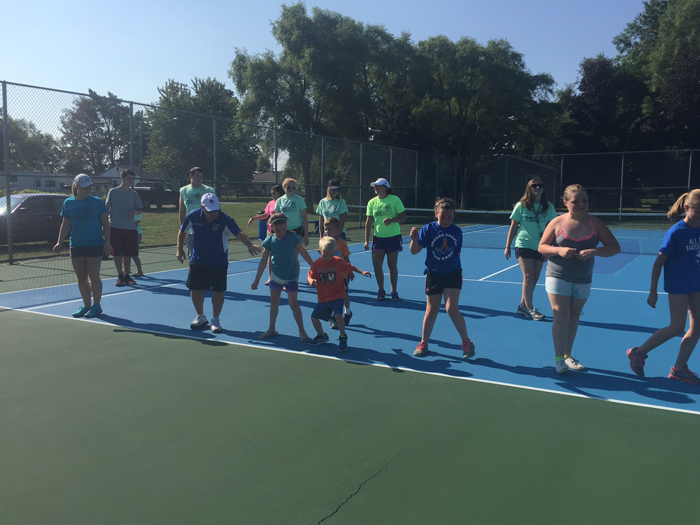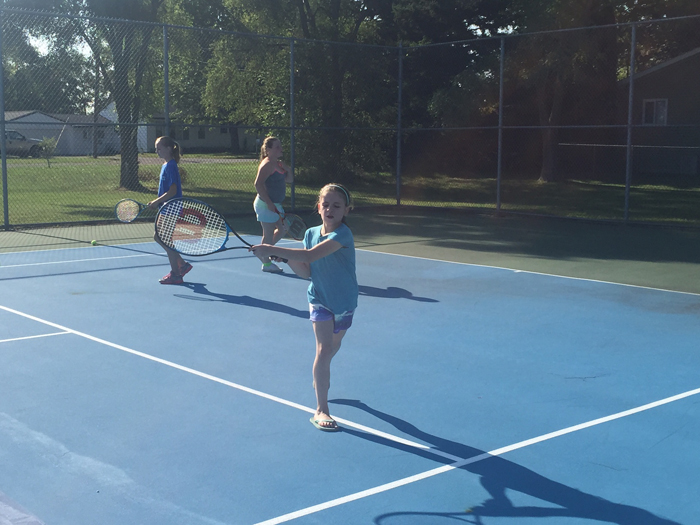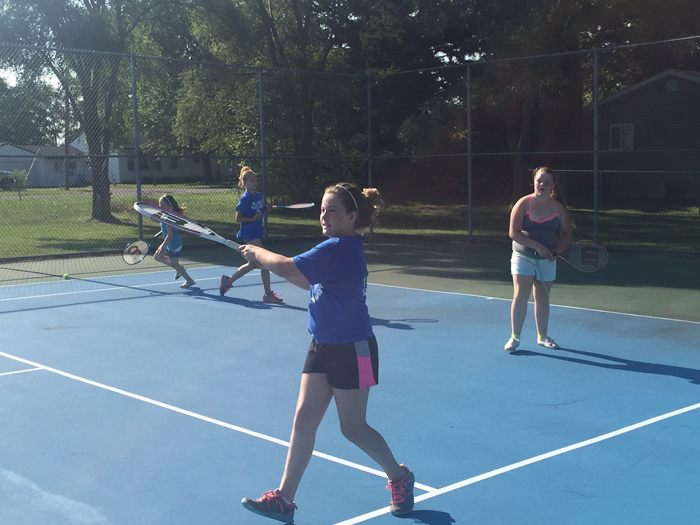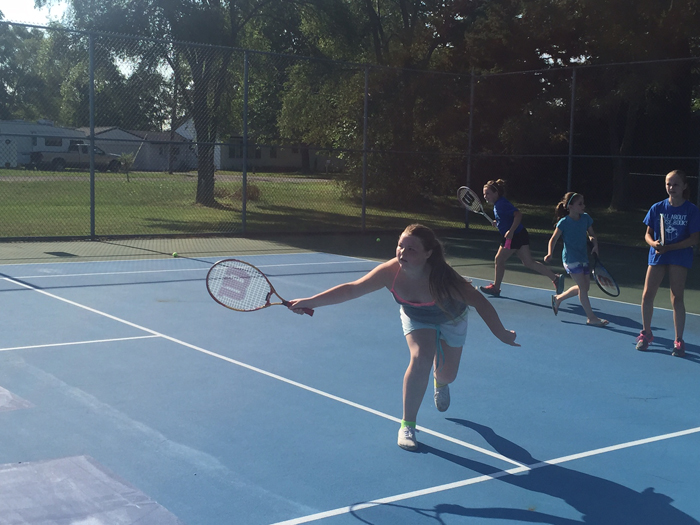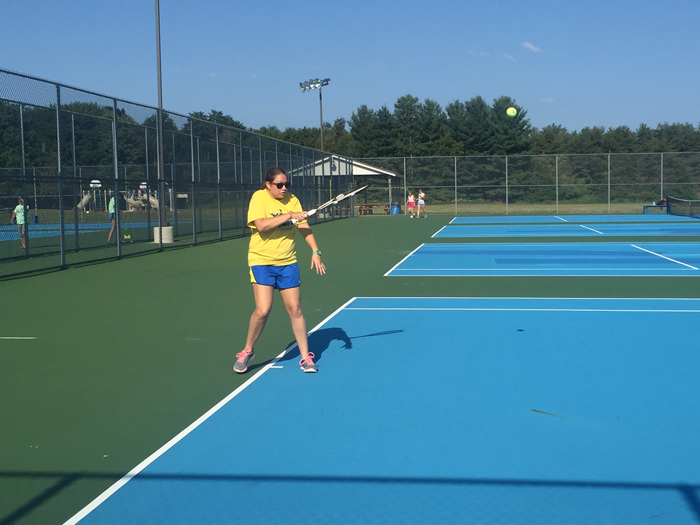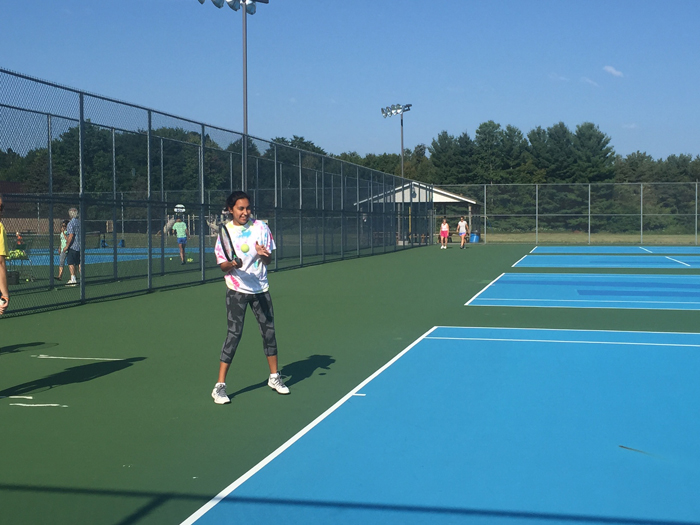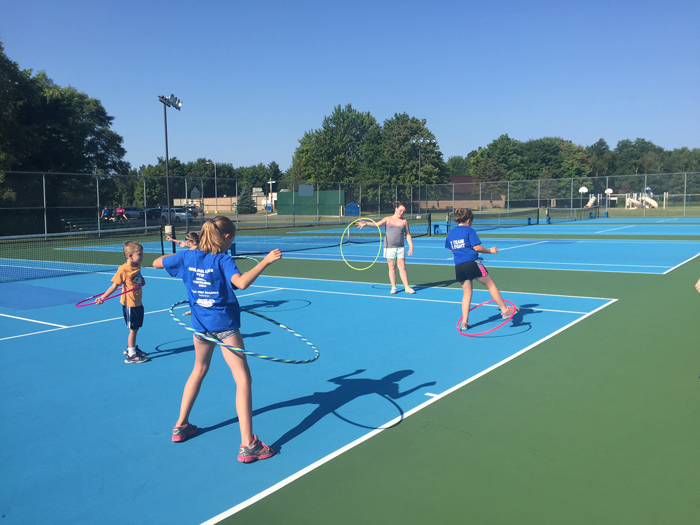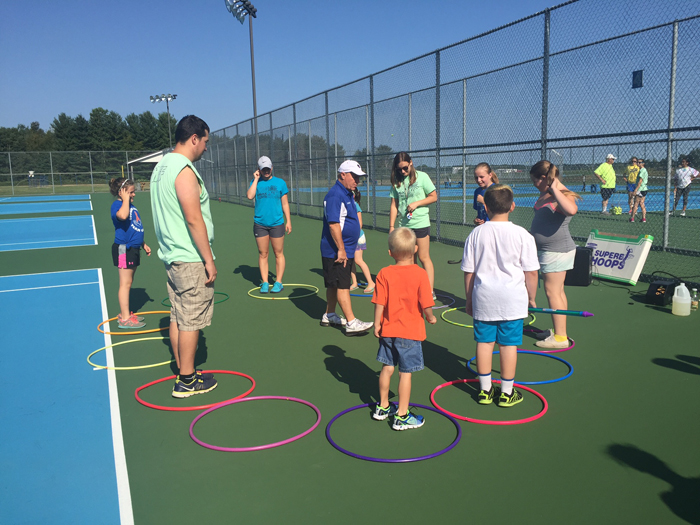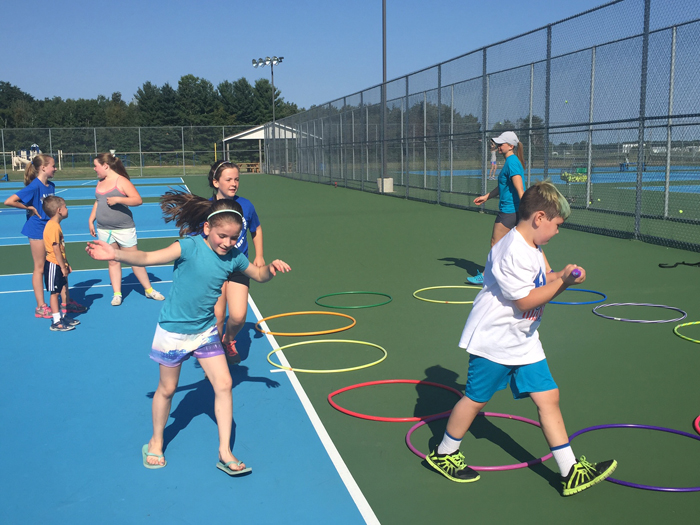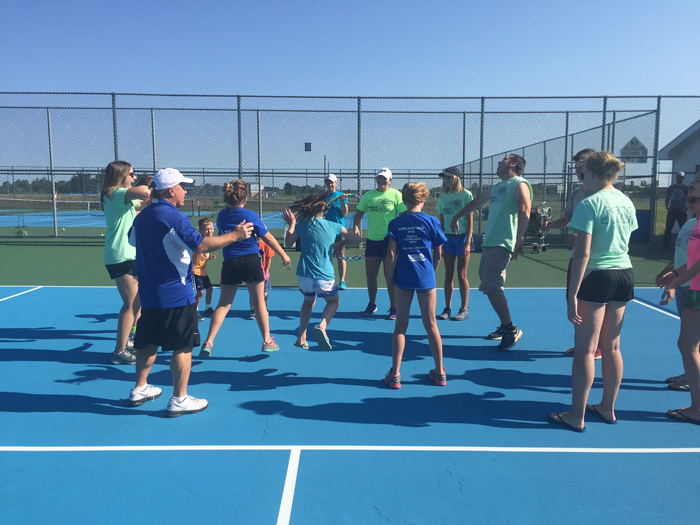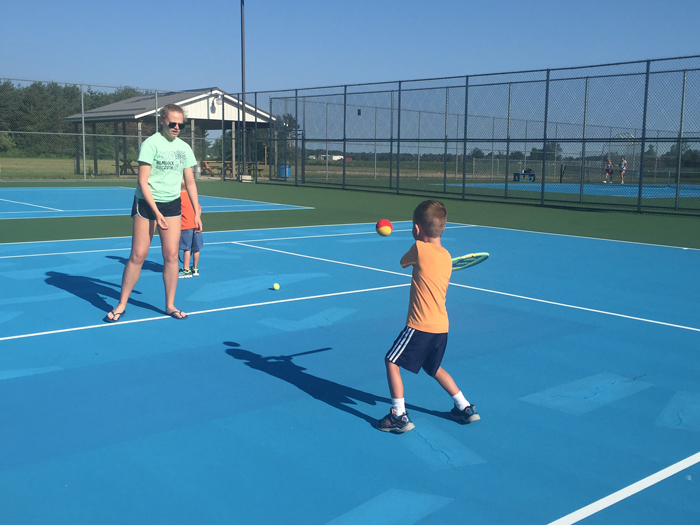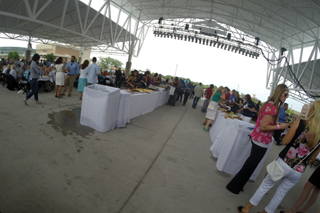 DJ Dean entertains Hundreds at the
Dow Event Center – FirstMerit Bank Event Park!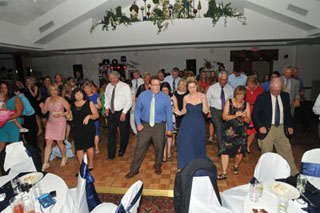 DJ Dean always packs the dance floor at the
Bavarian Inn Lodge,  Frankenmuth!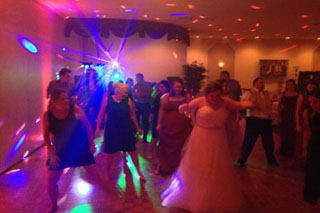 DJ Dean at the Vintage House Banquets
and Catering in Fraser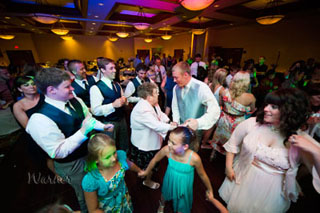 DJ Dean at Midland Holiday Inn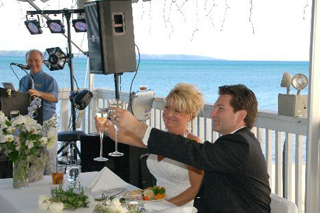 We Love the ParkShore Resort!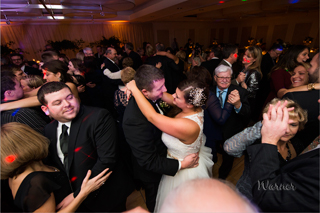 Non Stop Dancing until 12:15 am!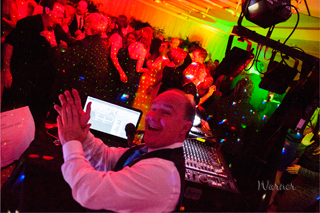 DJ Dean and another AMAZING H Hotel Wedding!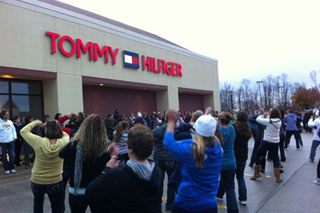 Dean at Birch Run Premium Outlets® for the
Deer Widow's Shopping Spree!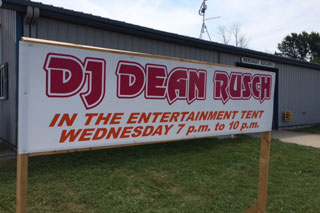 DJ Dean for Summer Fairs!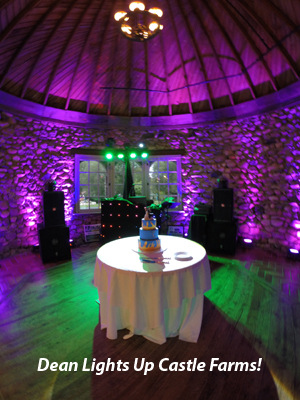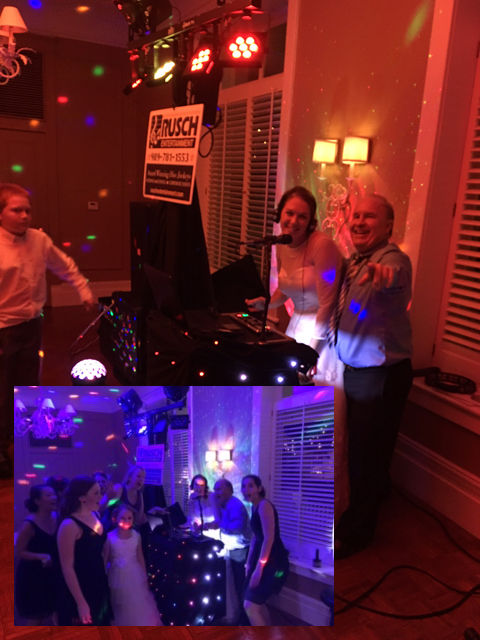 Dean has the ability to pack the dance floor from start to stop!

July 1
Hi Dean!   Thank you so much for doing such an awesome job at the Golf & Country Club's pre Firework Family Party last week!  Everyone had such a blast!!  Thank you, thank you!  Over 600 People thought you were GREAT!
Jenn, Dir of Sales
July 4
Hi Dean,  THANK YOU SO MUCH! We are loving having you here "all of the time" and everyone had a great time!! When you have a chance, I would love to rebook for next year!    July 4th, Same time from 2-10:30 PM  THANKS
Lexi, Director of Banquet Sales at the Country Club
Hi Dean,
It was so great having you DJ!!! I heard nothing but great feedback about your DJing the convention for the Michigan Association of Airport Executives!
Andrea Crawford, CMP – Senior Conference Services Manager – Mission Point, Mackinac Island
Dean You DJing for my daughter's wedding was a Dream Come True!! Then we added the CEYX Band to perform and it was a Blessing in Disguise.
It was Fabulous
We were so happy
You were Amazing
Everyone had a Wonderful time
Wouldn't change a thing
Loved the way the band went song to song, with no pause
It was Superior & so much fun.
Tell folks they've got to have the CEYX band, you are phenomenal!
THANKS
Bonnie Awad, Mother of the Bride and Wife of Former Wedding DJ Greg
This year was a difficult year to plan a wedding and Dean was very flexible and understanding. He was invested in the wedding planning process 100% and had lots of ideas to make the reception more fun. I had nothing to worry about when it came to the entertainment. All of my guests have mentioned how great the DJ was and a few remembered him doing their weddings!! 5 Stars doesn't cover Rusch Entertainment!
Emily Middleton Gyomory
Hi Dean, Thanks so much.  Everyone had an amazing time! Your profession was outstanding & keeping the night alive and rolling was above and beyond.
Thanks,
Troy & Tracy – Milestone Barn Wedding
Management said:
Hi Dean!!  That's so nice!! Glad they had a good time!! You certainly know how to get everyone out on the dance floor!
P.S. We've enjoyed having you at the barn several times this summer! You always know how to get the party started and keep it going 🙂
Manager of The Milestone Barn: Crystal Pierce
Hey Dean
Nice Job DJing our 1st Dinner Party of the year!  You are the talk of the club today and people said they will bring friends if we keep your music, every week!
MGR – C.A.
Hi Dean,
Sarah here. Thank you so much for helping us have such a memorable and fun night. We had so many of our family and friends tell us how fun the dancing was. A lot of guests commented on how many people were on the dance floor all night. You did a great job of playing songs that each generation knew. Some older songs for our parent's generation, and some of the newer songs for our friends and us. I liked the form we filled out to make sure the music was just what we wanted. I was also told by multiple people how fun the photo booth was! I loved getting the pictures back and looking through them the next day. That was so much fun.  Here are a few pictures our family took of some of the guests dancing.
Thanks! Have a great day!!      Sarah Kushion – PS You were a great DJ for my wedding and my brother's wedding (4 Months earlier!) If anyone needs one, I would give you a Wonderful reference. You can have them call, email, or text me. 
Riverwalk Weddings are More FUN with DJ Dean Nobody Packs the dance floor at River Walk Like DJ Dean- Best of Gladwin Weddings 2019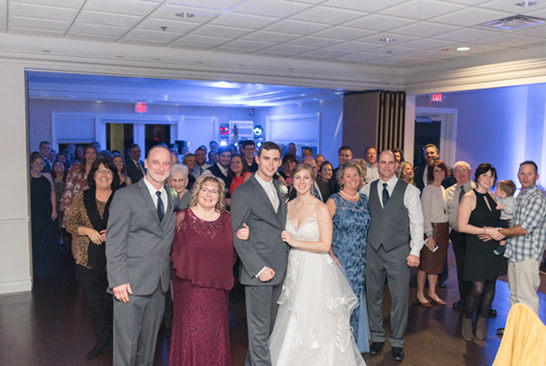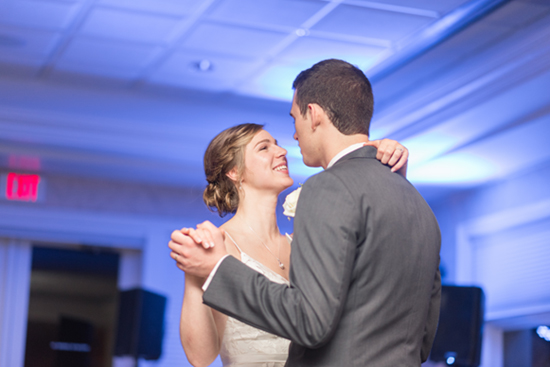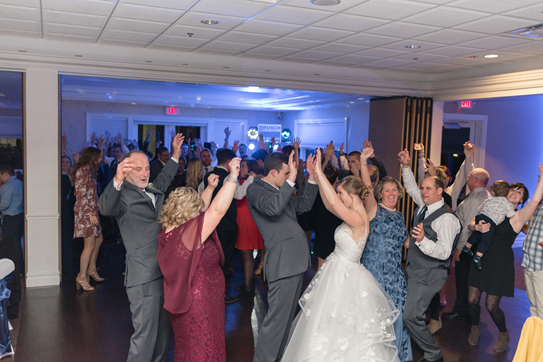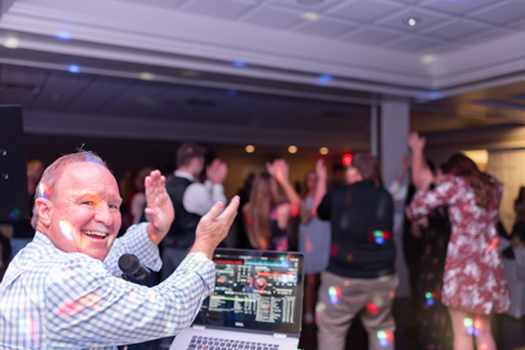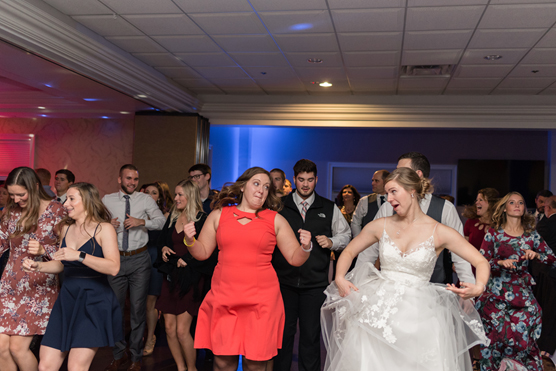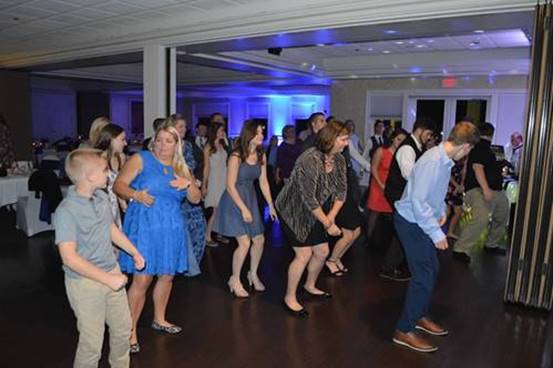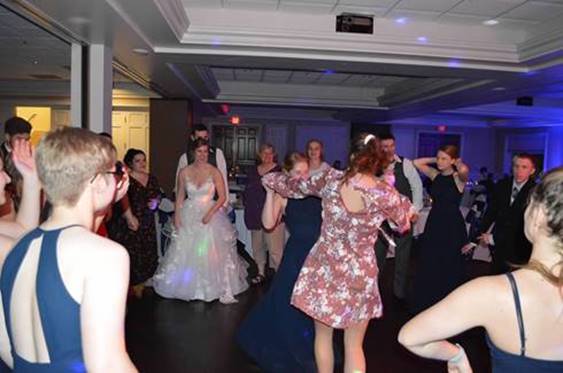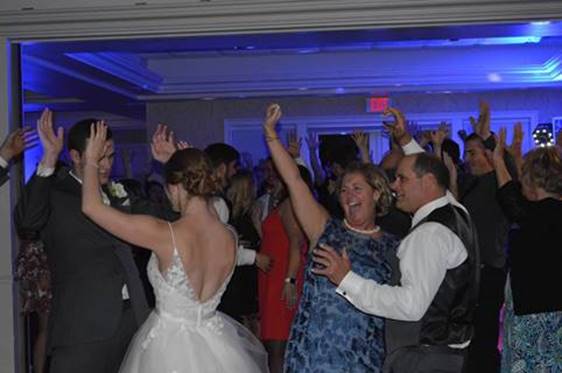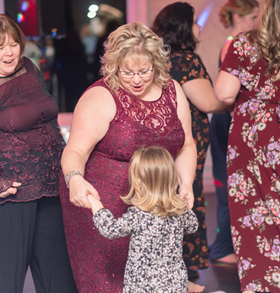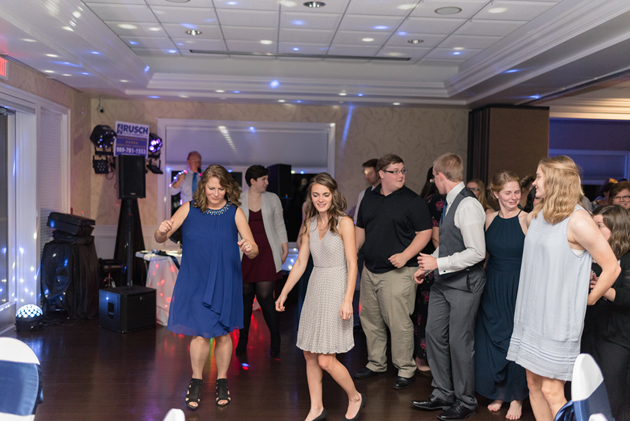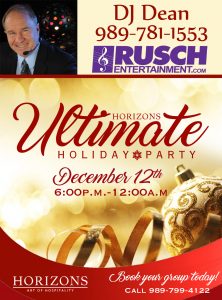 Christmas parties are the hardest events for DJs to master.  Mostly because the guests don't want to dance and let their hair down in front of co-workers.  In this example: The Ultimate Christmas party hosts 300-500 people and 25-30 unique organizations for dinner, dancing & drinks.  Dean is that one of a kind DJ, personality & entertainer that knows how to bring everyone together, jump start and engage the guests from the start.  Horizons has tried many other local DJs and entertainers without great success, until now.  This is the 2nd time Dean has entertained and look at the results:
"Dean, thank YOU for rocking the house last night!!! I've been receiving phone calls all day raving about the party overall and the comments on the entertainment have been phenomenal so far. We appreciate you more than words can say. Thank you so much for our continued partnership! We wish you, and the whole Rusch Entertainment crew, a very Merry Christmas!!"
Miranda Keenan – Event Coordinator – HORIZONS Conference Center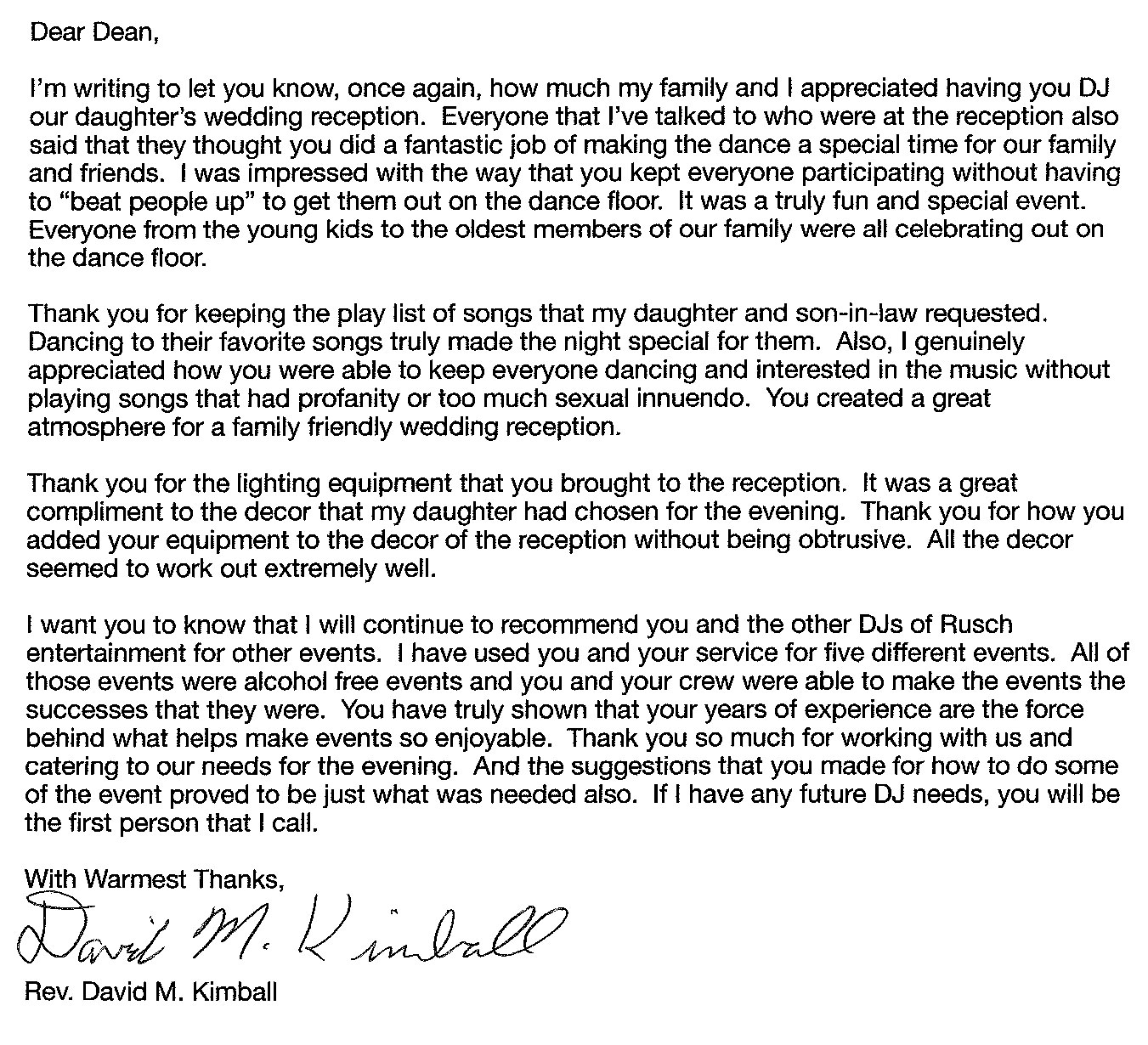 Hey Dean,
Thank you so much you were absolutely wonderful DJing, last night. I hope to work with you again soon – have a great day.
Leah Woodfield – Captain's Club at Woodfield – Sales and Event Mgr.
To whom it may concern,
I have worked for over 20 years with Dean and Rusch Entertainment. I have used his service for the DJing to his Band, to any other Entertainment needs our clients would need for their events. I recommend him for his DJ service the most. He is prompt with set up and keeps the event flowing the whole evening.  If you have any other questions or concerns on his service, please feel free to contact me at the Great Hall Banquet & Convention Center.
Mike Dunn – General Manager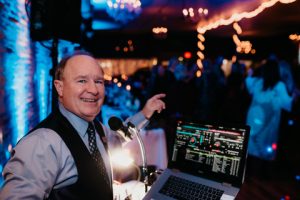 Hi, Dean!   It was great working with you! Madisyn and Travis had a beautiful wedding and were not afraid to party. You did a great job keeping them dancing! Most other DJs are not as into it as you.   Mandi and I hope to work with you again in the future, thank you! (The Venue at 501)
Sarah Lee Photography
Well done Dean!!! We had a nice get together! AT Spicer's Boat City Celebrating their Award: 14th BEST national Boat Dealer!
Shelley Spicer
DJ Dean kept the party going and engaged all of the guests to make our wedding the best he could!!  I would hire him again for our one-year anniversary party!
Ashley – Friday night wedding at The Riverwalk Gladwin
Dean was phenomenal! I have stood in 30 weddings. So I've seen many DJs, bands, ECT. Dean blew them out of the water!! Best entertainment ever!! My guests were complimenting constantly about how much fun they were having and how much they loved the music!! Thank you so much Dean!!!!
Ronda Summers-Kleinfeld
We had a blast "DJ Dean"!! We will using you again, so until then, take care!
Margaret Bargardi – TMW Enterprises and The Wheeler Family Foundation
Hi Dean!  We had an absolute BALL!  You are the best!  Thanks again for working with us, and spending your Thursday night with us to make our event so, so much fun!  We will definitely be referring you and your company to others!
Christina Ihlenfeldt  – TMW Enterprises Inc.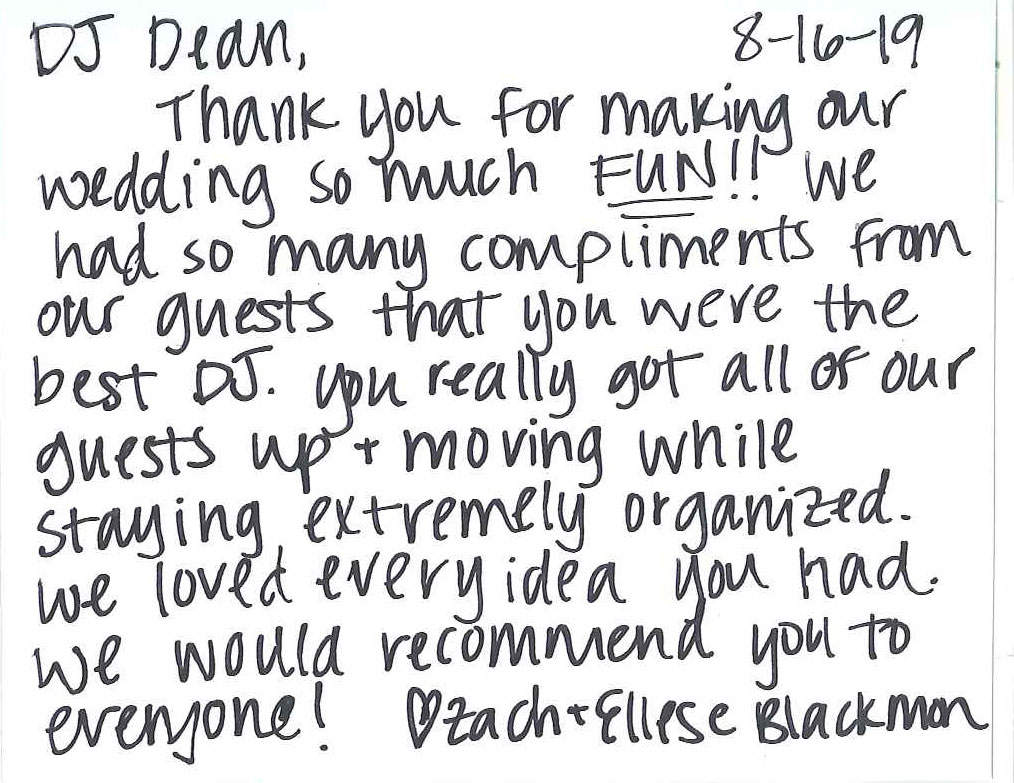 Blue Penny Review:
"I have had the pleasure of attending events for almost 20 years that had hired Rusch for their entertainment and I couldn't be happier with every event! Whether it was with CEYX, their live band, or with one of their several DJs, I have always had a blast and received quality service.
We recently coordinated and officiated a wedding this weekend and had the honor of working with their DJ, Dean. Dean was AMAZING and super accommodating for the wedding party. He worked his magic and got a very shy group of wedding guests and bridal party alike out on the dance floor.
I will always recommend Rusch Entertainment to all of our wedding clientele!"
Blue Penny Weddings
Dean is just the best!! He was so thorough throughout the wedding planning process and he had my trust on the very first phone call. (I wasn't able to meet him as I was planning our wedding from a different state.) Dean followed up with me and I was so grateful for this as I was so wrapped up in other wedding planning tasks. Dean went through every detail of how he was going to DJ our wedding and he had ideas that I've never heard of or seen before (I'm a wedding coordinator in a big city in Texas I've worked with a lot of DJs). Dean is the best, not only because he's been doing this for years, but because he is talented and you can tell that he loves DJing. Dean was not only accommodating to what I wanted for my wedding as far as details go, but he put his own spin on everything from our intro, to throwing the bouquet and garter, to our last dance. I am so thankful that he did this because it made our celebration more fun. He made our wedding day so memorable, and he made us feel even more special. Dean really put thought and care into making me feel like not only a bride, but like a princess. My guests are still talking about how awesome Dean was and the music he played. He interacted with our guests and that made everyone excited! You might not know what you missed if you don't book Dean for your event, but I can guarantee that your wedding or event will not be anywhere close to what Dean can make it. I recommend Dean a million times over and we are so lucky that he was available to DJ our wedding.
Hope Schmidt / Selim Comert Wedding at the Temple Theatre
Good Afternoon Dean,
We are hoping you are available again for our PTO Family Dance this Spring!  We had rave reviews after having you DJ for us last year!  The kids and parents both, love that you get the kids on the dance floor and make it fun!  Even those who are too shy to dance, made their way to the dance floor and had a great time!  The hoola hoops were a huge hit as well!  Your choice of songs pull everyone on the floor!
Thank you, Angie Trinklein -Hemlock Elementary/Ling
My biggest fear for my daughter's wedding reception was having an empty dance floor, because believe me I've been to those weddings before. Not only did Dean fill the dance floor the entire evening…he became part of the dance floor…interacting with the guests. He even played longer than expected because everyone was having so much fun. He literally is the BEST OF THE BEST!  Everyone commented and said it was the most FUN wedding ever!
Cindy Fischer, Bride's Mom 
(Now 4 years later, my niece, Brooke, has booked DJ Dean at the Doubletree.  I am Looking forward, FOR SURE, to seeing him in October at my nieces wedding….I KNOW it'll be a blast!!!)
DJ Dean is your go-to when booking a wedding and reception that you want it to be a party! There was not a moment in the night when the dance floor emptied. DJ Dean will even get on the dance floor with you to show your guests hot to do a dance! He is the perfect blend of comedy, compassion, and tact! He works with you before the wedding to make sure your order of events will flow smoothly. He then contacts your other vendors and lets them know the schedule, so everyone is on the same page!
Leah L. – Golden Glow Ballroom
Dean,  We've attached a few good photos! We are so grateful you were willing and able to work with us to make sure everything went smoothly. The hula was so special to us and we couldn't have done it without you! Thanks again, we had such a blast!  Thank you so much for being our wedding DJ and providing live music, our guests had only good things to say. Especially about how good you are at getting everyone up on the dance floor! We had a great time and cannot thank you enough!
James and Mariessa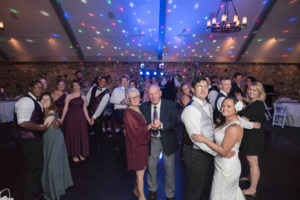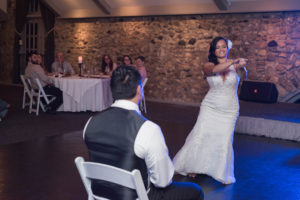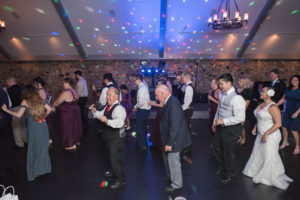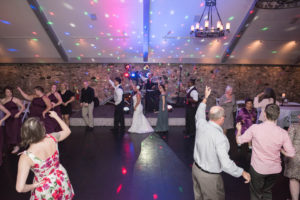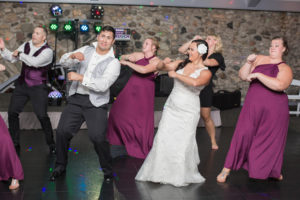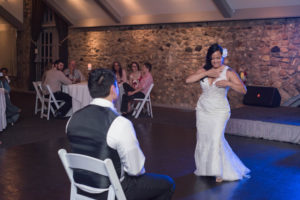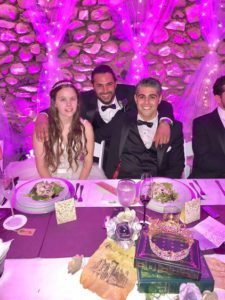 My wife and I could not have been happier with Dean Rusch. He was recommended to us by Castle Farm's, so we already had a good feeling about him. After meeting with Dean, my wife and I pretty much knew we would pick him for our October wedding. We felt he understood us and our kind of music and the kind of multi-cultural atmosphere we were hoping for. Prior to our wedding Dean spent over 2 hours with us planning out everything. He made sure he could pronounce the bridal party and parent's names and he went over all the details of how the night would run. My wife and I had a few special requests and things we wanted announced and he took note of it all. We went over our play list and Dean was able to get a good sense of what we wanted. He was easy to get in touch with in the weeks and days leading up to our wedding and he always got back to us promptly. He also pushed us to complete the playlist documents within the requested timeframe. I knew our wedding was in good hands and I was right! Dean remembered everything we requested throughout the evening and it was so great knowing that I didn't have to worry about a thing! The dance floor was always full and people had a great time dancing. So many people came up to us during the wedding and afterwards praising Dean and the music. He was able to read the crowd and provide an atmosphere our guests absolutely loved! There were people of all generations at the wedding and the music worked for everyone! I cannot write it enough, but thank you Dean for helping to make our wedding day so amazing!
Mohamed and Stephanie Ayoub
Rusch Entertainment did an OUTSTANDING job for our wedding! If you are looking for someone who keeps the party going until the lights come on, stop reading now and get them booked for your event!! Their entire team is enthusiastic, professional, and ultimately keep your vision for your event at the forefront. If you want a heck of a party, with guests on the dance floor the entire night, these folks are the absolute way to go. As a bride, this is the type of experience I wanted for my guests. I received numerous compliments on how much fun the DJ was (Dean) and it was the best wedding they had been to in a long time. While making my rounds to guests at the reception, I could not help but find myself gravitating to the dance floor as well! It was a blast. Not only do they keep the party going until the lights come on, but offer a wide variety of other services to help make your day special. They also provided beautiful up lighting for our reception that really made it spectacular. They communicate with you frequently, and ask all of the essential questions so that nothing is left out or forgotten. Thank you Rusch Entertainment, for truly making it a day that we, and our guests will never forget!!
Elyse
Hi, Dean! Everyone had a blast! And you received a million compliments! You did exactly as promised and everybody danced the night away! Thank you for everything. You truly made the night special!
Thank you again, Sandra
Courtney and Paul Kramer hosted over 200 guests at the Doubletree Riverfront Hotel during the worst snow storm of the year!  DJ Dean set up early, got the party & keep everyone dancing until the end.  Dean asked Courtney to give future brides one important wedding tip.  She wrote:
I would tell them that if they were to splurge on something for the wedding, one thing would be the DJ! It definitely makes the day that much better. You want your guests to have so much fun!  I've been to receptions with "not so great DJs" and notice that guests tend to leave much earlier than maybe they would have. Then the bride and groom get upset because no one was dancing and people are leaving.
Paul and I had the best time at our reception. People were dancing from the first to last song! Even our grandmothers danced. The music was fantastic!  We had a ton of compliments about Dean!
Courtney Kramer
American Heart Association: Go Red For Women event at Horizon's for 300 women:  "Dean- thank you!!! Great job"
Dawn W. – Event Chair
Thanks, Dean. It was a huge success!
Kim M.  MWEA – At the Bavarian Inn Lodge
Thanks for a great time! Sorry been very busy with our Accreditation report… Here are some pics from then event😊
Ashley, The Principal
Hello Dean:  Just wanted to thank you for the fantastic job with our kids  for "CATHOLIC SCHOOL WEEK AND YOU".  The kids are still talking about the FUN things you did??…dancing, contests and loads giggles and fun!!
Thank you for the great job!
Norma V., Assistant Administrator, Catholic K-8 School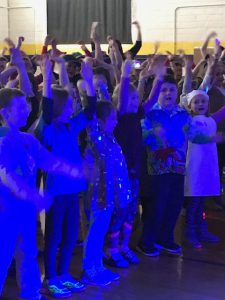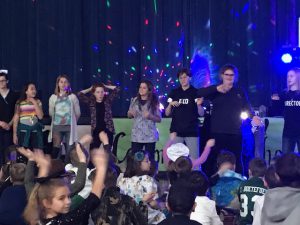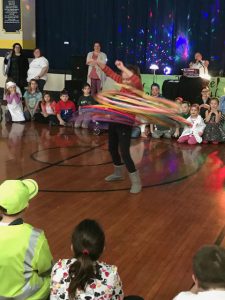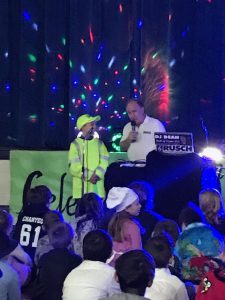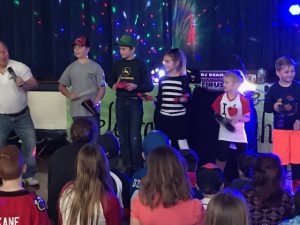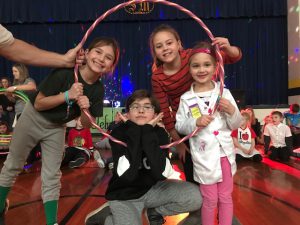 Dear Dean,
Thank you so much for all of the time and energy you put into our wedding day.  From the ceremony to the reception everything went so smoothly.  People still tell us how much fun they had at our wedding.  To quote my friend's mother, "if you didn't have fun at that wedding there is something wrong with you."  I have no doubt in my mind that you deserve the credit for this.  It was so nice of you to include the little extras that I wasn't planning to have.  All of the lighting you included, props and of course your personality kept the party going.  The dance floor was so full the whole night that it started to break apart!  My uncle ended up wearing a knee brace the next day because he danced so much!  I don't think I've seen so many people stay to the end of a wedding as they did at ours.  I'm including some of the shots that I love from that night.  I hope you enjoy! The Dance Floor was packed from the 1st to the last song, with DJ Dean!
Thanks again, Tyler & Rachel Smith, Montague Inn Wedding
Here are a couple photos taken last week in the Tommy Hilfiger Store parking lot. DJ Dean has DJ'd this kick-Off Christmas shopping weekend for over 10 years. They started to use DJ Dean after years of searching for a FUN DJ.  11 years ago the famous radio station DJ was a flop because he just sat there and didn't know how to entertain. This is what the Director of Marketing wrote:
I just wanted to take a moment to provide my sincerest of recommendations of Dean Rusch and everyone at the Rusch Entertainment team. We have been partnering with Dean for our Deer Widows Weekend event for a number of years now and he never fails to deliver a fantastic and professional performance. Dean is the perfect DJ/host for any corporate event as he has a way of connecting with people that is both engaging and entertaining. I can't recommend him enough for your next big event!
No other DJ in Michigan would be able to get everyone dancing on a Sunday morning at 6am-10am in a store parking lot, with temperatures at 35 degrees!  Hundreds of women attend this event from hundreds of miles away expecting to see DJ Dean and join in on the FUN.
Jason W. Director of Marketing and Business Development
Birch Run Premium Outlets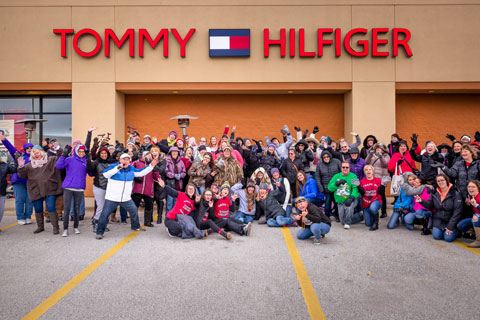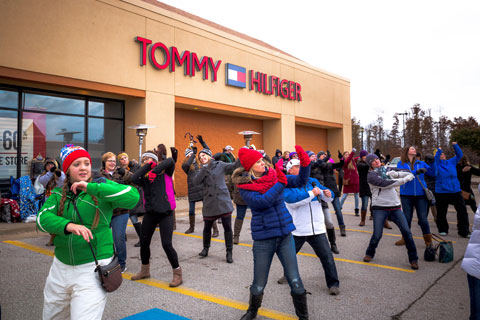 Every single guest I talked to complimented Dean! Even days later I'm still being told that our wedding was the most fun our guests had been to, and it's all thanks to the energy of our DJ. He kept the dancing going all night, and when people started making their way back to their chairs, he could bring them right back up again. My dad NEVER dances, yet he was on the dance floor almost all night! There was a great mix of songs, and our guests of all ages had lots of fun. We are seriously super happy that we chose Dean as our DJ. He made our wedding night unforgettable and was worth every penny and so much more.
Heather Foster
Jenny Hired DJ Dean at the Bavarian Inn Lodge and Said:.
Everyone had fun. My great aunt loved the music during social hour because it was from her time.  I would tell everyone:  No one is going to beat Dean from Rusch Entertainment. They know how to keep the party going and Dean is the best DJ around and will not disappoint.   Jenny (Bates) Force (my sister used Dean last year!!)  Rusch Entertainment did all of these girls High School Dances!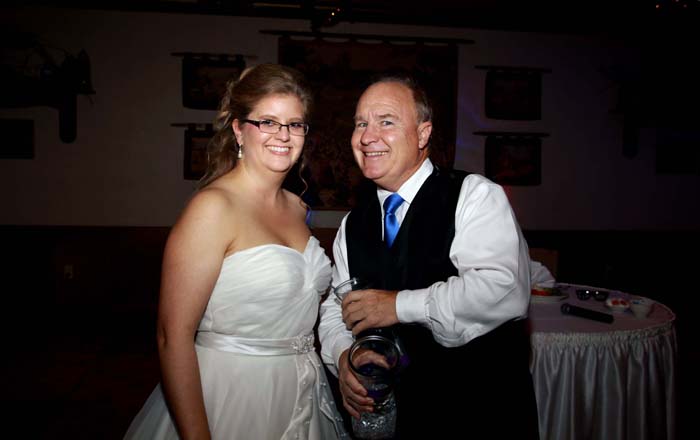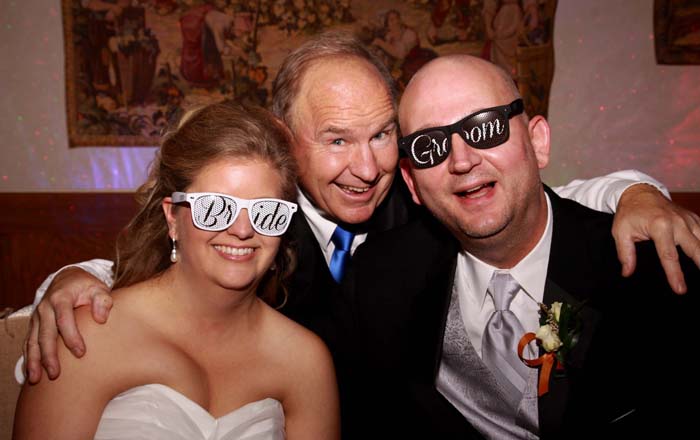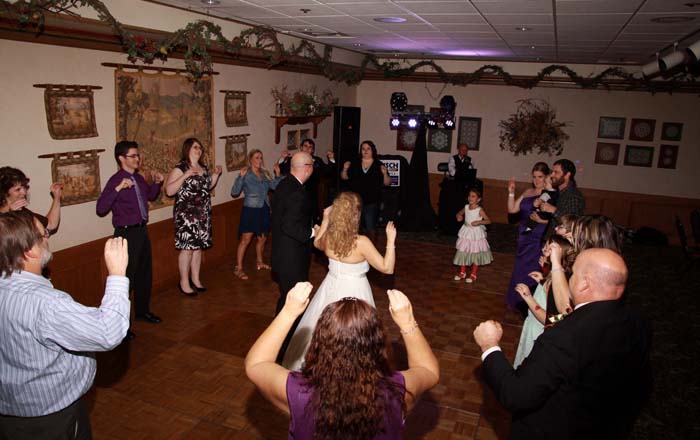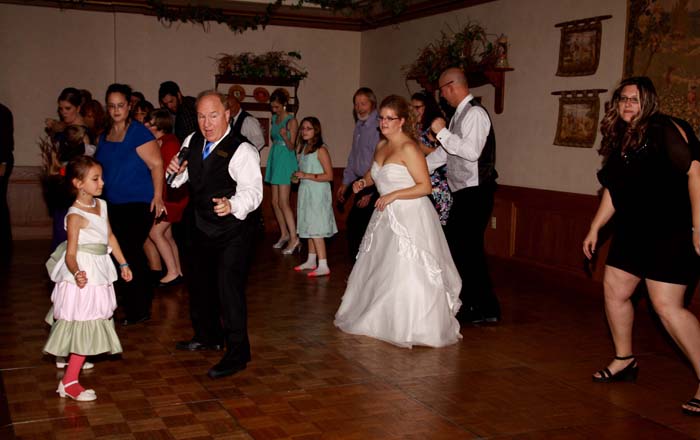 Hi Dean,
Everything was awesome at my wedding at the Doubletree Riverfront Hotel! I would hire you all again in a heartbeat.
I would tell other brides: The staff was well experienced, you kept everything running on time. They got the party started and played an hour longer than expected because the guests were having such an amazing time. All of our guests are still talking about how much fun the wedding was. Between the MC'ing, photo booth, cake cutting, first dances, and keeping the guests on the dance floor it was everything we could imagine. Requests from guests were played, not long after requested. These guys really know what they are doing. We just let them run the show, they were the experts and it showed! We had a full dance floor until midnight! Thank you guys,  again! It was truly everything I wanted and then some!
Nicole Pnacek & Adam
Being a wedding photographer I get to experience and work with plethora of clients as well as entertainment DJs.  You have the one company who never fails to impress me, Dean.  Rusch Entertainment and Dean you rock! I am so glad you were there for my sister's wedding, we had so much fun. I talked to her today and she wants to do it all over again; it was such an amazing reception, mostly because of you! After witnessing the passion you have for entertaining and music, it certainly projects onto the level of professionalism and how you interact with guests to ensure a positive, and fun environment. Stay awesome, Dean and if you ever want some more images from weddings we've rocked together just go to my website www.MomentsCapturedByVanessa.com.
Hi Dean, Sorry I'm just getting to this but you did amazing! So happy we booked you!!!! My favorite part was each table being released by their favorite love song! The variety of songs was great and provided some wonderful laughs.
Jasmin & Justin – Rosebush MI
Hi Dean! Everyone enjoyed the music!! THANK YOU so much for everything!!    Chamber of Commerce Christmas Party.  Nearly 350 people at the Midland Country Club.
Melissa, Program Specialist, Chamber of Commerce – DJ Dean 4 years in a Row!!!
Hi Dean!  I am so glad Carol referred you!  My husband is sending you some the pics from the reception. We had several really good shots of you. I was so glad that you were able to get all those people dancing and having fun. I had so many compliments and everyone said they had a blast at the reception.
Thanks again, Erin Ross Gustafson – Wedding at the Temple Theatre!
The Dance Floor was Packed from the 1st dance until the Grand Send off of Sam and Chris!  Truly a "Fairytale Wedding"…
Karie Brooks, Bride's Mom!
Autofest 2016 – Dean entertained 50,000+ people in ONE DAY!
Hi Dean:   We had an awesome day & night.  Much thanks to you people were happy, coming in to see what we had, and they bought!  In addition, I had a great time.  Thanks!!!  See you next year…Same Time…Same Place…Same Event..Autofest 2017!! ***** Carol McClellan – The Little White House Boutique


Dean,
You did a great job at keeping the dance floor completely packed and playing a variety for everyone there. Thank you so much for creating a fun and exciting tone for a special night!
Ashley and Tyler
Dean,
Thank you for your great work tonight. Keeping the party going and working with us to help make this day special!
Chris and Jackie
Dean,
Thank you for all your help planning for our special day! Thank you also for making our party so special for not only me, but also for my dad.
Jeff and Kelly
Dean,
Just a short note to let you know our party was a success! The volume of the music and lighting were perfect…we could enjoy the music yet still mingle and talk. We all had a wonderful evening! Thank you.
Pam
Dear Dean,
Thank you so much for making our big day so awesome. You were a blast and all of our guest had a great night. Thank you for all of your work. We will highly recommend you to others.
Thanks, Alyssa and Collin
Dean,
Thank you so much for DJing our wedding! We were so thrilled to have you as our DJ for the night! You helped make everything perfect and couldn't have imagined it any other way!
Matt and Jacqueline
Dean,
Jon and I thank you for working with us! Everybody had a blast we couldn't have asked for a better DJ. You are awesome and we highly recommend you to all our friends and family!
Halley and Jon
Dean,
Thank you for helping to make our special day as perfect as it was and for keeping guests rockin all nignt long! It wouldn't have been a successful celebration without you. We look forward to celebrating at other weddings and events with you in the future! Thanks again!
Chelsea and Ryan
Dean,
Thank you so much for helping to make our wedding a real party! You kept everyone on the dancefloor all night, especially me…I was exhausted from dancing so much but I felt like I didn't want to stop and leave the dancefloor because I was having so much fun with our guests!! Thanks again  for the memorable music.
Casey and Angie
Dear Dean,
Thank you so much for all of your hard work on our special day. Everyone had an amazing time and still tell us how much fun they had! My uncle had to wear his knee brace the next day because he danced so  much!
Thanks Again, Tyler & Rachel – Montague Inn
Dean,  You did amazing! Everyone was so impressed and had so much fun. We had several guests come up to us to let us know that they had never seen so many people on the dance floor or a DJ with so much energy. My cousin asked for your info for her wedding that she is in the process of planning for next year.  Thank you so much for keeping everyone excited and partying all night. It was wonderful.  (200+ guests & you had the dance floor packed until the end!!)
Sincerely, Emily & Steven, The H Hotel
Thanks for all of your great work with our Hemlock Middle School dances!!!
Beth  Grossmeyer, St. Council
I have honesty heard nothing but the best of reviews for your show, you were electrifying, such high energy, seriously lit up the room!!!  Having the audience participation was over the top, working with our peers 50 + hours a week for years and then participating in an event such as yours, many of the attendees loved to see there  boss's, singing and the   hula hooping on stage…PRICELESS…..  You have a way of engaging the audience, so keep doing what you do, because you are AWSOME!!!!!!!
Patty D. – Executive Sales Director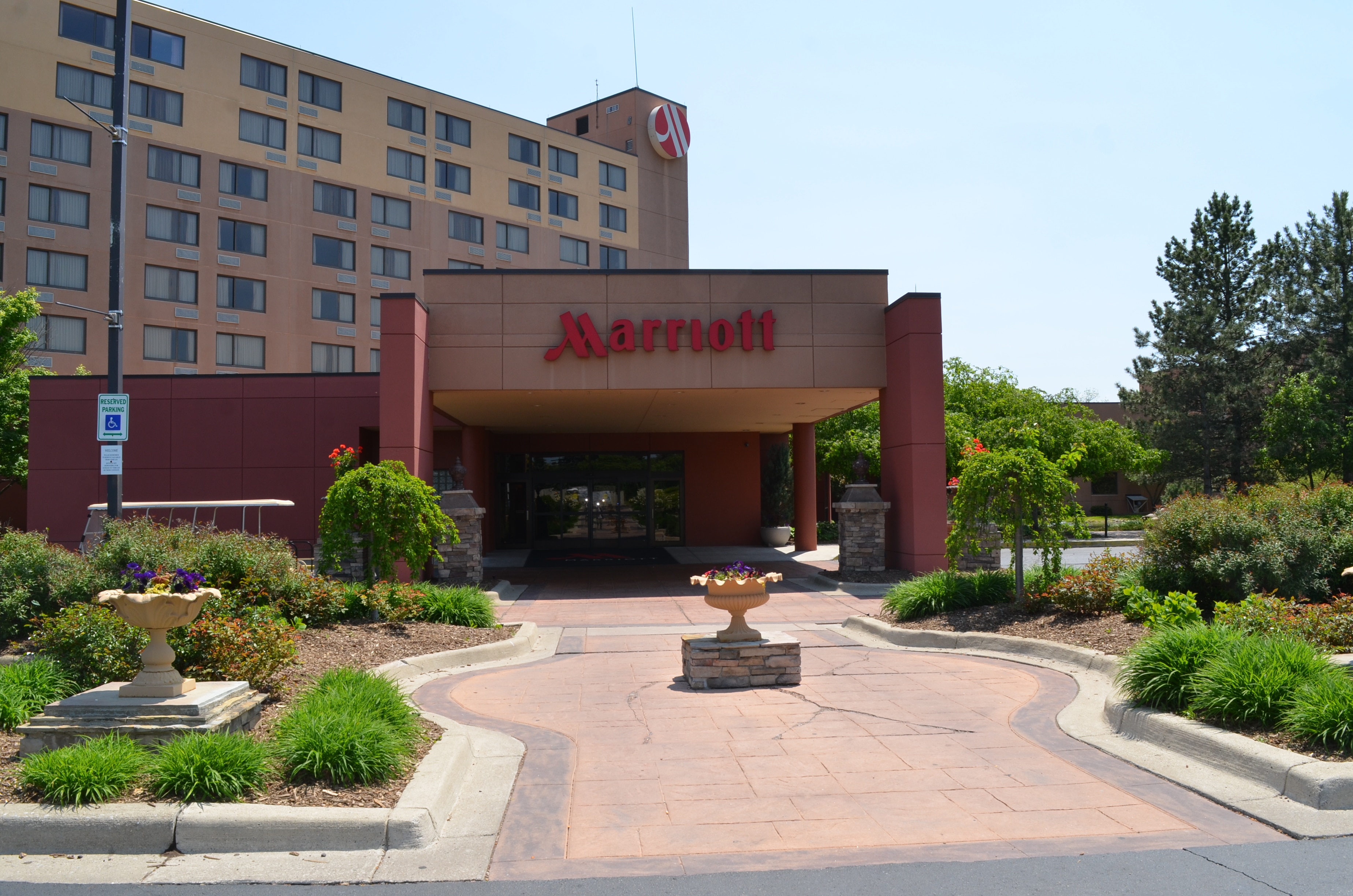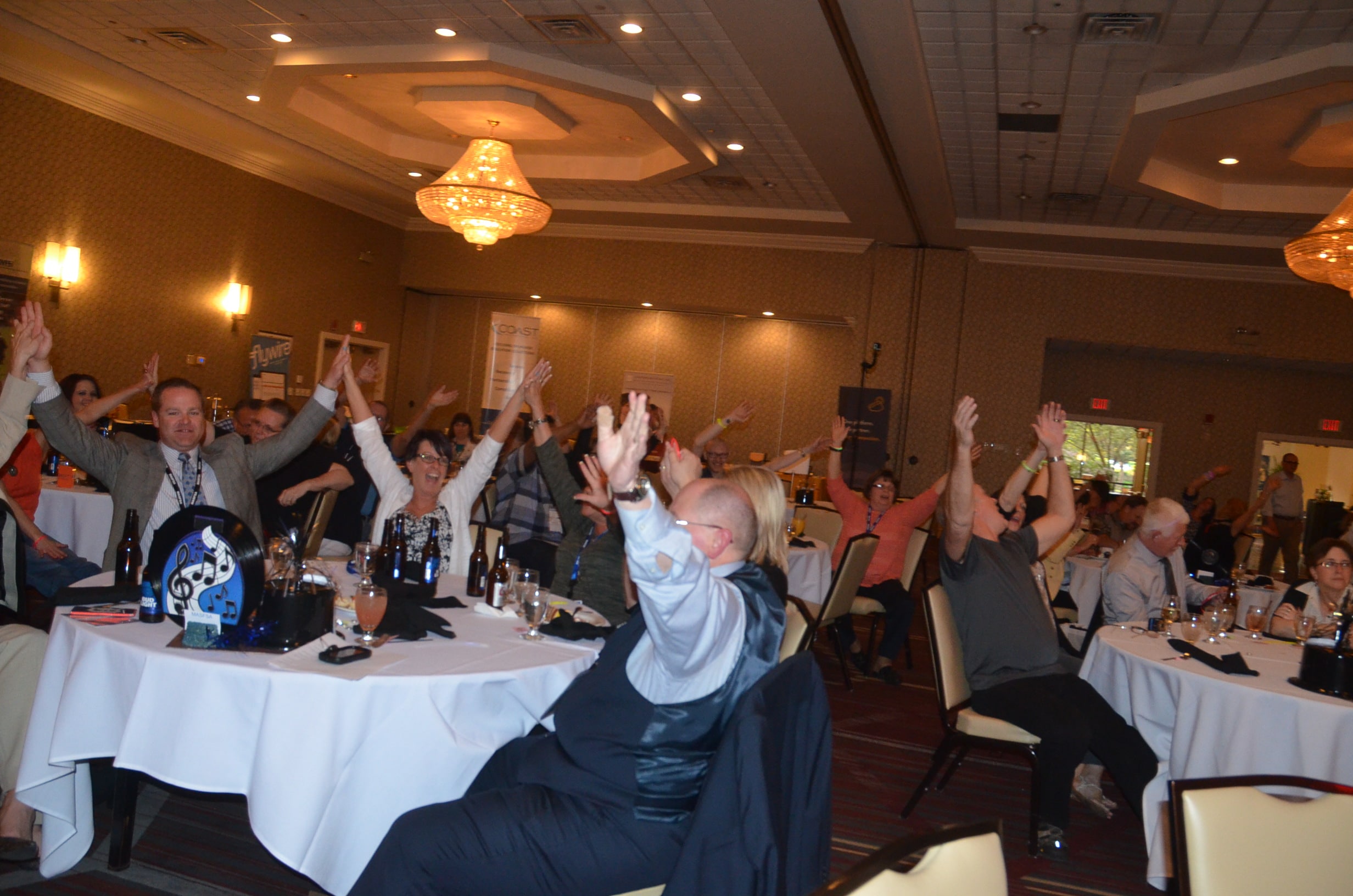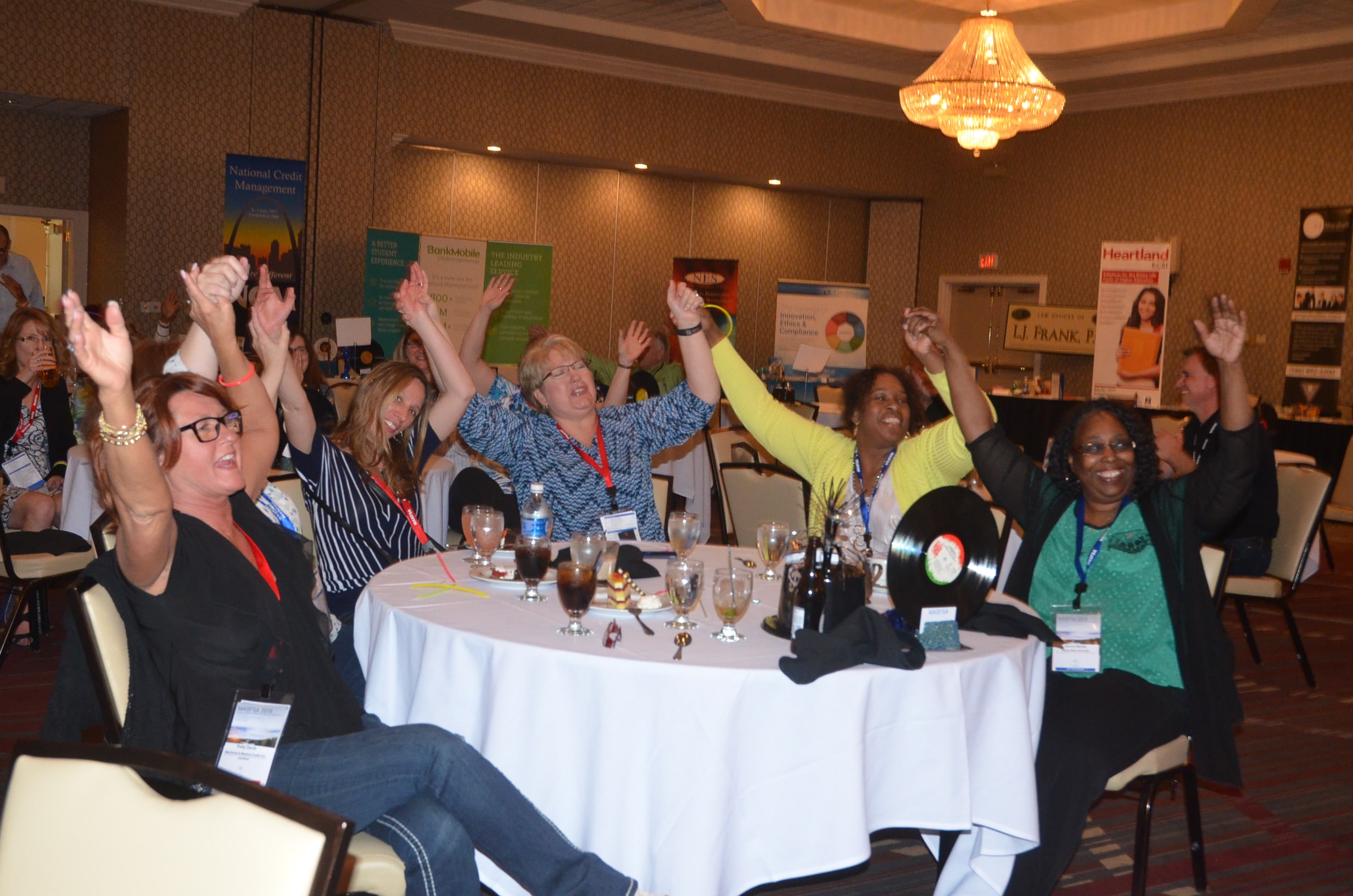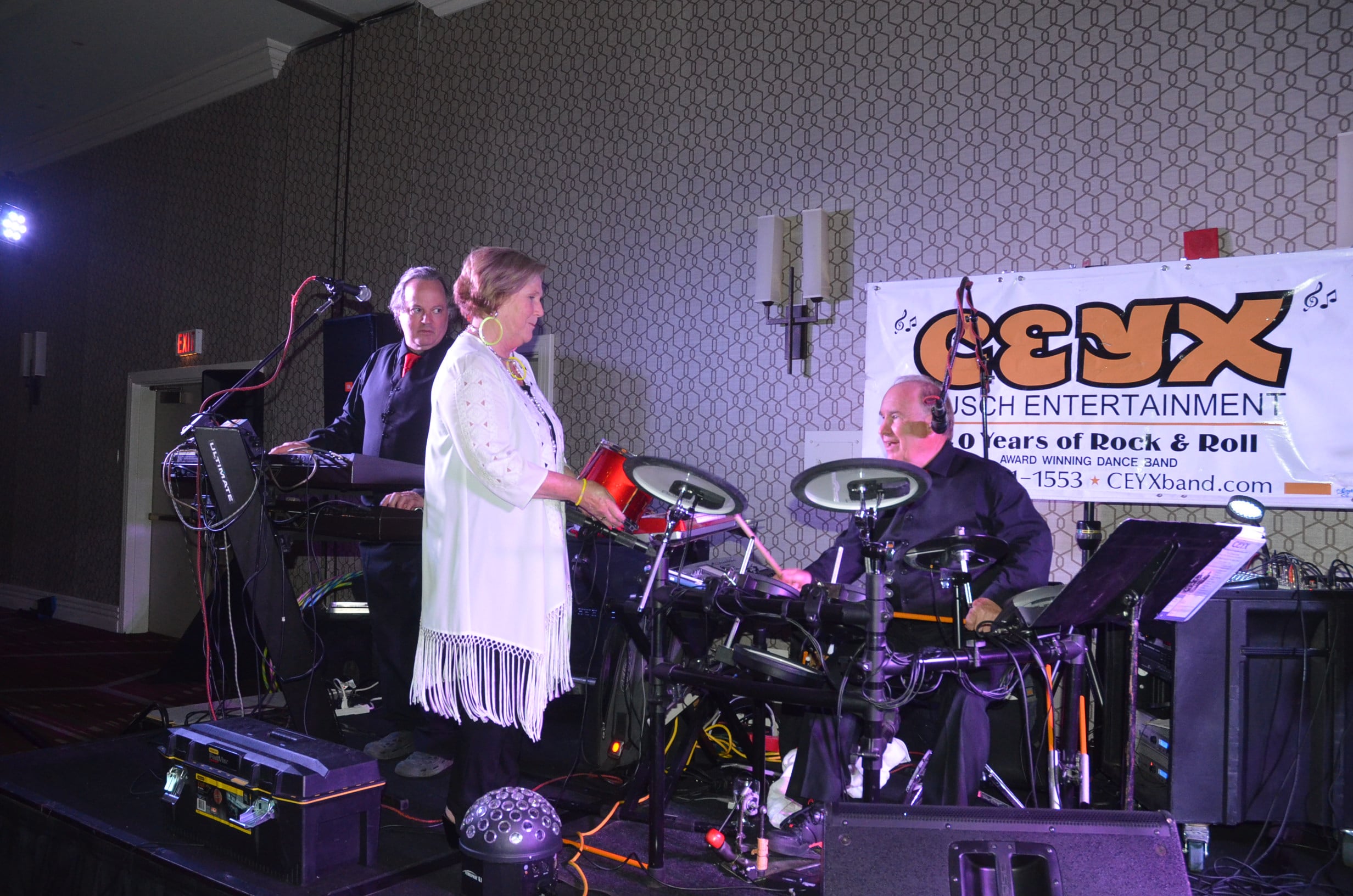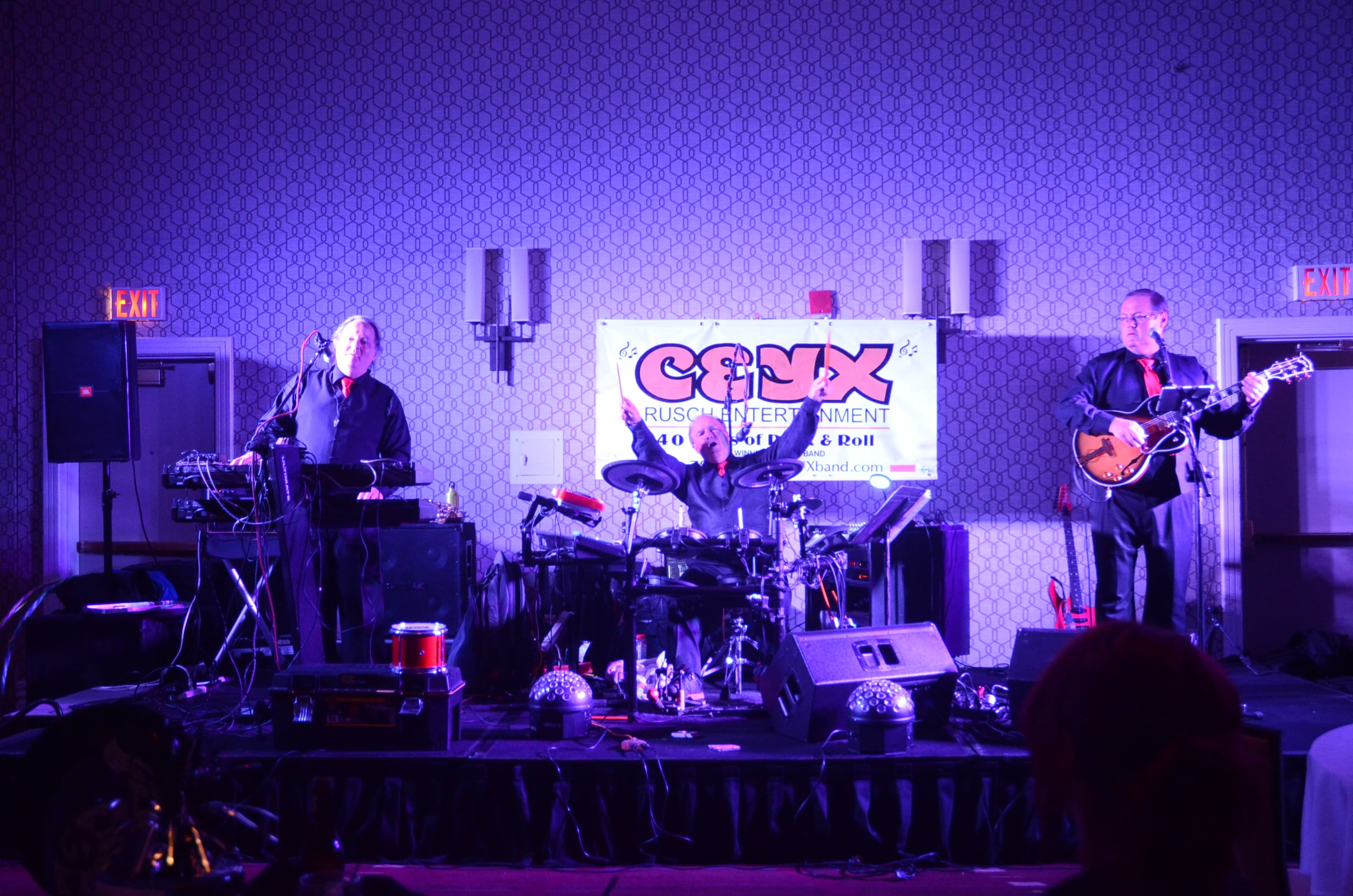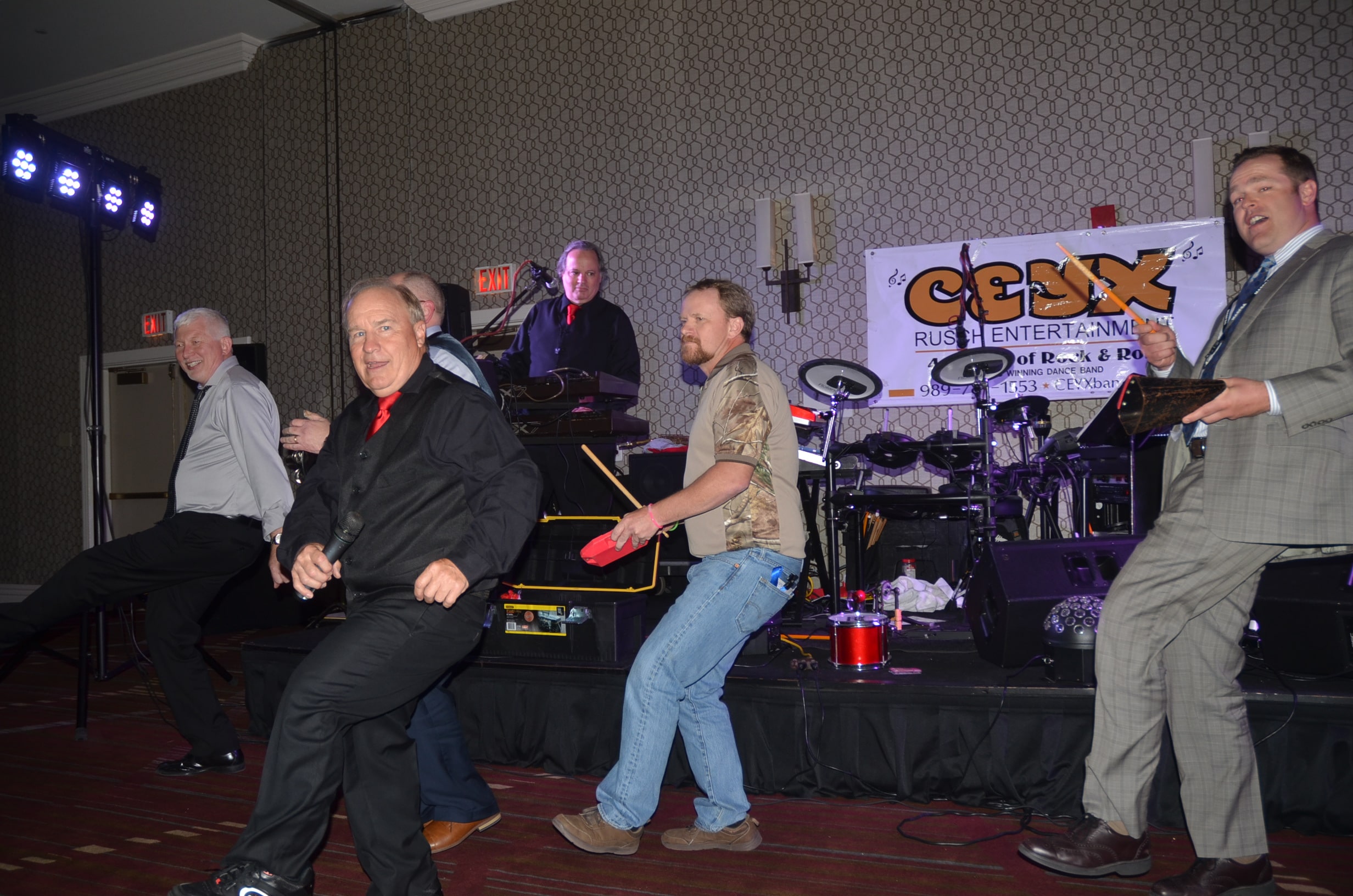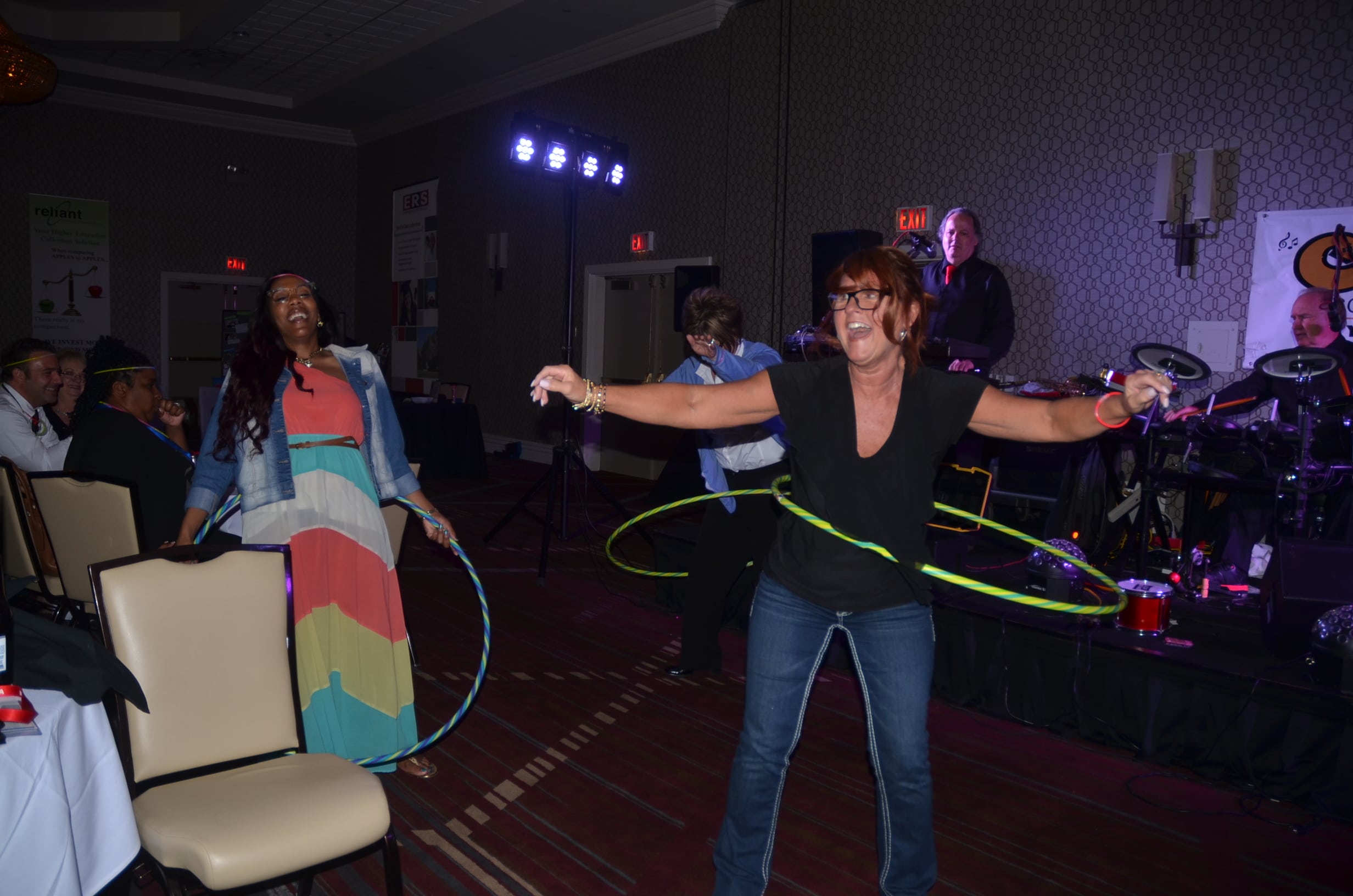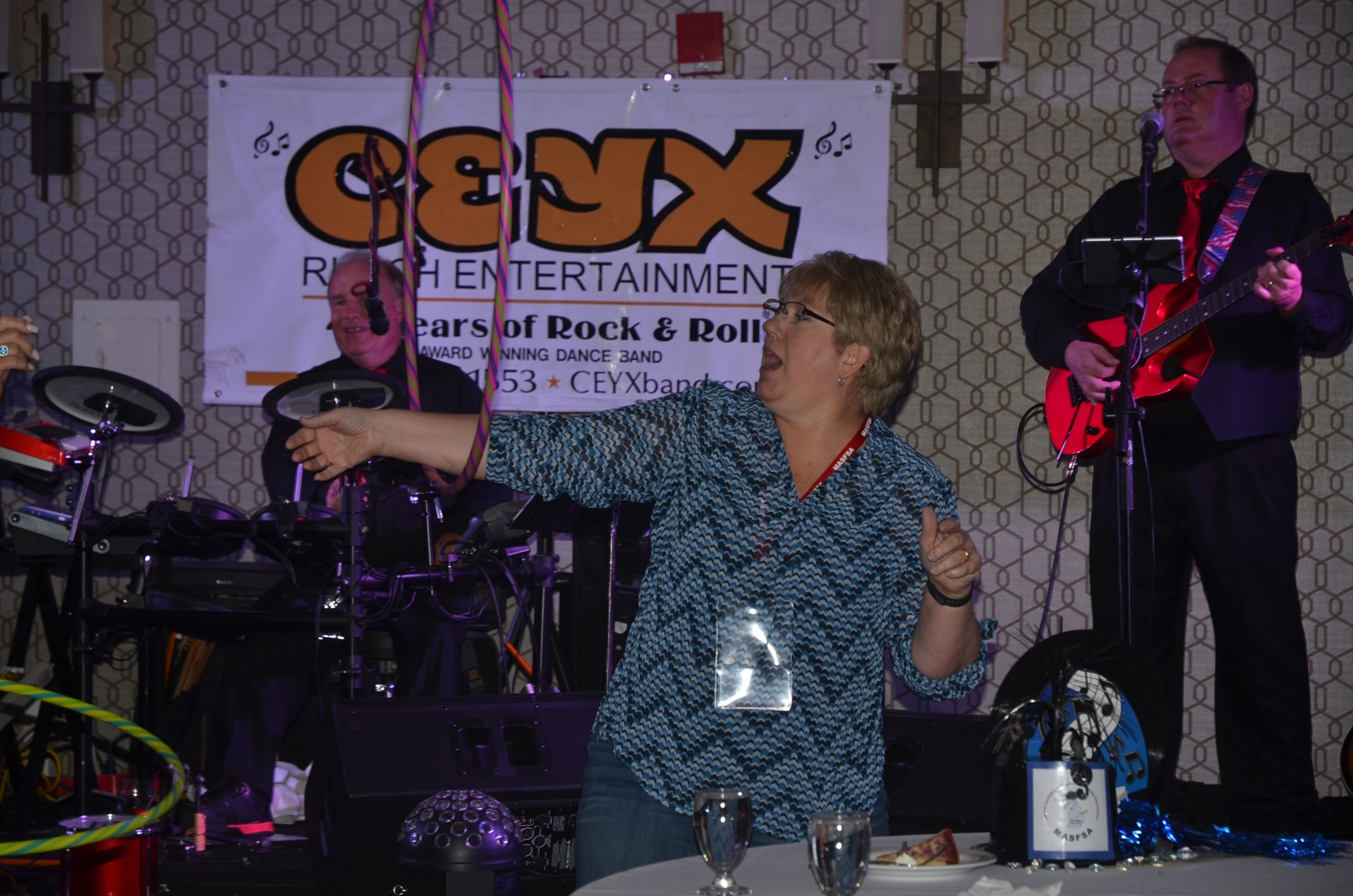 Dean, it was so awesome working with you. I had so much fun and I know for a fact that my bride and her new groom had a great time.  Thank you for making them dance J!  I will definitely give your flyers to the inquiring bride and keep you in mind for future events. Thanks  ~
Shanina  – Sr Event Mgr Troy Marriott – (The dance floor was packed all night!)
DJ Dean at Horizons – thank you for making this night amazing for us. You are a master at what you do!
A good time was had by all. The kids were involved and there were no complaints. Dean had the hottest newest songs and some older favorites. The Kids danced to every song.  They put in tons of requests that Dean played.  Dean let one little girl sing and everyone loved!  Dean taught the new line dances, had them singing along & played only the clean songs!!  Dean had an amazing LED / Laser Light Show.
Beth, The Student Advisor- Fall 2015 6th 7th 8th Grade Dance with DJ Dean
FYI: 49 years of working the same school dances:   2016  will be Dean's 50th year of dances at Hemlock Schools! This was the same school district that was Dean's 1st performance in November of 1966 when he was 13 years old performing at his own 8th grade dance! (Playing the Beatles, Monkees, Dave Clark 5 and Rolling Stones way back then!)
Good morning Dean,   Thank you for a wonderful wedding reception. I agree… it was a true home run!  It was a pleasure working with you. So great to see all the guests really enjoying themselves, especially the Bride & Groom and their families. Have a great week! Wishing you all the best.
Thank you, Evan Chestnutt, Stafford's Perry Hotel – Event Services Manager 
Hello Dean,
Detroit Marriott at the Renaissance Ctr – "REALTOR® Royale"  REALTORS® Convention & Expo
DJ Dean & Photo Booth for 600 guests – All of our feedback from the members has been positive. Thank you for making our evening social event great deal of fun.
Warm regards,  Jodie, CMP, CTA, CMM
Dean
Thanks so much for providing entertainment at the first annual Princess Party at Apple Mountain!  You really kept the party going and made it so fun for all the little princesses!  You were our Super Star DJ 🙂
Abbe – Apple Mountain Resort's Event & Wedding Coordinator 
Hey Dean, Here are a couple of images from the wedding we worked together last Saturday at the H Hotel!  You are "BY FAR" the best DJ we work with! No other DJ jump starts a party like you do.   You had Allison & Benjamin's guests dancing non-stop for nearly 2 hours before anyone sat down!  GREAT JOB! You are truly AMAZING!
Thanks,  Bruce Warner Photography
Dean was wonderful as a DJ at my daughter Tiffeni's Wedding He really helped create a fun atmosphere at the reception and was very professional during the whole night. I wil certainly use Rusch Entertainment for any events we may have in the future, & highly recommend them to anyone who is planning a wedding reception.The lights he set up were Beautiful & the sound equipment was beyond what we expected. The Bride & Groom were very Happy!
Thank You So Much Dean!  Patti Ridner – Comer Photography – Michigan Photographer
I wanted to take the opportunity to write a testimonial based on our experience with Rusch Entertainment for our wedding in April. First and foremost, DJ Dean Rusch was absolutely amazing. He delivered on every promise he made to make our wedding a memorable night not only for us, but for every guest involved. Friends and family are still raving over what an entertaining night they had and about the energy of our DJ. The dance floor was packed the entire night and he made everyone feel special. He also acted as a coordinator of our reception making sure everything ran smoothly and in order. Thank you so much Dean for making our special day so much more memorable. You are a Master of the music!
5 Star Review!!
We are the grooms parents and recommended Rusch (DJ Dean and his CEYX Band)  for our son's wedding. They were great and made it so much fun. We would use them again.  We saw them last year at King's Castle and had a BLAST,  so we told Jeremy and Katie they HAD to BOOK them at the Cottonwood Barn.  The kids and over 200 people had a BLAST!
Matt and Bev, THE PARENTS
DJ Dean Rusch was amazing. We saw him at a friend's wedding and just had to book him. The price was a little higher than the other DJs we were looking into but he is so worth it. He really got everyone dancing. The lights he used were great. He included everyone and had every type of music that was requested. The song we chose for our first dance was an acoustic version, and I wasn't sure if he would be able to get it, but he did. We Looked at two other DJs
DJ Crashers –
Mike Staff –
I am very happy with Rusch Entertainment services and I would definitely recommend Dean!
Alysa & Adam Weeedy – Farina's Royal Reception Hall, Berkley  MI 
Dean was absolutely fantastic. There were always a bunch of people on the dance floor the whole night. Even after the bride and groom left. There was never a slow time where people weren't out dancing. It was fantastic and everyone had a great time.
Sharon – H Hotel, Midland
Hi Dean,  Thank you for a fantastic evening of entertainment for our Christmas party!  I've heard nothing but positive feedback from our Clytean Group at the Midland Country.   You were the best ever!  We all had a blast!  Thank you for making our Christmas party such a great success.
Mary Ann 
Hi Dean! Merry Christmas!  The party was a blast!  4th year in a row at the Bay City Country Club for the Credit Union's staff Christmas party!  (Dean's Band, CEYX, performed the day before for their member's Christmas luncheon at SVSU for over 500 guests and received rave reviews!)
Gina, VP Human Resources
Dean,
You did an amazing job for our wedding!! Everyone had so much fun!  I made the best decision going with you!! Thank you for everything!! The extra colors in the uplighting really tied everything together and if anyone asks for ideas on djs I am Definately going to recommend you! Thanks again we had a blast!!
Megan Stroebel – Swan Valley Banquet Center!
We had CEYX play and Dean DJ for our wedding. It was FANTASTIC! Dean did such a wonderful job and I literally have NO complaints. He was professional, fun, played every single song I asked him for, and added so many personal touches that it felt like they tailored the entire night specially for us. It wasn't cheap but you honestly get what you pay for with Dean and CEYX and I would HIGHLY/STRONGLY/DEFINITELY recommend Rusch Entertainment to everyone I know. They are trustworthy and if you want your reception to keep people laughing, singing, and dancing ALL NIGHT, then you cannot miss the opportunity to have CEYX play.
Renee & Justin – Forest Edge Banquet Center, Auburn!   
Dean,
Thank you very much for all your hard work for our Castle Farms Wedding on Sunday night. You definitely kept the dance floor packed all night and I know everyone enjoyed themselves. Thanks for helping my wedding day go off without a hitch!
Kelsy & Nick,  Royal Oak
Hi Dean,
Thank you so much for all of your hard work at our wedding reception at Trinity Lutheran Church on July 6, 2014.  I have heard nothing but great comments about the music and the photo booth.  I have heard compliments that the sound level was great and allowed both listening to the music and conversation in the reception hall.  Although some people left after the dinner was finished, everyone that stayed for the dancing had a great time.
The photo booth was a huge hit.  We have a lot of fun and crazy pictures.  It is obvious that the guests had a great time with it.  One suggestion would be if there was a way to easily raise and lower the camera (or adjust the angle of the camera) to better center the photos for people who are very tall or the kids who are short.
Again, thank you for a great evening.  You helped keep the party going and created great memories for everyone who attended, including us!
Allan & Colleen Fitzgerald
Hey Dean,
This is Donna Marie Lee….formerly Rombach.  I just wanted to give you a 5 STAR review!!!  Joshua and I had the BEST DJ experience on our wedding day at the Lakeview Banquet Center, North of Lansing. You were just AWESOME!!!  You worked hard and got one side of my family on the dance floor Rockin' it OuT!!!!  I never ever imagined this side of my family on the dance floor…..they usually will just sit and chat.  I was so amazed and so happy with your services that I would hire you again for any major event!!!  The Rombach's were Dancing in a circle and I looked over with amazement and jumped right in the middle of that circle and danced with them!  That truly made my night!!!  You played songs on my list as well as other songs that got a lot of people on the dance floor!  You have such a pleasant manner about you……smiled all night, super accommodating, and everyone could tell that you actually enjoyed your job as a professional DJ unlike A LOT of DJ's who have a bad attitude towards weddings in general. Everyone enjoyed themselves and Joshua & I have you to thank for that!!!  One last thing….You even came up with Ceremony Music at the last minute and it was beautiful and fun!!!  Thank You SOOO MUCH!!!!  Joshua & I will definitely recommend you to anyone who needs Professional DJ Services!!! THANKS!!!!!
Sincerely, Donna Marie Lee & Joshua Edward Lee
Dean,   You were GREAT!  I tell you those little people will remember our wedding forever!  I can't tell you how many guests told me it was the most fun wedding they have ever been to.  You did a great job keeping the party going. My apologies for the crazy strange girl at the end of the night, lol-gotta laugh right.  It was time to end the party anyways-what an ending!  Have a great weekend!! And thank you!
Aimee & Jake Showalter, Commerce Twp (The H Hotel wedding)
Dear Dean,
I just wanted to let you know how wonderful your services were at our Saginaw Chippewa Indian Tribal Operation Banquet banquet at the Soaring Eagle Casino & Resort.  In the past we have had DJs that were not as energetic and outgoing as you.  All of our employees had a wonderful time.  You really know how to work the crowd with your DJ skills, you had them up and out dancing on the dance floor all night. We look forward to doing business again with you next year at our annual Tribal Operations Banquet.
Thank you once again, Kamie Haggard – Employment Coordinator for the Saginaw Chippewa Indian Tribe.
We were highly satisfied with Dean Rusch Entertainment for our wedding at the Frankenmuth Brewery.  Dean was friendly, energetic and great with guests!  He really kept the party going all night!  5 stars!!
Tiffany Brelinski
Awesome job!!!  Having my daughters wedding on a Sunday I was concerned as to how late the party would go, and if people would leave early…Not with Dean!!  He kept the party going and the dance floor was full until the end…in fact, they would have kept dancing until the sun came up if they could have.  Never a slow moment, Dean kept the party going and all our guests had an amazing time!  This MOB knows Rusch Entertainment is the go to for any event!
Michele Levandusky, BBA
It was what we expected and so much more.  We loved it so much that my other daughter who got married three years before said she wished she had had you as her DJ.  We really appreciated you getting out there and dancing too.  I hope you got dinner.  We had an awesome time and my feet are still sore 🙂 Thanks Dean!
Brenda B (Lisa's Mom) at the Doubletree in Bay City
Everything was absolutely perfect!!! We had so many compliments about how much fun our wedding was, I think everyone had a fantastic time!
Jessica & Allen
THANK YOU THANK YOU THANK YOU!!! NOTHING BUT POSITIVE FEEDBACK!!!!! YOU WERE AWESOME , AND THANK YOU FOR KEEPING ME ON TOP OF THINGS AND IN LINE…:)  Midland HS/Dow all 80's Reunion!
Susan Votaw
Please accept my sincere thank you for the incredible job you did at our wedding. You promised quite a night and delivered above expectations. I heard so many positive comments about your style, the music selection, how you seamlessly worked the crowd to get people dancing all night. Very impressive. I'm so glad you were able to DJ because I know my original selection wouldn't have been nearly as skilled and personable. One of my favorite moments was the father/daughter dance when you invited everyone to the floor. My cousin's husband had tears in his eyes after he danced with his two year old daughter. He he watched me and my dad dance and when he grabbed his daughter he was totally overwhelmed at the thought that in 20, 30 years he'd be doing it again at her wedding. It was incredibly touching and all those little touches – the Cupid shuffle demo, the turn ar ound and dance with a new friend – all made an unforgettable night even more memorable. I especially enjoyed watching Amir get down with the Persian/Turkish music and sing along with play that funky music. If you have any pictures, sound or video, I would love to see them. That's one of my very few regrets; I should have kept the videographer there all night to catch those small moments. I will most definitely refer you to others. I think I have a few friends and family left in Michigan to hold an event! I'd also be happy to serve as a reference in the future. I sent Pat an email of thanks. You work with some talented people. He was incredible. Thank you.
Angela
DJ Dean was Highly energetic and very involved with the crowd. He kept the event moving with interactive games and dances. The first DJ that I have seen get out on the dance floor and teach the crowd how to Cha-Cha Slide and how to Cupid Shuffle. I highly recommend Dean Rusch if you want to have an event that runs smoothly with a lot of entertainment and crowd involvement. Dean really gets the party going. His company also provided a Juggler/comic, a balloon twister, and face painters at our event, all were very professional and huge hits with the kids. Over all experience with Rusch Entertainment was very professional and courteous. On a side note Dean Rusch was able to help us organize all of the entertainment 2 days before our event took place. Big thanks to Rusch entertainment and Dean Rusch for their services, and look forward to working with them in the f uture.
Ronnie Ekdahl, SCIT Parks and Recreation
Thank you, thank you, thank you for the outstanding job you did at my daughters wedding! You totally rocked the house! My daughter and I both knew you would bring the best time to our party when we met you at the Bridal Show in Grand Blanc and WOW did you deliver! Your high energy and ability to work the crowd brought even the most steadfast wallflowers in our family to the dance floor. The atmosphere was electric and our family and friends were so impressed. Our phone rang off the hook on Sunday with compliments and comments on the great time they had! As the mother of the bride it was important for me to give Lauren and Tony a reception that captured who they are; youthful, funny and full of vitality. It was awesome how you ran the show but NEVER made it about you, so very professional yet personable! I can't thank you enough for helping me fulfill my wish and for your part in creating an unforgettable evening for the newlyweds. You really do totally rock! Thanks so much!
Madalynne Thompson (P.S. If you ever need a referral, don't hesitate to use me!)
DJ Dean Rocks the Temple! A Night Stacey &  Jason Ugartechea will cherish forever! Parties like this don't "just" happen, they are created!
Ugartechea Wedding
No other DJ is able to get everyone dancing on the 1st song, every night!
DJ Dean, keeps the fun and energy going on every song!
The Dance Floor was Packed all night long!  Dean Knows how to keep the party going!
DJ Dean concluded the night at the Midland Holiday Inn with one of his trademark events, he calls the Circle of Love.  100% of the guests participated to create a grand finale the bride and groom will NEVER forget!
Dean,
You do a great job working the crowd.  I can truly say you are awesome!
Vanessa, Moments Captured by Vanessa
For many years we have partnered with Rusch Entertainment for our events and they have always acted professional and ALWAYS make the events more fun. There has never been a time where guests left unsatisfied and we highly recommend our clients to Rusch Entertainment!
Regina & Alyssa, The Dow Event Center   
Great Job Dean!! I 'll be sure to include your flyer with our information.
Best Regards,
Darren Romano, Grey Gables Restaurant and Catering
Dean,
Thanks for an awesome night of music and dancing. We had so many great compliments about your services. Thanks again for making our special night so much fun.
Tyler and Susan Simpson
Dean,
The biggest thing we wanted to have was a packed dance floor. We achieved that with you leading the show. That's a compliment to you and it's a great thing for us to see because that means we went with the right DJ. Thank you for being our DJ it was a pleasure having Rusch Entertainment at our reception.
Molly Smekar & Patrick Bader
Dear Dean,
Please accept my sincere thank you for the incredible job you did at our wedding. You promised quite a night and delivered above expectations. I heard so many positive comments about your style, the music selection, how you seamlessly worked the crowd to get people dancing all night. Very impressive. I'm so glad you were able to DJ I especially enjoyed watching Amir get down with the Persian/Turkish music and sing along with play that funky music.
Angela
Dear Dean,
Thank you for a wonderful night of music and entertainment. Your sound system, lights, and participation with our guests was outstanding. Terese's mother Vicky told me you did a fine job keeping everyone engaged. She said, "Those that were unable to move on the dance floor were entertained by the energy of the younger set." David and Terese gave you their music requests and I gave you mine, but the order in which you played them really energized and inspired our guests to participate. You knew when to change up the musical style to best capture the mood of the bride and groom. We parents were approached many times that evening with great complements, and I believe it also had a lot to do with your expertise. I would have no hesitation in recommending you for a DJ job. Again, thanks for a wonderful and memorable night.
Patti and Craig Cook
Dean,
The pictures turned out great, and it looked like an amazing party (thanks to you). Thanks for keeping the party moving and so exciting! We recommend you to all of our brides, and also look forward to working with you again in the future!
Hicks Studio
Dear Dean,
You did an awesome job at Karri and Justin's wedding on Saturday. The music was great, your enthusiasm was wonderful, and you kept the people partying. We could not ask for anything else. Rusch Entertainment is the only way to go!!! All our friends and family really liked the way you kept "Karri" dancing. Thank you for letting our Olivia have the mike and make her speech to our joined families. That brought tears to everyone's eyes. Thank you for making Justin and Karri's wedding reception a memorable event for all who attended. Rusch Entertainment will be our family source of entertainment in the future.
Sally–Bride's Mom
Dean,
Thank you so much for making our reception such a GREAT time!!! You are the BEST!!! Everyone had a great time! Thanks again!!!
Sherry Spence
Dean,
Thank YOU for a great wedding reception! I was also worried about people not dancing b/c of the carpet, but I don't think anyone even noticed!! It was a great time, and everyone danced so much. I think that's what makes receptions so much fun.
Alicia M. Janisch
Dean,
Thanks again for everything. You did a nice job. I had several people tell me that you were great and so much better than last year's DJ. Hopefully we can book you again next year, and the party will be on a Saturday this time. Happy Holidays!
Denise Wilson, Volkswagen of America, Inc.
Dean,
Thanks again for your entertainment both with Dan's show on Monday and your dance music on Tuesday. Everyone had a great time and you did a great job getting people involved. People said that Dan's show was the best Monday night entertainment we had had in many years!! We certainly laughed our heads off. I heard great things about your show also, people commented that you had a great mix of music & kept that "core" group going till the end. I will pass along your information to those planning the next conferences and see what happens! Thanks again – I had a great time too.
Karen Makay, Treasurer, Van Buren County
Dear Dean,
Thanks again for a great night! You were as fun and energetic as you were at my wedding in 1983. My daughter and her new family thoroughly enjoyed the variety of music and your entertaining abilities. You know exactly what to do to keep everyone happy. The dance floor was full all night. I appreciated your recommendation and flexibility regarding the start and end times, that worked perfectly. I HIGHLY RECOMMEND you as an excellent, class entertainment provider for any occasion!
Russ Metevia, Regional Sales Manager-AT&T Michigan 
Dean,
It is a lot of fun to work with you, someone who has an awareness of all that is going on around him, who is very intentional and polished in everything you do. It goes a long way in creating a great party for the couple and their guests as well as working with the other vendors to help them do their best job, and of course with someone who is as passionate about what they do goes a long way.
Aaron & Renee
Dean,
One of the things we liked most about you was how you worked the crowd! We had an awesome time and so did everyone else. Thank for being involved and not just playing songs. Also, the personal things, such as songs for grandpa, military guys…were a nice touch. It felt like you knew us all personally. Thanks again.
Jeanne Roscoe, Mother of the Bride
Hi Dean,
It was great meeting you, too. I had a blast last night– easily one of the top three weddings I've been to (this wedding makes 22 for me, not nearly as many as you though). I will most definitely keep you in mind, you really made the night!  I am not getting married, my brother is — now in August– so I have been attending wedding events for him. Thank you again for everything,
Lauren Elias
Hi Dean,
Everyone was happy with your DJing on the boat. It was very fun! Best party we have ever had!
Vanessa, Director of Client Services, M & A Financial Group, Inc.
Dean,
I just wanted to email you and let you know what a wonderful job you did at our party and to thank you so much for working with us. I know we had a lot of random songs we wanted played and I'm proud of you and your new blue grass knowledge;) We got compliments for a week after our party about the great DJ and Dave and I had a blast. So thank you again and we will recommend you for sure!
Thankfully, Dave and Megan Fry
Hi Dean,
We were very happy with you and you will be recommended to many people! Thanks again, Dean! Everyone had a fantastic time and had so many great things to say about the entire night!
Noelle at The Franklin Inn
Hi Dean,
The wedding was an absolute blast! We had the time of our lives and know our guests had a great time as well. We are still hearing compliments from our guests about what a great time they had and about what a great DJ we had. When we first started planning our big day, we knew that our DJ would be a critical element of our evening, and looking back on the night, we know that we made the right choice. The pictures prove that the dance floor was still crowded at the end of the night when the lights came on. We would certainly recommend you and our guests would also. Hick's studios said they sent over some pictures to you from the wedding and from what I have seen, they are the best that we have. It was great that you were able to just watch the crowd and keep them going – even if there was a break in the fun for the boys to have their moment with Journey! Those few moments meant the world to them and even though the other guests drifted from the floor, you got them all back out there to party for the rest of the night! Thanks for everything. We hope you enjoyed yourself as well!
Dane and Kristin Grzegorczyk
Dean,
Thank YOU for a great wedding reception! I was also worried about people not dancing b/c of the carpet, but I don't think anyone even noticed!! It was a great time, and everyone danced so much. I think that's what makes receptions so much fun. Of course, the mass quantities of alcohol they all drank definitely helped 🙂
Warm regards, Alicia M. Janisch, Plante & Moran, PLLC, Lansing
Hi Dean,
We want to thank you so much for the GREAT entertainment, as you could see from the dance floor everyone enjoyed it!!! (PS we still wish we had you for New Years!) Thanks again!
Joe and Sharon