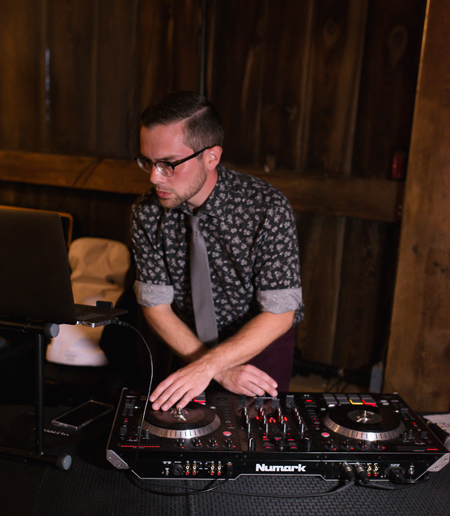 DJ Keith "DJ KO" has been pleasing crowds across Michigan for over 10 years.  Exceptional sound quality, music knowledge, & showmanship is something Keith can guarantee at his shows.  Whether it's a wedding, school dance, nightclub, or any other type of function, Keith is more than capable for the job.  His years of experience with wedding receptions means less worrying for the bride & groom.  He will work with your wedding planner, photographer, caterer, etc. to ensure the best coordination for the night's festivities.  Keith has played at many numerous night clubs, bars, & restaurants as well.  He knows how to keep a dance floor full while maintaining good crowd control.  His song selection & transition abilities are second to none & make the party to go on all night!  When you Book Keith, you will not be disappointed!
---

The following are just a few of the satisfied venues that have booked DJ KO:
The Grande – Essexville
Shimmers – Traverse city
Harrington's By The Bay – Traverse City
Horizons Center – Saginaw
The Inn at Bay Harbor – Bay Harbor
Saginaw Sting Pro Football In House DJ – Dow Event Center
DoubleTree by Hilton  – Bay City
Candlelight Banquet Center – Bridgeport
Circus Park – Clio
Great Hall – Midland
Trillium – Saginaw
Crystal Gardens – Howell
Castle Farms – Charlevoix
Golden Glow Ballroom – Saginaw
Grand Hotel – Macinac Island
Hawk Hollow – Bath
Bavarian Inn – Frankenmuth
Sullivan's Black Forest Brew Haus & Grill – Frankenmuth
Princess Wenonah – Saginaw River & Saginaw Bay, Bay City
Old City Hall – Bay City
Studio 23 – Bay City
Swan Valley Country Club – Saginaw
Creekside Bar & Grill – Saginaw
Hellenic Banquet Center – Saginaw
Dean,
Well you were correct Keith was absolutely fantastic. He played everything on our list and then some. People danced the entire night. People said it was the best dance party for a wedding that ever been to. What impressed me is that Keith even was mixing beats per minute between the songs. I wanna thank you personally for working with us and getting that DJ. Keith was also super nice and super friendly. It was not a problem just to walk up to the table ask him a question or for a request.
Warm Regards,  William J O. – Saginaw Club  Wedding with over 250 guests
We were the photographers at Crystal and Kevin's wedding at Windfield Farms this evening and we really enjoyed working with Keith. He was professional, punctual, communicated well, and played a great selection of music. He made good announcements and made sure he new how to pronounce the wedding parties names before introducing them. Very impressed! Hope to work with him again.
Megan
Everything was AMAZING! Keith was very on top of everything. We had to change the location from outside to inside last minute and he adjusted with ease. Also, he kept in contact with us to give us a nice 5 minute heads up on what was next formally.
Additionally, he kept the mood perfect at all times. There were a lot of songs that he played that both I and everyone else were super excited to hear and didn't necessarily think about beforehand. Many people came up to us and said how much fun they had and I know a lot of that is because of the DJ, thanks to him. 🙂
We will definitely be recommending your company to others. We were the first of our friends to get married. So, hopefully we can send more your way. 🙂 Thank you so much for everything. Our big day was perfect.
Courtney Chiros
Prom was great!  The kids LOVED DJ Keith!  We will be having Prom 2020 on Friday May 8th.  Let's make sure it's on the books before the end of the school year.  Thank you!
Sarah – HMHS Prom Advisor
Keith is a very professional and easy to work with DJ; he was on time, fun, and would listen to requests from the students. Our age group (18-22) loved him lots! I would recommend him for any college event!
Emily J Williams – Northwood University Class of 2019
Dean,
Our wedding reception was above and beyond what we expected. DJ Keith did an amazing job! He played exactly the music that we requested and the style that we were going for. He had the dance floor packed all night! He was awesome about keeping us on schedule with toasts, cake cutting, and first dances. He did an awesome job and I highly recommend him! Bonnie and Kevin were our photo booth attendants, and they also did such a great job! They had the largest selection of props for a photo booth that I've ever seen, and everyone had so much fun with it!  I love that they give you a book with all of the photos as well as a USB drive with copies as well. Overall so glad I went with Rusch Entertainment and we were very happy and impressed!
Mr. and Mrs. Zervoudakis – About 200 Guests at the Grand Unity Event Center, Petoskey
Hi Dean,
Everything was simply amazing! Josh and I had the best time! We were so impressed with Keith as our DJ!! Everyone agreed that the music selection was varied enough to keep everyone interested but still what we asked to hear.  Thanks so much for everything!!
Kasey and Josh   10-28-17  The Great Hall with about 150 Guests!
Hi Dean!
DJ Keith was AMAZING! He kept the party going the entire night and the dance floor was never went empty! We loved his compassion for what he does and how sincere and "go with the flow" he was. We would definitely recommend you and Keith to anyone looking for a DJ for an event. Thank you so much from the bottom of my heart!  About 250 Guests at the Genesys Conference & Banquet Center!
Rebecca T.
Hello, I am the new student council president. I am looking to reserve a date for our Homecoming dance next school year on October 7th. We liked the DJ we had for our winter formal dance this year in February. Please let me know if we can reserve this date with DJ Keith, thank you!
I am still getting compliments on my wedding, almost six months later. I attribute much of that to my DJ, Keith. It was like he just knew what the crowd wanted to hear while mixing in my must-haves throughout the night. There was always someone on the dance floor, most of the time it was a little crowded! I had a blast dancing the night away and I know my guests did too. Definitely would recommend him to anyone looking for a DJ. Was set up, waiting for us to arrive to the reception, went through everything with me a few days before. Rusch has a questionnaire that you fill out ahead of time that really gives you time to think through all of the music you want at your reception and what you definitely don't want and can suggest music for different points at your reception. That was very helpful to us. I was super impressed and very happy with Keith. Thank you so much for making it a night to remember.
Kelly and Erick B. – St. Demetrios Greek Orthodox Hellenic Ct.
Keith,
Thank you so much for being our wedding DJ you did an absolutley fantastic job. we greatly appreciate all the time you spent reading my emails and creating the perfect playlist for our special day. thank you for catering to our needs and playing all the same songs that are most important to us.. you truly went above and beyond to make us happy and keep everyone on the dance floor. Thanks Again!
DJ Keith at Countryside Banquet Center
Keith did an outstanding job as our wedding reception's DJ.  Here are a few of the specific things we appreciated:
1) He made sure to correctly pronounce the names of all members of the bridal party.
2) Keith honored our wishes and helped create the atmosphere we desired at all points in the reception.  He read the party well and maintained a great flow through the reception's schedule.
3) He played music to satisfy all age groups.  The dancing was lively all night long, and Keith stayed until the very end of the party.
4) When the time came for key events (toasts, cake cutting, first dances), Keith was prompt in finding the Bride and Groom and making sure the reception stayed on schedule.
5) He cut out things we ended up not having time for, such as the dollar dance, while maintaining the essential pieces of the reception.
6) Keith worked well with the venue's staff.
Keith was a superlative DJ, and we were very grateful to have hired him.  We would not have wanted him to do anything differently!
Thanks so much, Keith!
Erik & Laura Bates
Thank You so much for being the perfect DJ at my sons and daughter-in-laws wedding, June 4 @ LFA Hall. You had the guests dancing longer than any wedding I can remember in recent years. You were not a show hog; but blended into the background and let your work, professionalism, and music do the talking. The volume was perfect, not to loud-just right! Great Job!
Ann Roedel
Keith was so Amazing! I already have a new bride asking about him. We got tons of great compliments about his music choices. Plus on a serious note he was a cutie but keep it very professional. He was even willing to dance with our hostess for the bridal dance but she had to leave. He came outside right when we got there & greeted us. We had such a blast & unforgetting moments. We will always remember our wedding night. Thank you from the bottom of our hearts!! Here are some pictures to prove how much fun we all had. Please show these to Keith!!
Jessica and Ryan Smith – Forest Edge/ Freeland  – Met Dean and Keith at Zehnders Of Frankenmuth
Keith, We would like to thank you for helping make our wedding special. The music was great and we had fun dancing! We appreciate your efforts!
Rob and Courtney Stratton – Swan Valley Banquet Center
Awesome job!   DJ Keith kept the dance floor rocking all night.   Highly recommended DJ.   We received so many compliments on the taste of music.
Kind Regards,  Bob Cadeau/ Katherine Benchley – Forest Edge/ Freeland  
Everything was great!!!  Keith was perfect and the photo booth was a hit and enjoyed by many!  Thank you so much!!
Debbie – Caro
Hello! I am a Banquet Manager and Event Coordinator for a Golf Club in Michigan. Rusch Entertainment has worked many events at the club and I knew that my husband and I HAD to have them for our wedding this past October (2014). Rusch Entertainment made the booking process and organizing so easy with their online format for music selection and it helped us to not forget anything such as bouquet toss, garter toss, etc. DJ Keith was AMAZING! Absolutely the best of the best. I have seen many DJs and worked with many in my line of work and was thrilled with Keith, and Dean Rusch for his suggestion to hire Keith.
We also booked our photobooth through Rusch Entertainment. Another two thumbs up! Upon booking, I had NO idea that they create an entire photo album with the pictures taken throughout the night. Although I had seen this at weddings and other events that I had coordinated at the golf club, I had no idea how much effort they would put into making our night so perfect!
There is absolutely no better Entertainment Agency to suggest than Rusch and I will always suggest this to every bride, mother and event host/hostess that walks in my office requesting DJs and other entertainment. They truly go above and beyond for their guests and make each event feel like its the most important.
I highly recommend to look no further and give Dean and the Rusch Entertainment staff a call because they truly are the best of the best!
Thank you so much to Keith, Dean and all the Rusch Entertainment staff for making our night everything we imagined it to be and more!
One Happy Newlywed,
Tarah
Dean, I have to tell you how amazing Keith did at our wedding Saturday night. He did EXACTLY everything I asked for and was so nice and helpful throughout the entire night and even before and after our wedding. Everyone continuously commented on how great of a DJ he was. He really wowed the families with the dinner music as well as the music after dinner before we opened up the dance floor to everyone. At the end of the night we had been on the dance floor for 3 straight hours and everyone was chanting "one more song!" Everyone had such a great time and we cannot thank you guys enough for making our day perfect!!!   Thank you so much again! I will refer him to anyone that is interested in it.
Laura Nelson – Crooked River Weddings, Gladwin
Keith was so amazing! He was so professional and spot on with the music and requests! I'm so happy we used Rusch Entertainment!
Jean – The Loft in the Center Building  Alpena  
Hi Dean (and Keith)!
Keith did an AMAZING job and I definitely want to make sure his hard work (and patience) gets recognized. My husband and I couldn't have been more pleased and would definitely recommend Keith to anyone getting married or in need of a fantastic DJ. Thanks much!
Des  (P.S.  Thanks to you BOTH for dealing with all my emails/concerns/craziness–RUSCH ENTERTAINMENT rocks!!!)
Same DJ as last year. He did a good job! It was a success!
Rene W.  CHS post prom