---
DJ Ken has been a Professional Wedding DJ since 2007 and looks forward to the next wedding with the same excitement as if it were his first!  He enjoys large crowds of people having an awesome time.  Ken Keeps everyone on the dance floor and makes clear introductions and announcements. Ask about our TV screen for your bride and groom "memory video"!
DJ Ken at Lyon Oaks Country Club
---
2022 Ken DJ'd at Grand Rapids Children Museum for the Grand Rapids Catholic Central High School Prom! – "It was so much fun! We felt the floor could have gave way, with 30,000 pounds of teens jumping on that old floor!!!"
DJ Ken Rocks The Cheney Place!
DJ Ken at the Castle Farms – Rocks another wedding!
Only an AMAZING DJ can get the party going in broad day light!!!
DJ Ken Rockin' Castle Farms …
Again!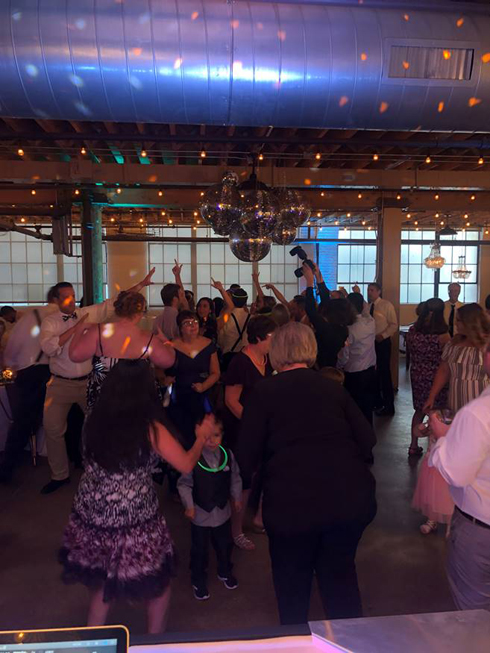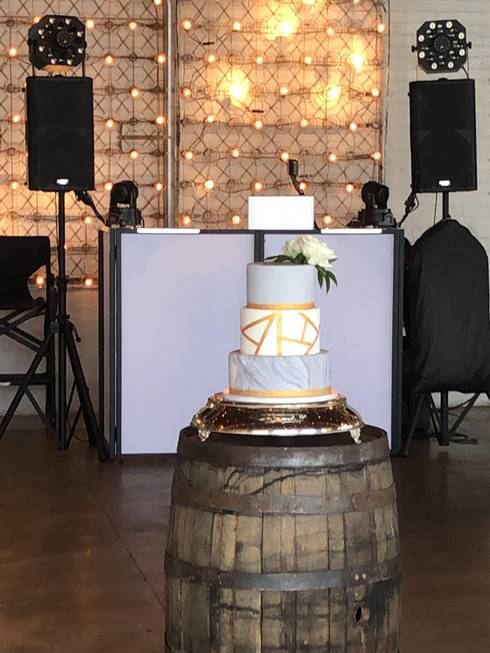 Hi Dean!  Ken was AMAZING!!! We had such a great time and he was extremely accommodating whenever we wanted to change the order of the dances.  I think I received more compliments on how awesome the music was then how I looked in my dress 🙂  We had about 100 Guests.  Thank you Ken, once more!
Jordan & John:  The Century Club Ballroom, Muskegon
DJ Ken was amazing! We had a small wedding of less than 40 people but he kept the crowd on the dancefloor! He read the room and played songs that everyone wanted to hear. He interacted with the group and got to know names of the guests. He was so relaxed and in his element that even when an medical emergency caused a change of plans he adjusted and acknowledged it with grace but was then able to bring us all back together. He truly made the night a success and as a bride, I didn't have to worry about anything. I would highly recommend him!
Theresa Huey
Hi! My wife and I got married on Saturday August 3rd and I just wanted to say DJ Ken was absolutely outstanding. He was everything we ever could have wanted in a DJ. He was professional, he kept the party going and did anything and everything we asked for. He took requests from guests well and played them shortly after receiving them. My friend group had 5 couples get married this year and everyone who went to all the weddings said we had the best DJ by far. We even had an engaged couple come and ask us for your information because they are getting married in Grand Rapids next year and want you to DJ their wedding as well because they were so impressed. We just wanted to say THANK YOU!
Ken did an amazing job with both our ceremony and reception. I would highly recommend him to any bride. He was very easy to work with and extremely responsive. Thank you!
Kelsey McConnell – Castle Farms
Dear Ken & Rusch Entertainment!
Thank you so much for doing such a wonderful job with the entertainment and lighting for our wedding reception.  Our guests raved about the wonderful job DJ Ken did and we would recommend him to anyone!  THANKS Again!
Nicole & Kyle Woods – Arbela Township Hall  (About 225 guests)
DJ Ken with Rusch Entertainment was awesome! We got married on 10/8/16 at Castle Farms in Charlevoix, MI. He showed up early, was friendly and easy to work with, and was attentive to us the whole night. He kept everything on time, and kept the dance floor packed. In addition, we had a very specific version of a song we wanted for our first dance that I was worried we wouldn't be able to get – by the time I talked to DJ Ken about details the week of the wedding he had already found the correct version and was good to go. The guys at Rusch Entertainment were also very responsive and helpful with any questions I had before our big day! Their form makes sure you think about all the small details, which helped ease our minds with so many other things to think of!
Hi Dean,
DJ Ken and his assistant DJ Thomas were AMAZING.  We couldn't have been more pleased with the both of them. They made sure to keep us on schedule, they were open to any changes and suggestions we made. Their up lighting made the queens tavern even more stunning. We had guest coming up to us after the wedding saying how great they were. So glad we went through Rusch Entertainment.
Alexandra & Brandon S. – Castle Farms ( The Castle Farms Wedding Crew really pushes Rusch Entertainment to brides that want perfection!)
Ken was absolutely AMAZING!! We had a phone meeting with him the week before our event and you could tell he really listened to what we wanted. He kept things fun and lively, but didn't push things too much. He also paid attention to our theme and vibe for the entire event. He really helped bring everything to life.
DJ Ken at Castle Farms
Ken was our DJ, and we had an American/Middle-Eastern wedding, so we played a mix of both songs and Ken did a great job! You'd never know he had done the combined Middle Eastern wedding for the first time! He attended and provided music for our rehearsal at no extra cost, as well as a light monogram for the dance floor and uplighting at no extra cost as well. He was WONDERFUL!!!!! And I would highly recommend him, and Rusch, to anyone 🙂
Touline Kourdie & Ramsey Elshafei – Castle Farms  Charlevoix
Ken did an absolute amazing job!!! Everything went picture perfect! Thank you!
Chelsea  &  Donald Ellis – Castle Farms   
Our DJ, Ken, did a great job. Our guests were very impressed and happy. He exceeded our expectations and was fantastic throughout our wedding. We will highly recommend Ken and Rusch Entertainment to others in the future. Thanks again for making our wedding great!
Jake and Michele, Kearney Township, Bellaire
Thanks for everything Ken! You went above and beyond all night and we are so grateful. We'll send you links to all the media stuff and I'll make sure to get some awesome reviews out there! 🙂
Michael and Ashley – Bay Harbor Petoskey
Our DJ, Ken, was amazing! He kept everyone dancing and happy all night! He was friendly, professional, and a pleasure to work with. If you need a great DJ, ask for Ken! He did a great job!
Matt and Jen
Thanks Ken!! You did a heck of a job! It was so much fun!!!
Michael and Syrena – Crooked Creek Ranch, Cedar MI
You did an amazing job so thank you!!!!!! Everyone had such amazing time!! I was really bummed that everyone danced our last dance but the song you played last when we danced alone was so so perfect. Thank you for making it special!!!
Jared and Kara – Perry Davis  Hotel Petoskey MI
Ken
Jess and I wan't to thank you for the amazing job you did for us!!  Everyone had a blast and was still talking about you the next day at breakfast!! You really know how to read a crowd!!!  Thank you So much!
Mickey and Jessica – Traverse City Opera House  
Ken DJ'd a public National Dance Day event in the park for me last year. He was fantastic! Not only did he need to play specific music for the performing dancers (from ipods to cds), but he also came up with great music to get the crowd dancing on the spot. The equipment he brought was state of the art and resonated throughout the park. Ken was a joy to work with, he was enthusiastic, attentive and creative. Our National Dance Day would not have been such a hit without Ken.
Heather Raue, Director of Dance, Arts Center
Hi Ken, Judy and I just wanted to give you a BIG "Thank You" for the quality and quantity of the performance you gave at our Anniversary party.
We had so many positive comments from the invited guests. You had a terrific music selection that satisfied a group of people from young to old.
Thank you so much for the professionalism you displayed.
Jim & Judy VanLoo, Boyne Falls Michigan
As the junior class advisor for Harbor Springs High School, I have been responsible for coordinating 3 dances this  year. As a teacher and advisor of High School students, having a great DJ is  very important to the success of an event. My students have exacting and eclectic musical tastes and have been disappointed with many DJs in the past. This year, I have had the pleasure of using Ken for Harbor Springs High School's Coming Home dance and for Prom. On both occasions I was extraordinarily impressed with his professionalism, energy, and talent. It is not an easy feat to DJ a dance for 300 students with varying musical tastes, but
Ken did an wonderful job meeting my students' stringent demands. Professionally, I have enjoyed working with Ken. He has always been reliable, responding to my calls and email very promptly and showing up to events on time. Ken goes above and beyond the call of duty to ensure that his clients' needs are met. It is my pleasure to recommend his DJ services.
Sincerely,  Karen, French Instructor  –  Harbor Springs High School
We can't thank you enough for making are wedding rock are families were raving about the fun they had!!!!!! Seth and I are very happy to have found your services!
Seth & Jen – Crystal Mountain Resort
Ken! I don't know if I have enough time to articulate all of the wonderful things that I could say about you! You have DJ'd several parties, including my wedding, for my family and we have always had guests comment on how wonderful you are. You helped us create a play list, walked us through what you were planning on doing, arrived on time/early and just plain exceeded our expectations! Anyone that doesn't choose you for their function is not choosing the best!
Mr/Mrs Porter – Castle Farms
Ken did a great job setting up for our Girl Scout Party. The girls loved the karaoke and his assistant even taught the girls a new group dance. We would definitely ask him to DJ again.
Kristy  Whitman
Ken was awesome!!! I would recommend him in a heart beat to everyone. Everyone, including him had a great time and we never stopped dancing until the night was over. If you are looking for a DJ that knows his crowd, music, and wedding receptions, he is exceptional!!!
Stacy and Rodger Watson – Castle Farms, Charlevoix MI
Ken,
Thanks so much for helping to make our wedding a blast. We had a great time and you did an awesome job! We'll definitely recommend you to any couples we hear of getting married in the area. Thanks again 🙂
Best Wishes,
Matt & Val Villero
Ken,
Thank you so much for putting on a great party and helping to make our day so very special.
Sarah and B. Selfridge