Matt is one of the worlds Top Ranked Elvis Tribute Artists. He has performed his tribute at over 1000 private and public events in the past 15 years. The "Profiles Of the King" show can be made to fit any size venue, from a small birthday party to a large venue or casino . Matt performs his show with a live band, but can also use backing tracks. Many Elvis fans (some who actually saw Elvis in concert), music lovers, fellow singers, and friends of the real king, have commented on Matt's powerful voice and eerie resemblance to Elvis.
Matt has been performing his tribute to Elvis since 1992 at the age of 14. He has traveled all over the world and is renowned as one of the best voices in the business. He has the look, he has the sound, and he pays tribute to the greatest entertainer of our century!
Credits include (But are not limited to):
• Featured In The Books: Elvis Living the Life: The World of Elvis Tribute Artists by Patty Carroll & Elvis Lives: The Business of Being Elvis [ILLUSTRATED] (Paperback) Pamela Thomas-Williams
• Has performed at several casinos including MGM Grand, Harrahs, The Stratosphere, The Little River, Bluffs Run, Soaring Eagle and More! 
• Is the Co-Founder of the largest Elvis Festival in the United States; The Michigan Elvis Fest.
•Was featured in the books Elvis Living the Life:The World of Elvis Tribute Artists And Elvis Lives: The Business of Being Elvis
• Has headlined at several county fairs & festivals
• 2015 Ultimate Kansas Star Casino. 1st Place Winner
• 2014 Windsor Kingfest 1st Place Winner
• 2014 Midwest Elvis Competition 1st Place Winner
• 2011 Hometown Idol Adult Division 1st place Winner
• 2007 The Soaring Eagle Casino and Resorts Elvis Contest 1st place Winner
• 2006 Royal Carribean Cruise Line
• 2005 The Elvis Fantasy Fest Portage Indiana 1st place Winner
• 2005 Ronny Craigs Elvis Explosion Lacrosse, Wisc 1st place winner
• 2005 Irv Cass' Elvis Contest South Bend Indiana 1st place winner
• 2005 Bluffs Run Casino Council Bluffs, Iowa
• 2004 Sam's Town Casino Las Vegas, Nevada
• 2004 Blue Chip Casino Michigan City, Indiana
• 2004 Memories Theater Pigeon Forge 1st place winner
• 2004 Potawatomi Casino Milwaukee, Wisconsin
• 2003 Isle Of Capri Boonesville, Missouri 1st place winner
• 2002 The Elvis Fantasy Fest Portage Indiana 1st place winner
• 1998 Collingwood Ontario's International Professional Division Grand Champion Elvis Tribute Artist 1st place winner
• 1997 CBS Search For The King 1st place Grand Champion
• Appeared on National Television On Good Morning America and The Ricki Lake Show
• Featured in several National and International Publications
•Performed in a stage production featuring members of Elvis' elite group of bodyguards, the Memphis Mafia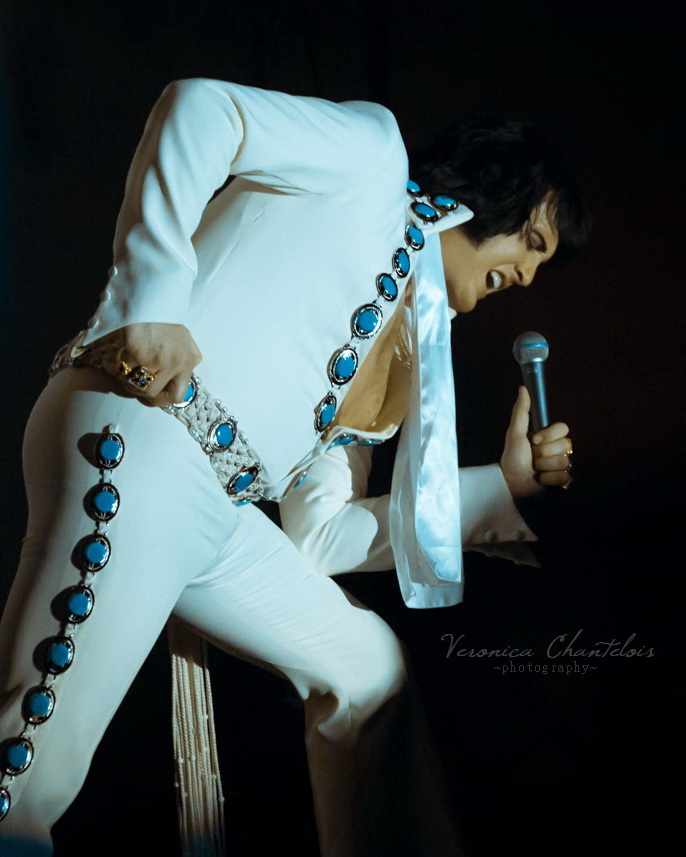 Hi Dean/Elvis Matt
Sorry I did not get a chance to say goodbye and thank you for an absolutely incredible evening. I'm not sure I told you the particulars of how the event was established. Dianne any myself put the evening together as an auction item at a Lion's Club Fundraiser. We designated all of the proceeds of the auction to the Fireworks Fund. The evening sold for $20,000, a significant amount for our little town. The winning bidder and his group, couldn't be more happy and satisfied with the evening. Thanks again for a great performance.
Dianne and Del
"Matt You are a Great performer and a good friend! I really enjoyed working with you".
Sonny West, Head Of Elvis Presley's Security 1970's
"Matt King is a Swiss Army knife when it comes to performing. He does great tribute to some of music's finest artists including Elvis and Roy Orbison. Matt's Elvis tribute is spot on while his Roy Orbison is absolutely jaw-dropping. In my years in the casino industry I've never heard a crowd go as wild and cheer as crazily as ours did for every Roy Orbison hit Matt performed. They LOVED him!"
Stephan Gibson, Marketing Manager @ Vernon Downs Casino Hotel
"Best Elvis Ever! Went to see Matt with our family on New Years eve. The concert was at the Casino here in Standish Michigan. Matt is the closest to the real Elvis I have ever seen! Saw the real King in 1976 and his reincarnation on New Years!".
Kelly P, FAN
"Elvis Lives! Never seen an Elvis impersonator that looked, sounded, talked, and moved like the King! Saw it last night at the Little River casino. This guy blew my mind! My husband never ever stays for the entertainment at the casinos, but he did last night. Even he was impressed! Great job Matt!"
Marlayna  M. 
"Awesome! Amazing tribute to the King…. He's a true class act…I've seen alot of tribute artist, and none compare to The Great Matt King."
Nancy F, FAN
"Matt is an unbelievable entertainer and individual. He is very personable, always knowing so many people by name. He is always ready to do requests. He is so much like Elvis. His movements and voice is something that you just don't forget. Anyone seeing him the first time will want to go back again and again."
Bob ADT, FAN