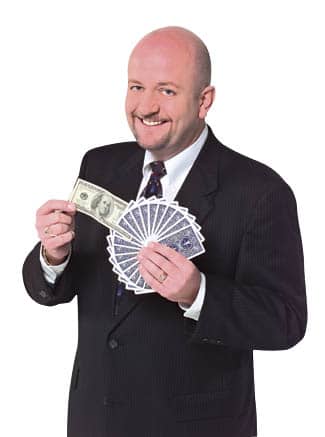 Clients
Northwest Airlines, Readers Digest, Ford Motor Company,Pitney Bowes, M&M/Mars, First of America, Coca Cola, Apple Computer, ABC Television, and many, many more.
STAND-UP MAGIC & COMEDY SHOW
Clean comedy. Amazing magic. A fun show for your event. GUARANTEED!
Business clients agree that Al The Only works magic when it comes to entertaining their employees and customers.
A full time professional magician for over two decades, Al has been featured in many local publications and magazines such as "Crain's Small Business", "Money", and "Success", for his work in Corporate America. Although he typically performs at company banquets, cocktail parties and hospitality suites, you can also find him working at trade shows and sales meetings.
"I love making people laugh, wonder, and feel good. Magic is my life," said Al The Only. "Some have even called me obsessed," he continued. It's no wonder, with "PRESTO" on his license plate and a work phone number that spells "TRICKY-1". Performing around the world, Al has developed a successful business that makes his clients happy.
When asked what his goals are for the future Al said, "I love working for Corporate America and am striving to make myself known in the business world. What Siegfried & Roy and Lance Burton are to Las Vegas is what I want to be in the corporate field. You'll probably not see me on the cover of People or Rolling Stone but when it comes time to hire entertainment for your company function, I'll be the first name to come to mind."
Show and Presentations
For over 25 years Al The Only has been providing quality entertainment for awards banquets, company parties, Holiday parties, trade shows, conventions, cocktail parties, hospitality suites, meetings, golf outings and more!
Adults Laugh Louder – Al The Only's Stage Show
Ideal for company parties, banquets, retirement parties, meetings, appreciation dinners, conventions and more.
Close Up and Strolling Magic
Ideal for hospitality suites, cocktail parties, golf outings and more. Also available as an add-on to one of Al's stage shows!
Trade Show Presentations
Let Al draw people to your trade show booth like magic!
Al The Only may be a master of magic and illusion,
but his success in entertaining business clients is quite real.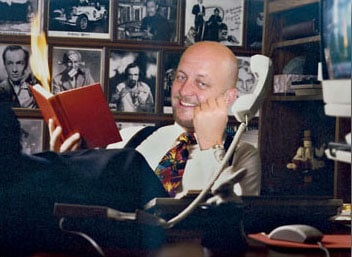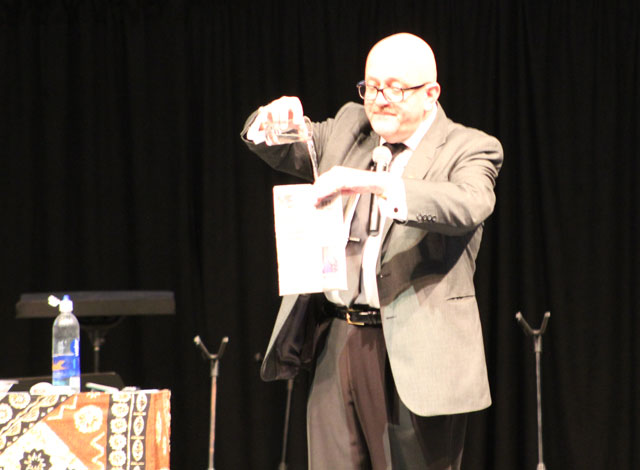 Hi Dean:  We only got positive feedback from everyone, so that was great news.  Everyone loved Al and thought he was funny and impressive with his magic, a wonderful entertainer.  The dinner music was great too, from CEYX, everything went just as we had hoped!  Thank you very much!  You guys did a great job and we appreciate everything.  Look forward to working with you on future events. Trisha O. – Financial Paraplanner
She hired Al for a very important family event, her daughter's wedding!
Sue K. of Carleton, Michigan
A happy satisified client of "Al the Only"
Steve Thorsen – Ingram Entertainment, Inc. / Blockbuster Video
"The BEST part of the banquet!"
The Detroit News
"Fascinating, entertaining, exciting, professional, humorous, comical, personable, these are some of the adjectives I've heard to describe you and your performance and people are still talking about it.  Thank you for helping to
make our party a tremendous success."
Deanna Gross, Executive Assistant – Bundy North America
"Not only did you fascinate our guests with your wondrous magic, you had them "rolling inthe aisles" with your great humor and quick wit.  You are truly one-of-a-kind! "Most importantly, of course, is that you made me look good. After your act, I was bombarded with accolades and praise, as well as inquiries on where I found such great entertainment."
Michelle Minor, Director of Communications – Automotive News
"We hire Al The Only because he makes our corporate events AMAZING. He works our crowd. The enjoyment is amazing. Al always delivers the goods. We see Al as a good bet on the money. He brings in his people power. He gets our people engaged, pumped up, puts smiles on their faces¬Öit changes the meeting. It lightens
them up. He's money in the bank. We will have a good meeting when Al The Only is involved."
Lee Morgan, President, Farr Air Pollution Control
"Your talent and expertise are commendable. Your energy, wit and professionalism were apparent. You went
the extra mile for us and it showed.  As promised, you made the Corporate Communications team look good and you can be sure we all appreciate that!"
Peggy Burkhard, Public Relations Specialist – Blue Care Network
"…the real magic that you bring to an audience is your desire for each and every person to enjoy your show. It's that "personal touch" that makes you great!"
Kevin Kasperbauer, President – Railcar Specialties, Inc.
"I've watched Al The Only entertain at events for over 20 years and have used him for several of my company Christmas parties. When planning on our company's 50th anniversary party he was the first one I called. Whatever date he was available that's the date I chose. Al The Only is the perfect mix and blend to make a party memorable and fun. My guests have always loved him. He knows how to make everyone feel good & shows them a good time."
Art Ashley, President, Ferndale Electric
"FUN!FUN! FUN! FUN! FUN!
We found you on the web. You were better than we had hoped for. You went beyond what you promised. You were so easy to work with. You really showed our guests a great time and they loved your show. Thank
you for making our banquet so enjoyable."
Valerie Sutherland, Human Resource Director – International Mill Service