VENTRILOQUIST/COMEDY ENTERTAINER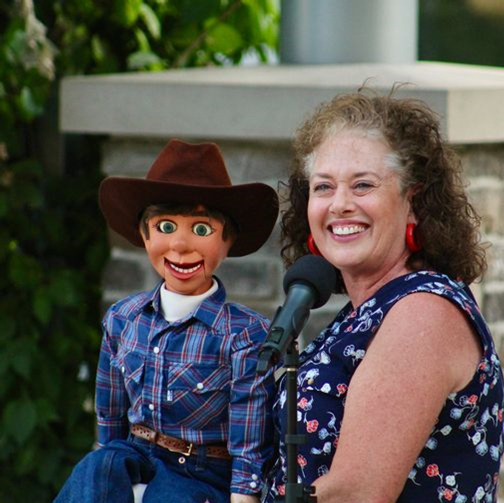 Barbara's charm can add a touch of class and fun to almost any event. Barbara Jean was Miss Michigan 1984 and won the Miss America talent competition in Atlantic City!
A special treat is Barbara's friend Granny who wryly comments on the passing scene.
Beandip's rendition of La Bamba will have your group tapping their toes and laughing out loud at the same time! Barbara combines her skills as a comedian and ventriloquist with an excellent singing voice to create music, fun and laughter!
Ventriloquist Barbara Has a Knack for Comedy. When your event needs a unique entertainer, a clean ventriloquist like Barb could be the perfect solution. Here are just a few reasons why she would be a great choice for your event:
Recent Television shows have made Clean ventriloquist comedy very popular by exposing the art.
Ventriloquists are unique & refreshing.  This may be the 1st time many of your guests have seen one!
A ventriloquist act is appropriate for a wide array of audiences – kids and adults alike.
Her great sense of humor provides clean, good fun. She is an experienced ventriloquist & knows that it is possible to deliver great comedy without the use of foul language, so you will not have to worry about someone in the audience getting offended.
Ask about her ability to Customize some content for your event!
Barbara received high marks from the Star of the West Milling Company!
Personal appearance: EXCELLENT
Attitude: EXCELLENT
Selection: EXCELLENT
Volume: EXCELLENT
Rapport With Audience: EXCELLENT
Overall quality of performance: EXCELLENT
Everything went very well. I so enjoyed working with Barbara Jean and the Dueling Pianos this year. I'm glad I have Rusch Entertainment as my go to for entertainment from now on. We haven't begun to think of next year yet, but I'm sure we will be calling you once dates are in place. Your entertainers are so timely (and friendly) it takes the worries right out of the day of the event knowing they will be there way before the starting time.    Thank you for 2022!
Terry – Special Events Coordinator, KCDD, Grand Rapids, MI 
Hi Dean,
Barbara Jean was the Ventriloquist / Entertainer For our United Methodist Church Valentine dinner party.  She was very nice to work with. Our group really enjoyed her. She is very talented!
Thanks, Gary
Dear Dean,  Friday went fantastic. Barbara Jean was amazing. She arrived and set up while the residents watched. They didn't want to be late. Her performance was exceptional. The show was appropriate and she added in personal touches pertaining to Holt, MI and our 25th celebration. She even worked it in to the show when someone's cell phone accidentally went off to put them at ease. The residents loved her witty jokes and are still talking about it 3 days later. It certainly added a touch of class to our celebration. Barbara was a very gracious performer and her skill as a ventriloquist was mind boggling. (How do you sing and throw your voice with an accent?) Since we are a small not for profit, we don't use paid entertainment very often. It was certainly worth the money and we will be sure to contact Rusch entertainment in the future when the need arises again.
Sincerely, Lisa A. from Great Lakes Christian H.
Dear Mr. Rusch, thank you for arranging Barbara Jean, ventriloquist, for our student nurse dinner at the Saginaw Club. We found Barbara and friends delightful. Entertaining and most refreshing.
Lori Girard – Saginaw General Hospital 
Barbara Jean was very good, she was a little late coming out but more than made up for it. She stayed 30 minutes passed time. I would definitely get her again and would recommend your services to anyone, thank you so much!
Nona Graham – 50th Birthday Party 
Barbara Jean was the Big Hit of the evening. Everyone commented on how much they enjoyed her. She could have gone on for another hour and nobody would have objected or left the room. Thanks again for making it successful.
National Convention
We have received so many compliments regarding the show and the choice of entertainment. The only thing I could think of would be.. let the show go on and never end!! Young and old loved it! Thank you, thank you!
Ellen – Alcona Middle/Elementary School
As you can tell by the results, she was outstanding in every face of her delivery. Performance and interaction with the audience. Thank you for supplying good family entertainment. Thanks so much.
Holiday Party
Always a great job. Very Personable and mingled after performance. She rocked, thanks again.
Saginaw Republican Women Christmas Party
Barbara Jean exceeded our expectations she was great. Our luncheon was approximately one hour behind schedule which delayed Barbara's performance. Barbara was patient during the delay and was spectacular during her performance. Thanks again!
Woman's Life Insurance Holiday Luncheon
Barbara Jean was great!  We had an audience age span from 3 to 85 and there was much laughing going on!!!  I heard nothing but positive comments about her for the rest of the weekend.  Thanks for your help!
Jane Thornton  –  Family Campers and RV'ers
Hi Dean,
Yes, everyone enjoyed her very much. My family is still talking about her and her friends. Barbara Jean is very friendly and easy to talk to. We could have listened to her stories all night. Thanks!
Barb Williams, Marketing/Business Development, Saginaw Medical Federal Credit Union
This was an event for people in the ag industry, and she told a joke about beans! She was wonderful. We got a lot of positive feedback on her performance. Many guests said that she was very talented and did an excellent job. We hadn't had so many compliments on a performer before! One guest saw her perform a few weeks earlier, and he said it was just as entertaining the 2nd time around! A lot of guests even went up to speak with her afterwards to thank her.
Amy Sweeney, Bad Axe