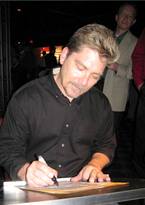 Erv was born in Royal Oak, Michigan in 1961. He began drawing on the back of sheet music that was supplied by a family friend. Always with a pencil in hand the drawing never stops. Erv has done freelance artwork for over 25 years along with his full time job at General Motors. He also enjoys sports, bicycling, boating, swimming, exploring, collecting stuff, and most of all his family.
Erv has been drawing since childhood.  He has been a professional caricature artist since 1982. Erv attended Western Michigan University as well as the College for Creative Studies and has worked as a Creative Designer for General Motors for over 21 years.
Erv's award winning caricatures have been enjoyed by movie stars, heads of major corporations and thousands of special kids and adults around the world.
Senior all night parties, graduations, corporate events, retirements and birthdays are just a few of the occasions that you could treat yourself and your guests to the one-of-a-kind entertainment of Erv and his magic markers.