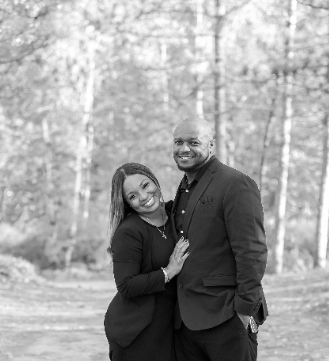 Lighting Equipment Available
Monogram project Chauvet gobo zoom 2.0
16 (Wireless Up lights) Chauvet tri 6 Freedom Pars
2 Glow totems with 50" TV Screens  TVs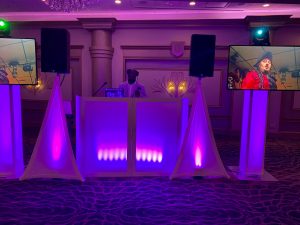 Derrick is an amazing DJ providing services to Southeast Michigan and surrounding areas. He loves to bring a high energy nightclub atmosphere to any venue, or even your home.  With years of experience in the DJ industry, he takes great pride in his work and customer satisfaction is #1 priority. His passion is bringing families and friends together with great music and helping clients celebrate with their loved ones.
Port Huron Northern High School
Livonia Bently HS Class 1963 - 55th Class Reunion - Italian American Banquet & Conference Center - Livonia
Livonia Bently HS Class 1963  –  55th Class Reunion – Italian American Banquet & Conference Center – Livonia
Your team was amazing! They truly elevated our event!  (DJ with a Wide Variety of Dance Music for a Holiday Party at the Four Points by Sheraton)
Thanks, Eric
The Djs for my wedding were great! Derrick and Tee (I don't know if I spelled that right) a husband and wife team were so amazing, everyone danced at the reception! Highly recommend this company for a wedding!
Sara
D&T did our wedding and I could not have made a better choice! From the minute I met them at the Bridal Show to the day of our wedding we received the utmost professional service. They went above and beyond anything we had expected out of a DJ and thanks to them our entire wedding went smooth and the reception never had a dull moment! Thank you for sharing our special night with us and being a huge part of making it a perfect day! I will recommend you to everyone and be using you guys for my daughter wedding next year.
Deena Wagner
I met Dee & T at a party at Oakland University for Project Upward Bound. They were both professional and very entertaining. They were able to engage the students as well as the parents so that everyone had a great time. Their love for the job as well as providing a unique experience to all of their clients impressed me the most. I plan on hiring them for my own birthday party this year and would highly recommend them for ANY event you may be planning.
Renee Graham-Buckner
I met Dee & T at my friends wedding last year and it was soo much fun.  So I hired them for my wedding and of course they were extremely professional.  I went with their "Great Wedding Package" and it was the bomb!  The lighting awesome and DJ Dee Smooth kept us on the floor all night!  Tee is a exceptional organizer and great on the mic.  She kept everything going smoothly .  I highly recommend this company for any event.  Call Them!!!!
Donna Briggs