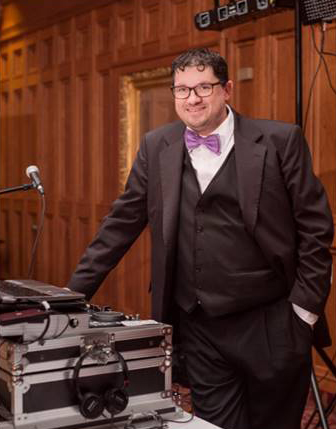 ---
Garret has been a professional DJ for over 20 years – BRIDES LOVE HIM AND PROMS DO TOO!
He was trained by the TOP wedding DJs in the industry and can handle all of the wedding "traditionals" … from the grand introduction to the last song!
His huge selection of music ensures that you have a multitude of song selections – making him the perfect DJ for all of your special events.
Garret's goal is to create memories that will last a lifetime.
Garret has the knowledge, experience and skills to create a great party atmosphere – HE'S A BLAST!

Super accommodating and fun!
They were so great at making sure we both communicated what I wanted for my wedding, even with a short notice after my previous DJ bailed last minute. DJ Garret was great and we had one big dancing party!
Jason & Kayla at the Golden Glow Ballroom with nearly 200 guests June 2022
Garret and the Rusch Entertainment Team,
Happy New Year! Andrew and I would like to extend our utmost gratitude to Garret and your team for DJing our wedding on New Year's Eve.  Garret was easy to work with, responsive, and flexible. He was very kind and accommodating regarding the unique ceremony set up. He put his own twists on things during the reception, but he got and kept people on the dance floor. Everyone had a great time and we attribute a lot of that to the entertainment.
Thank you again. We wish you all a happy, healthy, and successful 2022!
Best, Rachel and Andrew Hofmeister 
Hi Garrett. Incredible job the other night. Thanks again. You kept everyone on the dance floor all night.
Tom & Shireen – Stafford's Pier Restaurant – Harbor Springs – Outside on Deck in August for about 100 guests!
I would choose Rusch over and over! Garrett did an amazing job! Played exactly what we wanted and checked on us throughout the night! We couldn't leave the dance floor! THANK YOU SO MUCH!
Thanks, Meghan Carr – Wedding Ceremony & Reception at Fox Hills Golf & Banquet Center for over 100 Guests
Garrett was amazing!! I've added some reviews online as well, but I just wanted to respond directly. Garrett was on-top of everything all night and very accommodating. I'be had many of our guests say it's the only wedding they've been to where no one sat down through the dancing portion of the night. Thank you again SO MUCH and we'll be sure to recommend Rusch to all of our friends for upcoming events and weddings!
Mackenzie Cowan
DJ Garret was a superstar.  His up-lighting was done very professionally and gave the room the red accents that we were hoping for.  He was super engaging and brought the room to life, and he did a great job reading the room and knowing how to keep everyone on the dance floor and having a good time.  We had some special requests–an anniversary announcement for my parents as well as some Armenian line dancing–that he worked into the mix seamlessly.  He also mingled with the guests during dinner to obtain their requests, which our guests appreciated. On top of all that, he went above and beyond to help us out.  My dad, who has a photography business of his own, wanted to set up his equipment to take formal family/group portraits.  However, he became concerned with the ambient lighting in the room (after he had already put a lot of time, effort, and money into getting supplies for it)–concerned that the camera wouldn't be able to focus well.  We asked Garret if he had anything that could help, and he brought and set up some of his own photography lights (Alien Bees).  They worked out perfectly and saved the day.  The formal portraits ended up being a huge hit.  We can't say enough good things about Garret and would highly recommend him to anyone.
Thanks to your team for everything!
All the best, Marianne and Chris
The DJ Garret did a great job at my 70th birthday party, he kept the music going and got people dancing and having a good time and helped me make announcements when I needed to and he played the music I wanted.  The Elvis Artist was awesome I cannot say enough about him. What a great show, very entering and funny, everyone just loved him and he was very good about taking pictures with everyone even though that suit was hot and heavy. I would recommend Elvis Bobby to anyone who wants a great entertainer.  Your company delivered more than I expected and that is a good thing.  You delivered just as you told me you would. Thank you, thank you!
Jackie Walock – Stitt Hall –  American Legion Stitt Carl E Post 23, Dearborn Heights
Hey Dean!  You guys did my wedding on June 16th & did absolutely amazing!! I have referred my coworker to you who is getting married on August 31st 2019. Her venue is in a town right outside of Gaylord. Is there any possibility you guys have an opening/could send a quote? Probably looking at 6-8 hours of service. Thank you so much for your time!
Kathlene Overly
We had such a good night and Garrett had a lot to do with that! Everything was perfect. He was fun and polite and made our night so enjoyable and fun.
Tabitha Swisher
DJ Garrett was fantastic. He played a great array of music for all generations at our wedding, and he even helped our guests learn the wobble. He was so interactive, funny, and overall a great DJ.
I Thank You for your AWESOMENESS!  At the Flint Golf Club!
Dear Dean & Garrett, Thank you so much for your amazing DJ Services for our event.  The music was great, but more importantly people had fun because of your care and concertn for what they wanted to hear!  Many Thanks!
Angie – Weiss Child A. Center, Flint
Hi Dean,
First off I just have to say that DJ Garrett was absolutely amazing and made our night one to remember! He took the time to make sure all of our needs were met and that things were running smoothly.
The ceremony music was perfect for what we had discussed and it tied the ceremony together nicely.
For the reception, I couldn't have asked for a better DJ! Garrett moved things along at a good pace and made sure to take cues from us as well. He kept the music going, even when there wasn't a lot of people dancing. But that was ok because it ended up being the immediate family that stayed to the end on the dance floor with me and Garrett kept the party going as if it were a dance floor full of people! One of the best parts of the night was when it was getting late and Garrett taught us how to Time Warp! It was a blast!!!
All in all, we couldn't have asked for a more perfect day and night and Garrett was an integral part of it.
We now have someone to recommend if anyone ever asks for a DJ!
Liz Bruett (Kuehn) & Frank Kuehn
Our DJ name for our wedding was Garret. He did an absolutely outstanding job. We had several people asked how to book him for their events. He kept the party alive from the beginning to the very last song. We are so happy we went with rusch entertainment. If anyone is looking for a good reliable company this should be your first and last stop…. thank you for making it an unforgettable night. He was Awesome!   Had a Phenomenal show!!  Garret did everything we could ask for!
Doug & Christina Webster – Holiday Inn – Southgate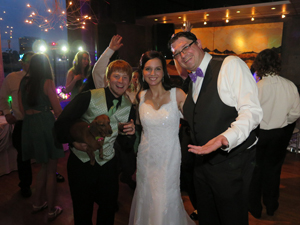 Hi Dean & Garret,
You did an absolutely amazing job DJing our wedding at the Roostertail Waterfront Entertainment Complex.  We were so grateful for your services and we would love to help you promote in any way possible! Please feel free to use the pictures and video! Please let us know how we can write a review for you as well.
Daniel and Sarah Burns – Detroit
Amazing!!! Garrett did a fantastic job.. Getting everyone to the dance floor and keeping them there. I am very happy.. My now husband never dances… And he danced Alot that night! Thank you so much for your services! Will always recommend you!!
Nikki  & William Cameron – Woodshire Place Banquet, Fowlerville   
Garret did a great job at our wedding! The dance floor was packed the whole time. We threw a few different things into our wedding day and he was able to accommodate at the Lafayette Grande, Pontiac!
Thanks,
Amy & Chris Sheridan 
Hi Dean!  Garrett did a great job on Saturday.  We couldn't be happier with the mood he set for our reception.  He made it a great party at the Capital Banquet Center in Romeo!Thanks again!
Andrea Thompson
Dean,
Dj Garrett did absolutely amazing! I had such the positive remarks from everybody there. He had everyone on the dance floor all night and they where having a blast! He kept asking if he was doing a great job and his main priority was making us happy. Thank you for your professionalism and sending the best dj I have ever heard!
Stephanie and Cody FitzGerald
Garret did a great job at our wedding. He followed our wishes even though they were not typical! I would recommend Rusch Entertainment to anyone that was looking for a DJ. Thank you Garret!
Ben and Jessica Bryant
DJ was on time and ready to go. The ceremony ended up being a bit on the spot and the DJ did a good job with it. Most everyone loved the DJ and the party kept going all night!
Grant (DJ Garret at Upland Hills Farm in Oxford)
DJ Garret was a huge hit at the Mother/Son Elementary School Dance
I loved the energy Garret had! Nice music, great variety and very engaging! Definately a keeper!
Carliss Jackson – A Parent Who Worked at the Dance
Awesome lighting effects, great music, interactive and entertaining host.
Tori Makins – A Mom Who Attended the Event
Garret did a great job teaching the boys how to properly dance with their Mothers. Everyone loved it!
Shannon Couwlier, Event Coordinator
Hats off to the DJ. He made the Mother/Son dance a huge success!!! He played a great mix of music and even did a great Soul Train dance. The boys were comfortable enough to dance with their Moms (something I thought they never would do). The DJ even introduced us to a few new steps!
Constance Harden – A Grandmother Who Attended the Event
Hello Dean,
Garret did an excellent job. He was very professional, he knew what he was doing, and most importantly, we could tell that he really cared and wanted to give us the best possible wedding. Everything went smoothly on the DJ side of things and we have no complaints. So thanks to the both of you!!
Eric Humesky and Dana Humesky, Wellers Inc., Carriage House, Saline
Garret,
Thank you so much for all you have done to make our day so special! Thank you for taking the time to get to know us and personalize our reception. It was lovely meeting and working with you! (Thanks especially for the Elwood Blues impersonation! We knew we picked a winner for the DJ when you told us about that!)
Aimee & David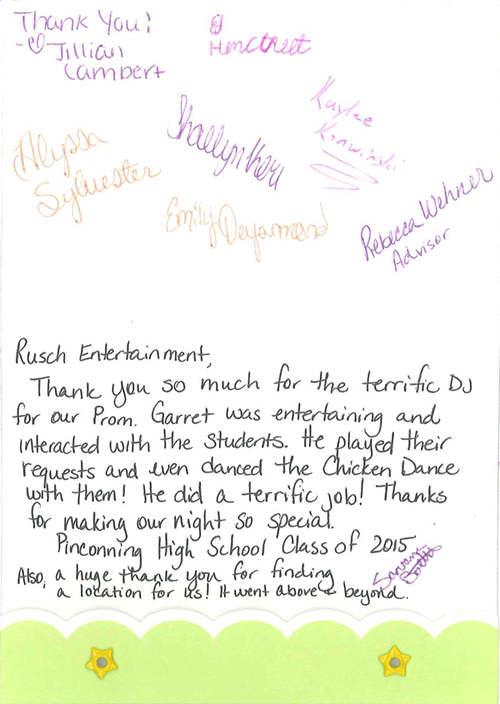 ---