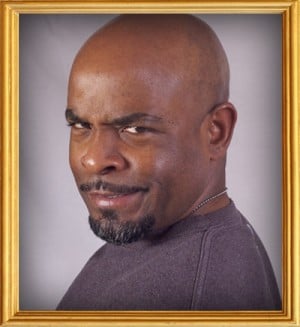 In the midst of all the madness that we call civilization, Fred brings humor.
Since I first stepped on the comedy stage on Woodward highway in 1989 that has been my goal. I believe setting goals will motivate success. To me, success should be measured by the one setting the goal and should not be judged because of monetary gain.
Using my God given talent and musical background, I have successfully entertained thousands of people in venues across the country, young and old, from all walks of life. To me, that is success.
In 2002 I recorded my one and only CD entitled URBAL-S-CENTS. Although my thought process has grown since then, I am very proud of that accomplishment. I was seen on BET in 1994 on the "Coast to Coast" segment, which is my one and only T.V. credit.
Born and raised in Lansing, MI there were not many comics to hang with so, I went to bigger cities like Chicago and met many comics that I call friends like, George Wilbourn, Deon Cole, Kenny Howell and Tony Scolfield. Detroit comics like Mike Bonner, Downtown Tony Brown, BoBo Lamb and Coolaid also showed me love.
To this date, my accomplishments in this entertainment industry has not been a bad ride for me at all because I have accomplished every goal that I have set out to accomplish. I have rubbed elbow with the best of them from Sinbad, Mike Epps, DL Hughley, Steve Harvey, Tommy Chong and Tommy Davidson. But, the coolest comic I have worked with since performing stand-up is Angel Salazar, working with him in Rochester, NY in 2004. Why him? I can always say that I worked with a star in the movie "Scarface." What! Are you kidding me, or what? (Tony Montana's voice)
Thank you for all the support I have had in the past years while entertaining. Believe me, it is not un-appreciated.
All the best from me! Now….Get to laughing!!!!!
– Fred