---
Fred started in 1990 back at the Bad Bob's Vapors in Memphis. He didn't make the finals, but that night changed his whole life.
He started out being a singer in a rock and roll cover band. Not a great way to make money, but it can be a lot of fun. Fred had always been an Elvis fan, and on a lark he had recorded some Elvis songs. This led to an Elvis fan club getting a copy of his tape, and then thinking he was an impersonator, they had never heard of.  Fred was invited to come to an Elvis party where an associate of Elvis was to be. He met all of these fine folks and they all remarked that he looked funny for an Elvis impersonator. At the time he looked more like Billy Idol.   One of the members of the fan club, Jean Brior, convinced him to go to Memphis and get involved with the contest there. Fred figured, he would check it out and give it a shot.
He entered and sang for 15 minutes he didn't remember ever being that nervous before going on to perform. But he did it anyway…..Little did he know, that performance would alter the direction of his life…15 minutes on stage and 45 minutes of signing autographs convinced him, that this might be something. Little did I know what he was in for.
Being an ETA , changed Fred, it made him a better person. Emulating Elvis made him become more like him in the way he was towards others. Elvis was always polite, humble, and giving of himself. Fred has tried to "act as he would". Follow his example. Show others by his example. He tries to do good things, like Elvis did…give to your fellow man. Do unto others as you would have them do unto you. Elvis was basically a very good man. Those qualities that people loved in him, are why people remember him….Fred feels its like being a Christian….. being a Presleytarian. It may sound ridiculous, but it is how he feels. People call on ETA's all the time for charitable acts and in Elvis honor and name, a lot have responded.
WWED. What Would Elvis Do? Fred tries to live by that idea. Be polite, humble, gracious, and don't forget "the same God that made you, made him too, So help your brother along the way, no matter where he starts". Words to live by.And a word of advice from Fred for all you ETA's who think you're so great. Stop doing Elvis and see how much money you make. Fred can't stand guys who think they are Elvis, or guys who think they are something special and who don't treat the audience well.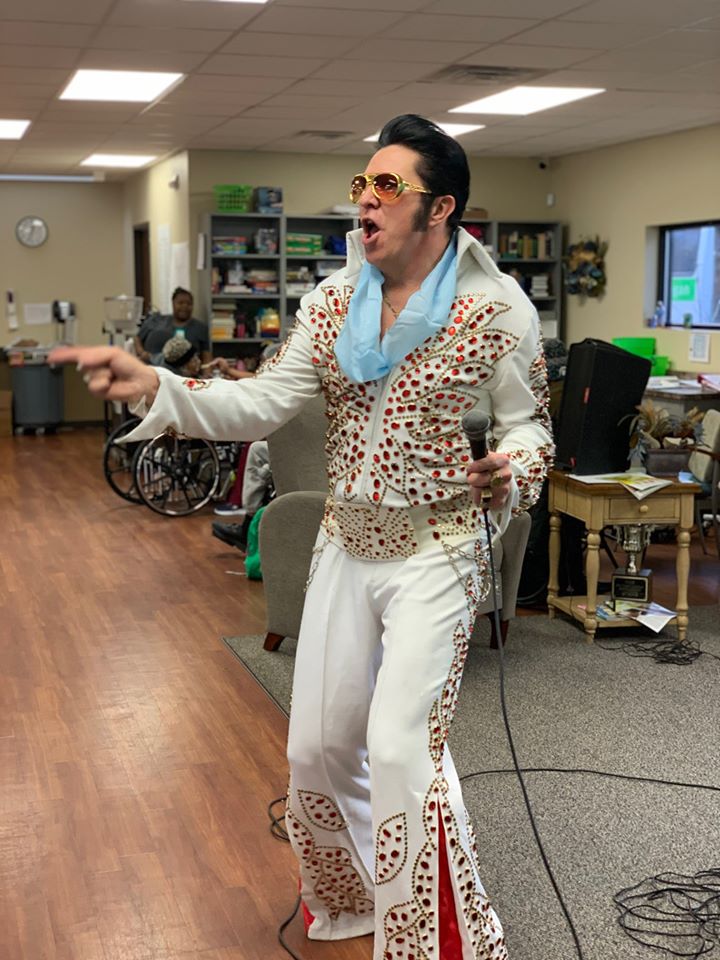 My daughter booked Fred for my 70th birthday party.  He was TOTALLY AWESOME!  One of the best Elvis impersonators I have seen: professional, engaging, good voice, interactive with his audience, very accommodating and all around class act.
Norma Novick
Dean,
Fred was excellent.  Elvis Impersonator for the 50th Anniversary.  He arrived ahead of time, stayed "hidden" when we needed him to, and overall gave a wonderful performance.   The guests of honor were totally surprised and thrilled with the show.  They're both Elvis fans and with the average age of the group (mid 60's), it was enjoyed by all.  Fred was courteous, patient and a complete showman.    He worked the crowd exceptionally well, and was a total professional.   I'd recommend him highly. Thanks a million to Fred–     Superb job!!
Nancy Driscoll – Stonebridge Golf Club – Ann Arbor