Quite possibly the funniest one man show in the area, Jack is the start of the Carnival Cruise Ship "Liberty"!
Company Parties – Birthday Parties – Fundraisers – Graduations
Comedy Stage Hypnotism makes a great offering for Company Parties, Birthday Parties, Masonic Lodges, Colleges, Universities, Restaurants, Fundraisers, Holiday Parties, Banquets and All types of Parties. Providing a unique, 60-75 minute, show filled with fun and educational entertainment, always in good taste, tailored specifically to the audience.
With shows tailored to the audience your event will be the talk for years to come….. by having a 60-75 minute event filled with fun, nonstop laughter, lots of audience participation yet educational and motivational. Comedy Stage Hypnotism makes for a great experience for your type of venue, which is my specialty. I arrive early, then as my assistants setup our sound system, with your permission, I mingle with the guests doing a little close up magic and talking to them about hypnosis while looking for good subjects. I may even hypnotize a few before the show if you want!! With your permission the shows are videoed, immediately giving you a DVD copy while making extras immediately available for sale using a high speed duplicator.
Recent performances in Michigan include: Troy-Clawson, N. Oakland, Flint & Detroit Elks, Macomb Family Services, Wolverine Banquet Center, Vintage House, Clawson, Croswell American Legion Hall, Country Smoke House, Lenny Miller's Restaurant, Bumpers Too, along with area High Schools including Almont, Armada, Berkley, Capac, Cardinal Mooney, Carson City, Clintondale, Dryden, Gabriel Richard, Hartland, Hazel Park, Holly, Howell, Imlay City, Lakeshore, Lansing, Lapeer E., Memphis, Mt Morris, N. Branch, Onsted, Otsego, Pt. Huron, Royal Oak, Sandusky, St Charles, S. Lyon, Summerfield, Walled Lake, White Lake, Yale, plus Honolulu, Cancun, Mexican Resorts, Carnival Cruise Line's "Liberty" & Queen Elizabeth II
Jack's goal is to, entertain & motivate with a Comedy Stage Hypnosis Show !
Note: Jack doesn't embarrass people, make them: bark like a dog, act like a chicken or divulge family secrets and it's impossible to get stuck in hypnosis. Subjects don't lose control, he can't make anyone do something against their will or hypnotize those who don't want to be. Jack only wants fun loving guests who want to be hypnotized. Those on stage will have the most fun, feel relaxed and as a thank you he'll program them with self confidence and to feel comfortable speaking in front of groups 3 to 300 … even help with phobias or bad habits after the show.
He is a certified member of both the National Guild of Hypnotists & the International Medical & Dental Hypnotherapy Association®. In addition Jack conducts corporate & private sessions on Stop Smoking, Weight Control, Relaxation and Self Confidence.
Hypnotist For High School Prom in Frankenmuth Put on By Parents For About 150 Kids!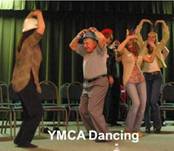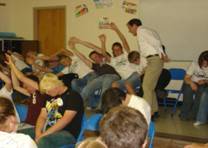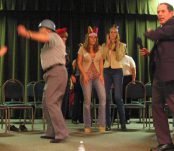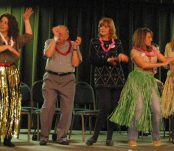 Hi Jack,
Thank you so much for everything you did… You were terrific and so were the guys… We made over $1,200… We were all happy… Good job done by all.
Blessings, Kathy
Jack, our Dryden project graduation fundraiser was a huge success, including 50-50 and prize raffles we made about $1500!! We were very pleased, everyone had a really good time & enjoyed the show very much. Thanks again, I'm sure we will be doing this again next year.
Lisa Dryden

Dan wanted me to let you know we brought in $1,500.00 in profits because of the great show you put on!!!!!! Thank you once again for an awesome job Jack!
Dan and Denise Ferris – Sanilac County Food Pantry
Jack's show was another big hit and great success for the second year in a row.  It was very easy working with Jack and the flyers, mailings and handouts he created made it so easy to promote the event.  He was always prompt in his responses and easy to contact when questions arose.  His goal is to always make sure everyone has a good time and he succeeds year after year. Jack is a true professional who treats you like his best friend.  We look forward to continuing the tradition of having Jack entertain at our Project Graduation fundraisers and our Senior All Night Party!
Stacey – Holly Meadows Golf Course
Good Morning Jack. We made approximately $2200 and have had great reviews.  I am trying to get something typed up for next year's class to let them know how we did. Thanks for everything.    Dawn – Imlay City
What a fantastic idea the committee, parents, family, friends and community had a ball & we made a profit of over $2,500… we never laughed so hard.
Mary Vermander – Dryden H.S.
Things went great!….we made about $3500.00 with the ticket sales and raffles. The show was so much fun….I haven't laughed that much in a long time. Thank you so much for your suggestions, help and time.  We really appreciate it.
Linda – Lakeshore
Thank you again for another great show! Everyone had a wonderful time. We had a lot of great comments about the evening. I'm sure this will be an annual event for us. It's been a long time since we had an event that has sold out weeks prior. Thanks for all your help.
Belinda – Ft. Wayne, Ind. Elks – Elks Lodge#156