ONE OF MICHIGAN'S PREMIER VARIETY BANDS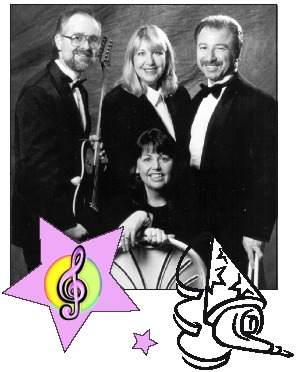 Below are our sample song lists. This list does not contain all of our current songs – we have many more and continue to add new material!
The Kathy Ford Band has been one of the premier bands in Michigan for over 20 years. Their musical mix includes current favorites, Jazz, Rock and Roll, Disco, Blues and Country. Each year the Kathy Ford Band is busy performing at fairs within the state; they have performed at The Michigan Festival in East Lansing, the Rib Festival in Kalamazoo, the Balloon Festival in Battle Creek, the Taste of Kalamazoo in Kalamazoo, the Allegan County Fair, the Western Michigan Convention and various nightclubs and private parties, just to name a few.
The band consists of four main members: Kathy on lead vocals, piano and guitar. Bill Fuller on lead guitar, Elayne Schroeder on lead vocals and bass and Mike Rosetos on lead vocals and drums. The band prides itself on having a very tight sound, rich harmonies and a professional attitude. Recently, the band has been busy with recording – and maintaining a large mailing list throughout Michigan.
Additionally, the Kathy Ford Band has been named "Best of the Best" for the past eight years by Lansing State Journal readers. The band has performed for several dignitaries including the President and First Lady Clinton, Governor Ann Richards of Texas, the Governor of Michigan, Senator Debbie Stabenow, as well as at several corporate parties and events.
Disco
Bee Gees Medley
Brick House
Car Wash
Celebration
Don't Leave Me This Way
I Love the Nightlife
I Will Survive
We Are Family
Le Freak
Play That Funky Music
Ring My Bell
She Works Hard for the Money
YMCA
Love Shack
Jazz and Standards (too many to list)
At Last (Etta James)
Autumn Leaves
Crazy
Get There (Oleta Adams)
Misty
Moon Dance
Satin Doll
Sentimental Reasons
Sleep Walk
Sunny
Wonderful World
You Send Me

Kathy

Elayne
Ballads (too many to list)
Missing you, John Waite/Tina Turner
Wonderful World
Crazy Love
Breathe (Faith Hill)
Dreams , Fleetwood Mac
Have I Told You Lately
Landslide
The First Time Ever I Saw Your Face
Unchained Melody
Waiting for You
You Look Wonderful Tonight
You've Got a Way
Current Hits and Top 40 (plus many more)
Blackhorse, Amy Winehouse
Smashmouth
Maroon 5
Who Knew, Pink
Waiting on the World to Change, John Mayer
Ain't Nobody (Chaka Khan)
Get this Party Started (Pink)
It's All Been Done (Bare Naked Ladies)
Keep on Dancing (No Doubt)
Smooth (Santana)
I Love This Bar
50's and 60's Medley

Bill

Razz
Motown/Rock and Roll (and many, many more)
I Love Rock and Roll
ZZ Top
Bob Seger
many many more
Soul Man
It's Allright
Chain of Fools
Heard It Through the Grapevine
I Feel Good
Midnight Train to Georgia
Moondance
Mustang Sally
Respect
Second that Emotion
Son of a Preacher Man
Sugar Pie Honey Bunch
Under the Boardwalk
You Can't Hurry Love
Other
Knocking on Heaven's Door
Angel from Montgomery
Bob Seger Medley
Brown Eyed Girl
Dancing in the Dark
Favorite Mistake (Sheryl Crow)
Friends in Low Places
Gimme Some Lovin
Give Me One Reason
Hit Me With Your Best Shot
Love the One You're With
Margueritaville
Pink Cadillac
Pretty Woman
Rockin in the USA
Rocky Mountain Way
Something to Talk About
Sweet Home Alabama
Sweet Home Chicago
Walking After Midnight
What I Like About You
Brown-Eyed Girl