By Sue White | for MLive.com
Mid-MichiganDean Rusch, center, from the band Ceyx, performed at Kim and Nancy Taylor's wedding 30 years ago and will continue the tradition when the Taylor's son, Doug, and his bride, Melanie Couch, wed this month.
When it comes to tradition, Dr. Melanie G. Couch and Doug A. Taylor's early June nuptials are steeped in it.
Taylor's sister Melissa introduced him to her college classmate, Couch. Their reception hall at Apple Mountain Resort in Saginaw County's Thomas Township will hold photos of grandparents' weddings. The tables will be decorated with spooners, the traditional Canadian short vases.
"They wanted to have people represented who meant a lot to them since childhood," said Couch's mother, Katy, who with her husband, Bob, lives in Clio.
And on stage is Ceyx, the same band, that played at Taylor's parents' wedding 30 years ago.
"My mom told me about the band and I didn't think she was telling the truth," Taylor said.
"He thought I was old and confused," said mom Nancy J. Taylor.
Then came the job of selling Couch on the idea of a live band, and Ceyx in particular.
"We crashed a wedding in Montrose, I think it was, and we were busted at the start," she said, laughing. "It was nice and casual, with the bride and groom right there at the door. We told them what we were doing, and they were really great about it."
Much has changed in those 30 years, agreed Dean Rusch, Ceyx's drummer, and some has stayed the same. When Nancy and Kim D. Taylor celebrated their wedding June 15, 1979, at the Knights of Columbus Hall in Bridgeport, "I don't think I even knew the bride's name," Rusch said. "Now we work right with the bride on what she wants played and when, along with all the announcements and special moments."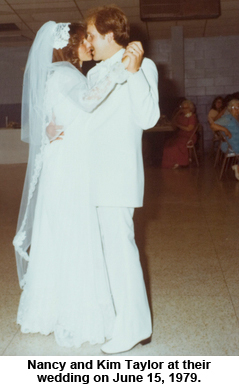 The couple's parents planned everything, said mom Nancy Taylor, and they figured the band knew what to do on its own. Taylor's father, Kim, remembers Ceyx played a lot of Cheap Trick, along with Elvis Presley and the Beatles. Mr. Hot Dog catered the Taylors' wedding in 1979, and Nancy Taylor had her hair fixed like Farrah Fawcett.
Rusch and Bob Strunk are still in the band; Tom Miller has replaced Ed Pomeroy, Rusch said. And there are more than a few songs on the playlist both nights – "Sweet Home Alabama," "The Joker" and "Disco Inferno," to name a few.
Gone for the most part, he added, are shots at the door and dollar dances. And disc jockeys, in the 1970s considered the equivalent of serving hot dogs to your guests, Rusch said, is now the norm for most couples.
Couch and Taylor, a mechanical engineer for General Motors, have a few surprises – very contemporary – in store as well. And in still another nod to tradition, Taylor said, Barry Rankin will shoot the photographs, as he did for Taylor's parents in 1979.
"But the biggest tradition we want to carry on is the one our parents have started, staying married," Taylor said. "That's a big accomplishment, and both sets have done it."
If they can make it through planning a wedding, Katy Couch said, and still like each other afterwards, "they can get through anything. You learn a lot through that, about compromising and handling stress."
Added Kim Taylor, "and Doug knows what I always say, 'If mom ain't happy, nobody's happy.' Take care of that and everything will be all right."